Ever think, "Wow that person would be SO SEXY if their face wasn't so god damn U-G-L-Y (you ain't got no alibi, you ugly)?" There is a new trend sweeping the globe: paper bag facial coverings! The ultimate equalizer! This economic and functional fashion statement only requires a proper fitting brown paper bag (these can be found at many grocery stores). We do NOT recommend plastic bags as a substitution. This is no time for your auto-erotic asphyxiation fetish. For while it is important to suffer for fashion, it is not necessary to die of suffocation in the name of beauty.
Got a pimple? Put a bag on it! Bad hair day? Yep, put a bag on it! This effortlessly lovely look has been hitting the runways in New York, Paris, Miami, Toronto, Montreal, and Milan for years, and is finally ready for the streets! Vogue magazine is planning a full Paper Bag Heads spread for Summer 2015, as well as the Sports Illustrated Paper Bag Swimsuit Edition. It is absolutely stunning on everyone! Much cheaper than getting your hair and makeup done at a high end salon. It looks perfect with an evening gown or tuxedo, just as fabulous with a pair of torn jeans or sweat pants and a hoodie. Try the bag head look for your next date or intimate encounter. Light some candles, put on that Billie Holiday record, pour the champagne, dip some strawberries in chocolate, throw on some lingerie, high heels, and of course your paper bag! BOOM! Romance is in the air.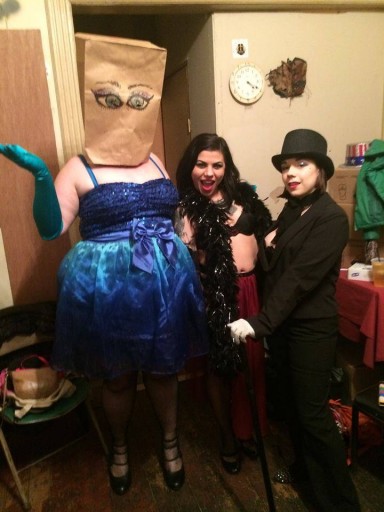 Single and looking? Want something a little more meaningful? A new trend in speed dating also involves people wearing paper bags on their heads, and going on two minute speed dates. There is so much more to someone than what you see in his or her looks. A connection should be based on personality as well. The reveal is at the end of the session. This trend is big in cities like London and New York. Some participants wrote a comment or personal fact on the bag, others simply drew quirky faces. It is a less shallow version of speed dating started by Loveflutter.com. This unique version of speed dating has been dubbed "the thinking person's Tinder."
When you finally shed your paperbag the world will bask in your true beauty. It's like an ugly duckling syndrome: someone who was absolutely unattractive in their youth, mocked and made fun of, only to blossom into a beautiful adult, who is now strong and sexy, and can handle any criticism due to the douchebaggery of their peers growing up. You have to rely on what's inside to make a connection while rocking the paper bag look, this is not the trend for those with terrible personalities or extremely annoying voices. Beware if you fall into that category.
This trend has been spotted all over the place for a while, and is finally translating to high fashion couture levels. Sporting fans have worn paper bags on their heads to show they are ashamed of having a losing team – New Orleans Saints fans wore bags that said "the Ain'ts" when their team was less than satisfactory. NY Knicks fans have also been sighted wearing paper bags. There is The Unknown Comedian, who sported the bag head look on The Gong Show. Last year Shia LaBeouf took part in this trend in Berlin to his Nymphomaniac premier by wearing a paper bag with "I am not famous anymore" written on it. Even musical star Ke$ha has been sighted with the paper bag head look. While mostly popular in the 18-24 demographic, this trend has also been sighted on trendy older folks (mostly cougars) trying to maintain their youth and vitality, as well as those pesky tween fashionistas trying to look older (make sure you ask for ID when you take that beautiful bag head home).
Rip my clothes and paper bag off. See what's inside. I recently used a paper bag head for a burlesque routine to the Radiohead song "Creep" and it was a hit to say the least. I felt an extreme rush of energy as I slowly stripped my clothing off while keeping the bag on my head. At the very end of the song I ripped the bag to shreds, symbolizing my distaste for how beauty is viewed. It was beautiful and the audience loved it. Most of mylife I have been dealing with people saying "Oh you have such a pretty face!" but a FAT nasty body is what they really mean. It was interesting to hide my most popular attribute and rely on the rest of my body to get people going.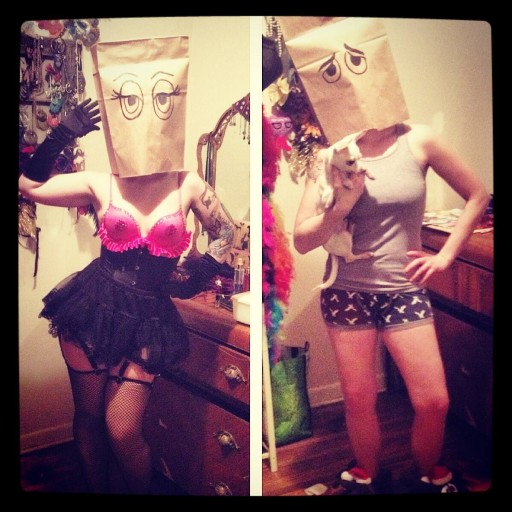 CHALLENGE: Show me your inner Paper Bag Princess! I want to see your best brown paper bag head selfies. Get out your markers and go! Write your favorite quote, draw the face that you want to represent you, and decorate your bag to match how you feel about yourself. Be creative! You can create a plethora of facial expressions, beards, dramatic eyebrows, makeup, mouth hole designs, extra embellishments, and more. For an extra fancy status symbol bag, it is recommended to bedazzle your headgear with diamonds or at least some Swarovski crystals. I want to see this trend in action. Get those paper bag selfies up on Facebook, Instagram, Tumblr, Twitter, and more NOW (what are you waiting for). I triple dog dare you. GO!