The notion of pardons has made headlines recently with the Orange President's pardoning of former Arizona Sheriff Joe Arpaio.
Arpaio is involved in a racial profiling in a case in which his patrols targeted and imprisoned Latinos in an attempt to crack down on illegal immigration. He was ordered to stop but Arpaio told his subordinates he planned to continue business as usual. He was convicted of contempt of court and facing six months in jail…
That is until the Orange Racist decided to pardon him on August 27, 2017.
This article is not about the fact that the US President, Arpaio, and the US Attorney General are clearly America's senile, racist grandpas who should have been left in nursing homes ages ago…
It's about pardons and will look at how pardons work in the US and Canada. For the American model, I'll focus on the Presidential Pardon as that is the one the Orange President is most likely to abuse as the Russia scandal unfolds.
Record Suspension in Canada
In Canada, a pardon is formally called a "record suspension" and despite what many think, it does not wipe your slate clean of any crimes you were convicted of in the past.
A record suspension means that your criminal record will be kept separate from your other criminal records. That means it will be removed from the Canadian Police Information Centre (CPIC) database and won't come up on a search. The purpose of this is to allow those convicted of a crime that have successfully rehabilitated themselves to reintegrate into society by opening up educational and employment opportunities they would not otherwise have access to.
Criminal record suspensions are governed by the Criminal Records Act. Though it only applies to records kept by federal organizations, most provincial and municipal criminal justice bodies will also restrict access to a federally suspended record once informed that a suspension has been ordered.
As per the Act, the Parole Board of Canada ("the Board") has exclusive jurisdiction and "absolute discretion" to order, refuse or revoke a record suspension. Anyone convicted of an offense under Canadian law can apply to the Board for a record suspension, but there are a few catches.
First, you cannot apply for a record suspension until a certain time has elapsed after the expiration of your sentence. If your sentence was more than six months long or your fine greater than five thousand dollars, or if you were dismissed from the Canadian Forces – army, navy, or air force – and detained for a period of six months or had a punishment of over two years as per the scale of punishments set out in the National Defense Act, you must wait ten years before applying for a record suspension. If the offense was punishable on a summary conviction – a lesser type of penalty in which the maximum punishment is five thousand dollars or six months in prison – or is an offense other than those covered by rules for servicemen, you must wait five years before applying for a pardon.
It should be noted that there are some types of offenders who are ineligible for a record suspension regardless of how much time has elapsed since their conviction and sentence. People who have been convicted of sexual offenses towards minors as well as the trafficking of minors are usually ineligible for record suspensions. There is, however, an exception to this rule, and this where the Parole Board's discretion comes in.
A person convicted of the above offenses can apply for a record suspension but will only get it if the Parole Board is convinced that the former offender was not in a position of authority towards the victim nor was the victim in a situation of dependency on the offender at the time of the offense. In addition, the Board must also be convinced that the offender did not use violence, coercion or intimidation against the victim. The offender also needs to be less than five years older than the victim.
It's not just people who commit sex crimes against kids who cannot get a pardon in Canada. Any person convicted of more than three offenses prosecuted by indictment in which they were sentenced to two years or more in prison are also ineligible without exception.
If you successfully get a record suspended, it does not erase the conviction or the record of it. It simply sets it aside and can be revoked or cease to have effect if you're convicted of a new crime, found to "no longer be of good conduct", found to have lied, provided misleading information, or hidden info on your application, or if you weren't eligible for a pardon when you applied. If you were convicted of a sex crime against minors but managed to get a record suspension under the Parole Board's discretion, your file will still be flagged under the CPIC in the off chance that you try and volunteer or find a job working with a vulnerable group such as the elderly or children.
Pardons in the US
In the US, the Constitution grants the president the power to "Grant Reprieves and Pardons for Offences against the United States, except in Cases of Impeachment". That means that he can pardon just about anyone for any criminal offense. As in Canada, the pardon can be used only for criminal offenses.
With a pardon, the president forgives the commission of the offense. According to the US Supreme Court, pardons can be issued at any time "after [the commission of an offense], either before legal proceedings are taken, or during their pendency, or after conviction and judgment".
It is customary for the President to grant pardons based on the recommendations of the Department of Justice (DOJ), which is charged with reviewing applications for presidential clemency. Their standards for assessing applications are according to the applicant's post-conviction conduct, character, and reputation, the seriousness of the offense and how recently it was committed, the offender's acceptance of responsibility for the offense and sense of remorse and atonement, "the need for relief" and official reports and recommendations. It should be noted however that the president is under no obligation to follow the DOJ's recommendations nor can the DOJ restrict the president's power to pardon under the US constitution.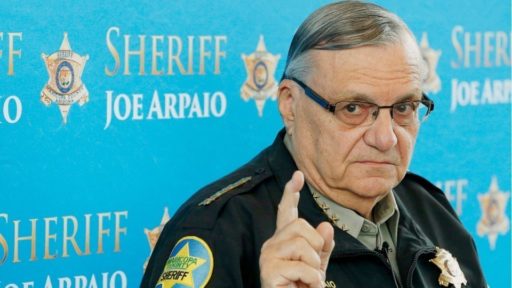 In order for a pardon to work, a warrant of pardon must be physically delivered to the person granted it. The recipient then can either accept it or reject it. If it is rejected, the courts cannot force the person to take it.
Unlike in Canada where the record is simply set aside, a presidential pardon has the effect of ending the punishment and "obliterates both conviction and guilt which places the offender in a position as if he or she had not committed the offense in the first place".
Though presidential pardons appear absolute, there are many legal experts in the US challenging this because of Sheriff Arpaio.
Protect Democracy, an activist group fighting the President's violations of legal norms recently sent a letter to the DOJ arguing that the pardon was granted in violation of its limits set out in the constitution. The group argues that the Constitution of 1787 is limited by later amendments including the Fourteenth Amendment guaranteeing equal protection before the law, and the Fifth Amendment guaranteeing due process.
In Arpaio's case the Fifth Amendment comes into play because his actions leading to the conviction routinely violated Americans' right to due process before the law and that in order to enforce this rule, the courts must be able to restrain government officials breaking them.
Whether the challenge succeeds or not remains to be seen, as there is no legal precedent for doing so.
As a rule, pardons do more good than bad. They allow people who made mistakes they've atoned for to move on and become productive members of society. As in anything, there is a danger when the power to pardon is absolute and vested in only one person, especially when that person is a senile, racist, whining misogynist.
It will be up to the American people and especially American jurists to recognize that what happens with Arpaio will be one more step in determining whether they are truly committed to democracy and rule of law or have resigned themselves to rule by an incompetent dictator.