I've seen Glam Gam shows before. They're always fun and clever. They always push the envelope while making a point about sexuality and cultural norms. There is always plenty of nudity.
All of that was again the case at their latest Fringe show Peter Pansexual, but there was something more. A few things more, in fact.
So Very Montreal
Peter Pansexual is as much a story about Montreal as it was a critical parody of Disney's Peter Pan. The Darlings, in this show, are from London….wait for it….Ontario and the Neverland that Peter (Adrian Mal Au Nez) and Twinkerbell (Meander) transport them to is Montreal's underground art and late night party scene.
The operatic song You'll Get By beautifully performed live by Stella Von Stein was not only a fun way to accompany the Darlings' trip to their new home, but an excellent introduction to a world that many of us, myself included, know or knew all too well, though one that has never, to my recollection, been represented through drama (or comedy) before.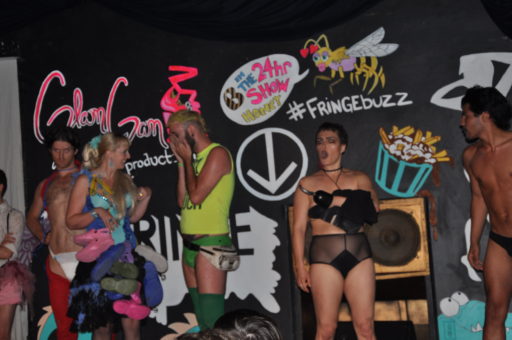 There's the precarious job market for unilingual transplants, the guestlist as payment economy, the abundance of less-than-legal party favours and, of course, the pansexual orgy that is just around the corner, "second loft to the right" with a light on all night.
Neverland feels real. Sure, an over-the-top fantasy version of reality, but at its core, this is a world many Montrealers are familiar with.
This is definitely the type of show that's good enough to tour with, though, if Glam Gam decided to take it anywhere beyond Laval, they would have to re-work some major portions of it for each city it played in, because a good chunk of the references are hyper-Montreal specific.
A Unified Story
One of the hardest thing to do with burlesque-inspired theatre is incorporate many divergent elements and different performers into a unifying throughline. Glam Gam and director Sam Sullivan pull it off wonderfully.
The pacing is solid, the transitions make sense and even the most random of all elements, guest performers (they had a different one each night of the Fringe run, Honey Lustre wowed the audience night I attended) fit into the story by way of being an act the characters are watching on stage at an underground party following an attempted Michael Jackson impersonation by Rachel Dolezal (Glam Gam veteran Booze Crotch who also played Dad Darling and blueman Periwinkle) that intentionally got the crowd riled up.
It's like the play within a play from Hamlet if people were getting naked (note to Glam Gam: naked Shakespeare, just think about it for the future). It's also close to how David Lynch incorporates his musical guests into the new Twin Peaks without leaving the story (no, that's not a spoiler for Twin Peaks).
Yes, it was a play, with a beginning, middle and an end. But it was also, at the same time, a burlesque show, with the audience cheering as the performers removed clothing and got raunchy with each other.
Character-Driven
Amidst all the nudity, Montreal references and clever puns, there are the characters who move the story along. Obviously modeled on the characters in Disney's Peter Pan.
We've got Peter who, while the instigator of the story and cool at first, turns out to be kind of a di…um, no, wait, don't use a body part we got to see, he's kind of an as…nope, same problem, got it, he turns out to be self absorbed and not a very nice person, but someone anyone who has been on the party scene has met.
Twinkerbell (or Twink) is that contact you have for the party favours that never disappoints but rarely sticks around. He helps Peter seem cool, like a wingman with actual wings.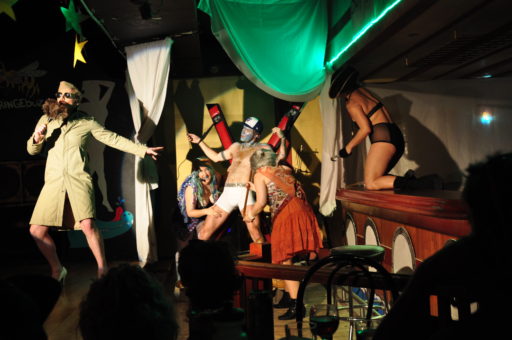 The pair work really well together as Peter's too-cool-for-school bravado juxtaposed with Twink's very practical approach to everything made them quite the team for comedy. Like a pair of entertaining though always horny tour guides.
You could see the young Darlings as stereotypes. However, since they're representative of people in the audience or people those people know, I'd go with archetypes instead.
There's Wendy (Glam Gam veteran Super Sherri), a funny though quite sympathetic take on the Social Justice Warrior. John is the bro homophobe closet case (played by troupe co-founder Michael J. McCarthy, so if you're familiar at all with Glam Gam, that's some serious acting, folks). And then there's Michael (Lolipop Bob) who is, well, an exhibitionist.
The most in-your-face character is clearly Captain Hooker (Tessa Brown). For me, that was literally true. I was seated in the section of Cafe Cleopatre where she made her first appearance on top of a bar. Up close she was intense to say the least and that intensity stayed with her wherever she went in the room, a real comedic tour de force performance with some of the funniest reactions in the show.
Erik Leisinger (Radical Raven and pianist), Misty Portugal (Pearl), Seth Scheuner (Smee), Tristan Ginger (Door Bitch), Mish Chartier (Turqoise) and Alex Brault (Flaming Fox) round out the ensemble cast with choreographers Debbie Friedmann and KungfuPaul de Tourreil and stage manager and tech Fiona Clark helping behind the scenes.
This show was all about the ensemble. They worked together to do so much more than guide us from point A to point B, they made the journey fun provocative.
As the show wrapped up with the same song that was near the beginning, I'll do the same and say that with Peter Pansexual, as with Montreal, you'll do more than get by, you'll find something truly unique.