A few weeks ago, I sat down with David Boots to discuss his documentary Peace Park and the issue of legalizing skateboarding at the Park.
Melanie Renaud: How did you first end up at Peace Park?
David Boots: Back in the early 90s, I used to skate at the City Hall. There were about a hundred skaters there, all the time; so many, that the security guards would start kicking us out. As the City Hall was becoming more impossible to skate in, Peace Park was being built. Being perfect for skating  and more centrally located, we all started skateboarding there. It became the new meet up spot. Everyday I'd just go to Peace Park and skate with whomever was there. Then we'd go skate around the city.
Why did you decide to make the movie?
I originally got a video camera to put together a skate promo (video), which I did. But I also ended up filming what was going on around me at the park. The documentary basically evolved from my skate promo. I ended up filming for twelve years, compiling footage and doing years of research, before deciding it was time to put it all together.
After I received grants to finish the movie, I met Jessica McIntyre, who has [a bachelor's degree] in History. Jessica dedicated a year of her life to help me write the movie. She would sleep on my couch four, five nights a week, and we'd work for 18 hours a day! Making the documentary was definitely a big learning experience. She taught me a lot about answering 'why's' when telling a story. Thank you Jessica.
How many screenings have there been of Peace Park?
So far, the movie has been shown three times as work-in-progress, twice during the 40th anniversary of the Festival du nouveau cinéma, and once at the Canadian Centre of Architecture during their ABC : MTL exhibition, under the letter F for Film.
The finished version of Peace Park premiered in the Park last summer, as the closing show for the Société des arts technologiques's (SAT) "Cinéma, DJ et Chefs invités", which is a movie screening event that happens at the park, once a week. They helped me turn the movie premiere into an event. The premiere for The Peace Park – For the People included a skating contest, a Hip Hop reggae show, free food and more. We had over a thousand people show up, making it the most successful event ever to happen at the Park. It was awesome.
What is next for the movie?
Now that the movie is complete, the real work begins. It's hard to get a movie out into the world, if you don't want to just give it away. I submitted it to some festivals, but stopped, because the submission fees cost too much, and most festivals don't even have the time to view your movie. I was speaking with some distributors, but I have since got distracted by the approval of a pilot project that [temporarily] legalized skateboarding in the park for the summer, so the promotion of the movie has been put on hold. Maybe it's a good thing I didn't get it out yet, because if we legalize skating the movie will require an epilogue.
Can you describe the details of the skateboarding pilot project at Peace Park? And was there talk about extending this to more locations in the city next summer, if all goes well?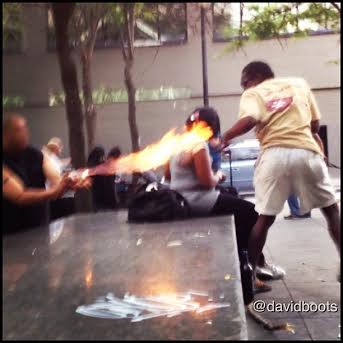 Even though we've been skating in Peace Park since it's construction, there has been a long history of skaters getting tickets in the park. Skateboarders were being jailed, and ticketed for over $600.
With the help of the SAT, I managed to get a pilot project approved by our mayor Denis Coderre. [The project] legalized skateboarding in Peace Park for seven days a week, from 10am to 9pm, from August 8th until September 26th.
This approval has given us the ability to organize four skate events in the park. So far we held three "Skate Jam and Tea Tuesdays", which are skate contests, where we give out free tea, jam, and toast, with [the chance of winning] $500 in cash for tricks. The events were a huge success and they helped prove to the city that skate events are a fun and positive way to help animate the park. They also showed that skateboarding fits well into the Quartier des spectacles.
Now we are currently working on the last event: Peace Park's 20th anniversary, which is next week on September 20th! For the event, I am putting together a video entitled "Peaceful Moments." The video highlights the park's most memorable moments, over the last two decades. Preceding the video will be a skate contest with over $2000 in cash to win, a free spaghetti dinner, a birthday cake, a Hip Hop reggae show, and more.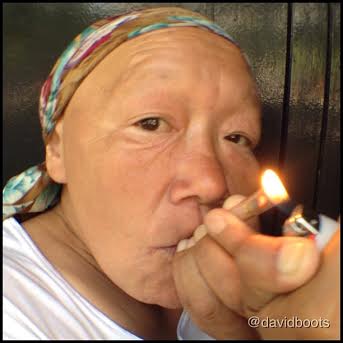 Our goal with this event is to show, that the skater community doesn't just want to legalize skateboarding, simply in it's own interest, but that it wants to be a part of the greater community and help it. To do this, we will use Peace Park's 20th anniversary, in order to help create awareness for the social problems at the park. We have invited social service organizations, who have been helping educate people on the services that are already available, to participate, to thank these organizations for their years of hard work, and most importantly to let the public know that an effort is being made to help improve the situation in the park. All of our actions this year aim to demonstrate the impact of skateboarding in the park, with the ultimate goal of legalizing skateboarding once and for all at the end of the pilot project.
Has there been more skateboarders at the park since it has become legal?
Yes, skaters have been returning to the park, but they haven't overrun the park. Peace Park is actually pretty difficult to skate in, so it generally only attracts more advanced skaters, which limits the number that will skate there. And, skaters usually only get there around two, three in the afternoon and are gone before dusk.
You are very active on Instagram, why have you chosen this platform?
DB – I really like Instagram. A photo is worth a thousand words, or so they say.
It's a really good social media tool for me, as opposed to twitter, because there is nothing I'm going to say in 140 characters that is worth anything, compared to me posting a photo, or even a video now. I also like that, when posting on Instagram, I can share it with all other social media platforms all at once. It is very simple to use. Social media has become such an important part of marketing and promoting whatever it is you're doing. It's also become an outlet for me in some ways. I think it's cool because it helps me raise awareness for some of the social issues present in the streets of Montreal. Sometimes I feel a bit addicted to it: like if I don't put pictures up on Instagram for a few days, I start feeling as if  I'm not being productive. I only have a few thousand followers, but I have been voted the number one Instagrammer in the city by Mook Life and MTL Blog, so I must be doing something right.