I often feel like the creepy guy in the corner jerking off.
How did I get here? (This is not my beautiful wife, this is not my beautiful house…) Do they notice I am here? I feel different, and that sometimes socially isolates me. I oogle at the other burlesque dancers. Beauties, pure delight, smooth skin, perfect shapes and proportion. The best asses in town topped with the sweetest personalities around. They are all anybody's definition of physical perfection. I'd eat from their shoes.
I constantly feel the need to yell "I AM NOT WORTHY!" like Wayne and Garth at the feet of rockstars. In awe of my surroundings.  My life is truly blessed.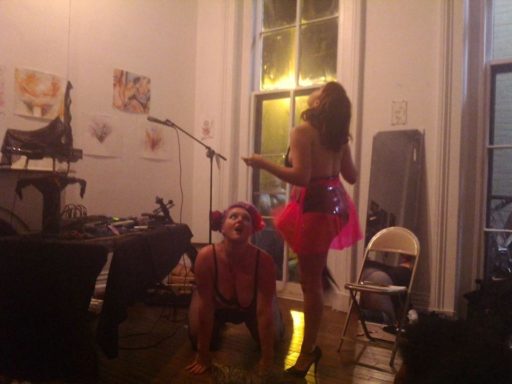 Look deeper, listen to them talk and laugh, spill about their own insecurities and bullshit. These people that I idolize, hold with such a high standard, are at the end of the day just normal people who poop and bleed, putting their tassels on one at a time like everyone else.
We are all humans: "beautiful" and "ugly" are relative, we all see a different monster when we look in the mirror. Everyone is so preoccupied with their own flaws that they cease to even notice yours. That is why caring about what others think of you is really stupid, we need to take care of ourselves and not give in.
Wish I was faster and less depressed by others' happiness. I am a lump covered in strange skin lesions, I am fat, I am smelly, I have hairy armpits, and an inch of roots on my bleached out hair. I am nothing like these visions of glory, I am a slob, a festering pile of yuck.
I AM BEAUTIFUL!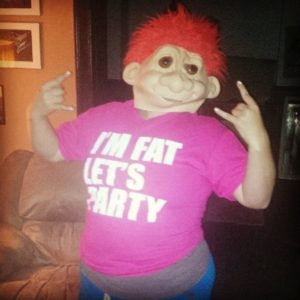 Know that because we are not perfect we inspire others who are not perfect to love themselves too. It is a responsibility to show the world that no matter what you look like you have the right to be accepted and celebrated.
You too can lead a glorious existence! I remember once saying "I am a troll" out loud, and I was literally dressing up like a goon. Dumb. Why do I even care about what society likes? Life is a freakshow attraction. People like me regardless of how well I play by the rules, the art outside the lines is impactful.
Fun fact, did you know there is a thing called soaking? It is when you insert the penis into the vagina and just let it chill. It hangs out until it cums, no thrusting necessary.
That sounds pointless. Literally just getting your dick wet doesn't sound remotely enjoyable. Its like what happens when a gay man and a lesbian try to make a baby, are we there yet? I told you we should have used a turkey baster.
I always thought it would be funny to have like 10 butch lesbians with turkey basters full of jizz squirting them all on one guy, lesbukkake anyone? Let's turn those tables. Break down hetero-normativity in every single way. I am a squirter, so it definitely feels powerful to get to jizz on someone, I get it.
I am going to be thirty this year, dirty thirty, that means my egg timer is almost up and I should be looking for a good god fearing white man of similar or hopefully higher socioeconomic status to make mutant republican babies with and move to the suburbs where my dreams can rot in a three bedroom ranch.
I want to spend my dirty thirty with thirty of my most down ass friends covered in shit. Literal feces. It will be the dirtiest party of them all. I am already borderline incontinent, last night I drunkenly peed on my feet while trying to relieve myself in an ally.
I held a frozen burrito under my arm, being denied bathroom access at the store I took it upon myself to wash their sidewalk with a flood of golden glory. Never going to top drunkenly peeing on church steps and not getting laid because I totally didn't wipe though. That takes the cake. Chocolate cake brown like the shit stains in my Zubaz.
I am a creep, watching women undress in front of me, feeling like I shouldn't be allowed there. That's how I feel when people show me affection, I can't believe this vision of loveliness wants ME?! You sure you got the right guy?
I watch from a distance while other people get off. I have sat in my car and watched people fuck with an open window. I once sat on a roof overlooking an office building and watched a guy jerk off at 2am. Photos of his family were hung on the walls. I still wonder what kind of kinky shit he was watching. I'm sure it was the gayest scat fisting gang bang porn imaginable.
Peeping Toms and shower windows make a great pair. I was recently sitting on my friend's porch, drinking beers, smoking some jazz cigarettes, shooting the shit, sun setting, ya know stoop life at its finest. And all of a sudden I look up and notice a frosted window on the second floor of the house next to us with a light on.
Suddenly one shadow appears, then a second. It is easy to decipher that this is a shower, they each wash off, and easier to notice that the couple started to have sex. You could see the outline of her breasts and ass, I could not see his boner shadow though, bummer. Sexy silhouette sex right in front of my peeping eyes, we were all wide eyed.
The slap heard around the world made me think they knew we were watching, if we can hear them they can also hear us. It was a short fuck, it seemed fake, like in Austin Powers when he was making shadow scenes look dirty. I kept feeling like I was going to get Punk'd.
I like this channel.