Traveling through one's own body can be a very, very dirty and downright rotten job.
That's what you will be in for at Peter Carlone and Chris Wilson's fourth production, Peter n' Chris Explore their Bodies . Back after last year's hit Peter n' Chris Save The World, this time they're delving into the bowels of, well, Chris' bowels.
After finding out Chris no longer controls his own body, the duo have no choice but to wear a magical housecoat which allows them to dive into his body as a microscopic incarnation of themselves. In Chris' body, a dark figure known as The Dark One convinces Chris, who happens to have hypochondria, that he has liver cancer.
From there the adventure begins as Chris and Peter dive farther and farther down Chris' system to find The Dark One and restore Chris' body to its rightful owner.
Dealing with many philosophical and theological issues, there is much this play attempts to explore but does so in funny, action-packed sequences that will amaze any audience with a pulse. As they move down into Chris' body, they deal with with issues of appearance, self-loathing, obsessions and friendship. Details on the organ functions make for a  hodge-podge cocktail of identity crisis issues and is painfully funny. There is one great scene here where Chris ventures into his liver to meet a Scot who hangs out surrounded by processed alcohol.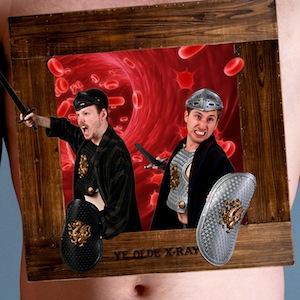 This two-piece are so full of energy I laughed nonstop.
What really made the show for me was beyond the stage and in the sound booth at Cabaret Mile End. It was the best damn sound-equipped show I've seen in years. These guys queued up their music in perfect timing with accompanied action sequences.
The sound here is professionally done and is injected with pop culture references from The Hunger Games, Lord of the Rings and The Wardrobe. The play has an epic feel yet keeps its improv comedy sensibilities.
The death scenes are also hilarious. One in particular had me hacking away, I almost induced a spleen injury.