Dyngus day is a Polish holiday that celebrates the day after Easter. Women tap the boys they like with pussy willows and men dump buckets of water on the girls they like.
Buffalo NY is the biggest Dyngus Day party in the world. It has turned into an awful display of humanity, but I never realized it. It is like I finally woke up. Grown men stumbling around wearing I LOVE PUSSY shirts and pissing on everything they could find. Open container and indecent exposure isn't a thing I guess.
For one day a year, the streets of Buffalo's Eastside are filled with a sea of red and white. Thousands packed the streets for the 11th annual parade celebrating Buffalo polish pride and the end of Lent. Floats throw kielbasa, butter lambs, rye bread, and even cartons of MILK – vegan nightmare!
It's like Mardi Gras, but instead celebrates the end of lent, the end of giving things up. You have to work for this, it's a reward.
People who are here may have had family that once lived on the Eastside, but let's face it, the neighborhood has gone through a demographic shift! It has been swept into poverty.
I am from the neighborhood, too, but it doesn't make it right to hulk smash through the current residents of the poorest neighborhood and piss all over it. Polish people moved to the suburbs and didn't want the old Polonia neighborhood or Dyngus Day to die, but it can't continue like this. Perhaps renovating the Central Terminal will be a real positive for the neighborhood rather than a Polish invasion.
I know that am part of the problem. I keep coming to this realization and until I stand up and fucking change it I AM THE PROBLEM.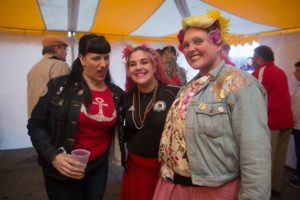 I stood there with my friend, wearing flowers. We had biked down to the East Side. We were standing in front of a building where two men of color diligently worked putting up tiles on the front of it. There was a younger child on the second floor peering out the window. Men kept filing in and pissing on the side of the building, the kid was yelling "STOP PISSING ON MY HOUSE I CAN SEE YOU!" I should have backed the kid up. Even the men remodeling didn't stop them, what power did they have in a sea of bros? White men have been pissing on them their whole lives, now it is just literal. Next year I want to fill up a super soaker with PISS and squirt all the assholes who just think they can piss all over the east side.
Yes it is a depressed neighborhood, there are a lot of abandoned houses, but I know damn well that people are trying, people are LIVING THERE and we run through their backyards like fools. Dyngus Day guests need to have respect for others and should be ashamed of themselves.
To some people it is innocent fun, but these same people need to open up their eyes. Just because you aren't doing something on purpose doesn't mean it isn't happening.
It felt like we were at a Donald Trump rally. There was a sea of red and white, motorcycles, all white people, the occasional MAKE AMERICA POLISH AGAIN sign, and the most blatant shirt with Trump's face that said GRAB HER BY THE PUSSY WILLOW! Pussy willows, squirt guns, red and white, falcons, butter lambs, kielbasa, traditional dancers, goofy t-shirts, racist rhetoric, oh yea and a league of Trump supporters.
Their sense of entitlement astounds me. The disillusionment is mind blowing. Trump has an audience with these fools- misogynist, racist, anxious, angry, and teetering middle class comfort. Disenfranchised white people are dangerous! Scary and powerful, balding, scared of change and won't ever admit fault.
At the heart it is a quirky holiday, and I should feel safe to celebrate my heritage. We just need to stop being assholes about it.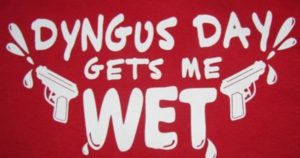 The custom of pouring water is an ancient spring rite of cleansing, a sign of fertility and purity. Pussy willows are the first bud of spring. They are indicative of new growth. 50 shades of red and white, whipping and splashing. Lots of dirty shirts talking about wet pussies have emerged from these traditions. Polka bands with names like Hokus Polkas and Those Idiots are my favorites.
This holiday NOT observed in Poland. Smingus Dyngus means "wet Monday" in Polish. Buffalo likes to make everything into a drinking holiday – 2 for $5 shots of Krupnik (Polish honey liquor). As I was waiting in line for the porta potty, a girl shared some krupnik out of a honey bear bottle. I tried to buy it from a liquor store on the west side and he had no idea what I was talking about.
Sure, I've been the butt of pollack jokes.  The radio station 97 rock hosted a day of pollack jokes on Monday. People are embarrassed of their heritage because of the stigma of being a dumb pollack. Try being a dumb pollack and a dumb blonde at the same time.
Why is it ok to make fun of Polish people so openly? The official Dyngus Day Facebook page called out 97 Rock for making fun of Polish people. These same folks can't seem to find a problem in supporting a BIGOT misogynist president, though.
I am proud of my culture, but I am not proud of my race as a whole historically. Victim narrative of angry white men is too common a story. People who feel like their government has left them behind.
In Buffalo, the day Trump was elected their was a huge fire at the former shell of Bethlalem Steel. A symbol of strength and American economy, a symbol of the failure of these white men. The industry failed, Buffalo lost a lot of jobs. Now it burns as Trump rises like a fucking phoenix from hellfire.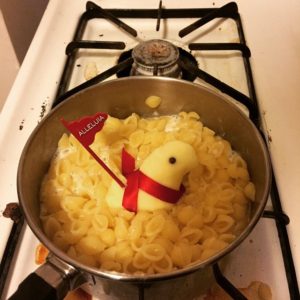 Wake up! THE WORLD DOES NOT REVOLVE AROUND WHITENESS – the American Dream was only designed for white men, they have been babied and feel "lied to" and now they are pissed that the Easter Bunny isn't real, they chased the white rabbit into a hole of racism and anger. Oh no, your butter lamb melted!
White privilege is the ability to piss all over someone else's pride and dignity without seeing the consequences. There were so many drunk bros and retired men reeking havoc with their blurred sense of reality. The girls were no better. We all had on pretty flowers and held water guns and took selfies on the same streets that kids were murdered with real guns.
The Eastside of Buffalo is a war zone, between gang violence and police straight up murdering people I would be afraid to leave my house too. Now we add a sea of entitled suburbanite asshats to the mix?
We need to be giving back to this community, loving and nurturing the people who are there, not just colonizing for one day and leaving. We need to ask them where we are needed and not trample on their dignity in the name of tradition.
My friend was busking on a street corner and got bashed in the face with his own clarinet by a drunk bro. Great job Buffalo, probably the same internet sensation who was fucking his girlfriend and doing lines of coke in the lot outside of the Bills game.
Of course Anderson Cooper laughed at this…