As usual, sex was a popular topic in the news this year. From changes in laws across the globe to favor same-sex marriage and the safety of sex workers to watching a young woman swing naked on a wrecking ball, it was impossible to escape the controversial and polarizing nature of sex in our culture.
Global Spread of Marriage Equality
One of the biggest stories of the year was the continuing spread of legal same-sex marriage. According to the New York Times, the global population with access to marriage equality doubled in 2013, which was largely due to progress in North and South America. Eight more of the United States passed laws on marriage equality which are now recognized by the Federal Government thanks to a Supreme Court decision this summer, while Uruguay and Brazil voted to legalize same-sex marriage earlier this year.
France became the largest European country to do so as well, and New Zealand brought same-sex marriage to the Southern Hemisphere. This brings the total global population with access to equalize marriage rights to approximately 585 million, which sounds pretty high until you realize it still only represents about 8% of people across the entire world. Here's to hoping we double or even triple that number in the coming year.
Challenging Canada's Prostitution Laws
Another of 2013's biggest stories came just one week before the end the year when the Supreme Court of Canada voted unanimously to strike down three of Canada's current laws pertaining to prostitution. While it is not currently a crime in Canada to sell sex for money, there are laws prohibiting living on the profits of prostitution, communicating in public with clients, and using a private residence such as a brothel for the location of the act.
These three laws were challenged by three women with experience in the sex trade, Terri-Jean Bedford, Amy Lebovitch and Valerie Scott. They argued that the current laws prevented them from safely conducting their business, which violates certain rights and freedoms set down in the Charter. While the Ontario Court of Appeal later upheld the law about communicating about prostitution in public, they sided with the Supreme Court regarding the other two laws, agreeing that they were too broad.
The Supreme Court gave Parliament a deadline of one year to create new laws, if they so desire. It will be interesting to see how far they go in protecting the safety of sex workers, a story that I will continue to cover in the coming year.
Miley Cyrus Twerks Her Way into the Spotlight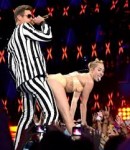 Much has already been written this year about the raunchification of Miley Cyrus and her "all grown up" behavior shift from squeaky clean tween idol to lewd tongue-wagging twerker. One of her most memorable moments of the year came when she teamed forces with one of this year's other prime provocateurs, Robin Thicke, singer of 'Blurred Lines' aka that disgustingly ubiquitous song you hope you never have to hear again.
Their little performance on the MTV Video Awards definitely earns top billing for most controversial dirty dance moves, as Miley stripped down to a barely there nude bikini and violated that poor foam finger, causing a media storm in only the way our little Wrecking Ball can.  Will she find newer, more disgusting ways to shock us in 2014? Only time will tell…
No One Wants to Envision Rob Ford Getting Enough to Eat
Finally, I'll close with the little oral sex story that could, and in fact did, make its way around the world's gossip columns and nightly news satire shows. Toronto's bumbling mayor extraordinaire Rob Ford made a lot of strange comments that were scrutinized by media outlets everywhere, none as shocking as his response to allegations that he was sleeping with one of his female staffers. Ford said to a room full of reporters that he never wanted to eat her pussy, since he was happily married and "got enough to eat at home."
I guess ultimately I should feel happy for Mrs. Ford, if indeed these are the arrangements of their sex life, since every woman should get enough at home, but the shock value of his candor mixed with the mental picture of Rob Ford doing anything in the bedroom was enough to make me shudder. The main question on everyone's minds is how much lower can he fall in 2014?