Urge For Going was on my list of I'd really like to see but I don't know when shows. Luckily I arrived in the right place at the right time last night and ended up being pleasantly surprised. Urge For Going is a multidisciplinary show by Quality Slipper Productions written by Bekky O'Neil. Multidisciplinary can be a scary word when it comes to emerging artists, as often times it means they do many different things poorly. To their credit the cast manages to combine theatre, puppetry, music and animation into a well structured, well staged and overall smooth show.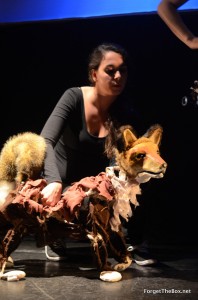 The story follows a sweet Prairie girl from Saskatchewan who wants to gain her independence and goes on a journey of self discovery. A true free spirit, she attempts to follow in the steps of Joni Mitchell and follow her dreams. She picks up her ukulele and leaves home meeting a diverse cast of talking animals, hipster bloggers and corporate wolves.
Probably one of the most interesting and impressive elements of the show was the puppetry as one of the main characters the protagonist meets is Henry the Fox. Besides being a voice of reason, Henry is a very cool looking puppet expertly voiced and acted by Cloe Saint-Laurent.
The show does a really good job at satirizing both the purity of being free (running around with your feet in the mud and living on a dairy farm in Vermont) and today's modern uber connected tech world (hipster bloggers will write reviews for beer).
Overall this is a story of trying to grow up too fast which hits the right notes. Check show times on Fringe Montreal.