Pauline Marois blames multiculturalism for bombings and violence in England.
"They are punching each other and throwing bombs because it's multiculturalism," she said while promoting her government's proposed Charter of Quebec Values on Friday, "and no one there sees themselves in that society."
After Quebec politicians and citizens put pressure on Marois, she clarified her statement. By bombing she meant attacking different models of social integration.
While she admitted that France's model of secularism, responsible for ghettos, racial profiling and riots, "isn't perfect," she ignored the Global Migrant Integration Policy Index findings that the UK is only narrowly better than France at integrating immigrants. Canada, by contrast, is ranked third in the world, vastly higher than both countries.
This came a few days after former PQ leader and Quebec Premier Bernard Landry praised France's state secularism but also failed to mention the brutal xenophobia it fostered. He was announcing that the government would forgo passing Bill 14, which would have stripped bilingual status from municipalities where a majority of the population's mother tongue is not French among other things, and focus instead on their Charter which would ban public sector workers from wearing religious clothing or symbols.
It's no surprise the bill didn't fly with the public. Even the terms anglophone and francophone are becoming archaic and Quebecers don't want to be confined by such narrow constructs.
The PQ decided to leave English speakers alone and set their sights on an easier target: immigrants and their religion. Unfortunately the Charter has been a bigger hit with the public, but not everyone is happy. Montreal recently voted unanimously to reject the proposal and quite a few media outlets, most of them in English Canada criticized the plan. At the press conference, Landry found himself on the defensive.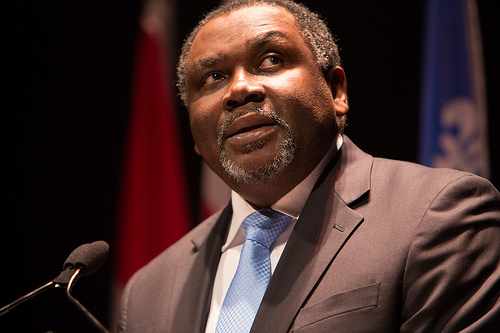 "I take pity on some of Canada's English newspapers," he blasted back, calling to Anglo media coverage of the secular charter an exercise in "Quebec bashing." He went on to warn that Canada will "deeply regret" embracing multiculturalism:
"Multiculturalism will lead to more and more problems," he said, adding that "immigrants themselves are the first victims of multiculturalism."
Landry continued by attempting to dispel accusations, which were never raised, that the PQ was a party of bigots:
"Do they think our culture minister was born on Ile d'Orleans? It's (Cameroonian native) Maka Kotto. We (the PQ) elected the first black person in the Quebec national assembly. The Bloc Quebecois elected the first Latino to the Parliament of Canada. They should open their eyes."
Landry's message is inconsistent. He dismissed accusations of péquiste bigotry by praising the PQ's multiculturalism credentials and in the same breath vilified multiculturalism as a national plague. Landry may truly believe he is not a bigot, but he could also be unaware of what being racist, ironic, or disingenuous means.
Landry also claimed that "in the US, you never see a police officer with a turban." In reality, there are American police and even US Army soldiers who can and do wear them on duty.
Maybe Landry and Marois should just look in their own backyard instead of pulling examples from the states and Europe. Sikhs in the RCMP and the government of Canada can wear turbans, the Supreme Court of Canada overturned Quebec's ban on kirpas and recently the Canadian Soccer Federation forced their Quebec counterpart to get rid of their ban on religious headwear.
Despite the Charter's popularity with some people, cracks are showing in the PQ's cultural shield.