Quiet Company @ The Rivoli
Quiet Company come from Austin Texas and is comprised of Taylor Muse, Cody Ackors, Jeff Weathers, Thomas Blank and Matthew Parmenter. These dudes rock out hard in a pretty magnificent way – the kind that makes you want to dance and jump and shove other people at the same time. Not mosh, but get a little dirty and sweaty for sure. Lead singer Muse spoke to the crowd of how he loves the quantity of beautiful women in Canada. He even married one. He went on to add that his kid was conceived in Dundas Square but wouldn't specify if that was in a hotel room or… sidewalk? Alas, we're left to decide. Muse has a humorous way of keeping the crowd snickering between songs. Then he flips this soft side completely when he takes his guitar solo and totally blows your mind and ears. These guys know how to put on a rock show. If you're looking for some animated and attractive rock tunes, find your way to a Quiet Company show. Bassist Matt even got a cupcake delivered to him on stage via local musician Branko of Dinosaur Bones in a Speedo. Needless to say, fun was had by all.
D I A N A @ The Legendary Horseshoe Tavern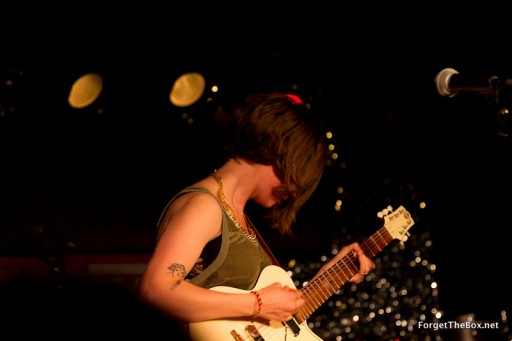 D I A N A is made up of Toronto locals Carmen Elle, Kieran Adams, Joseph Shabason and Paul Mathew. They will release their latest album August 20, 2013. They already have a few songs up on their Soundcloud. After checking out their live set at the Horseshoe Tavern, I'm eager to hear more of what this group produces. Lead singer Carmen has a glorious voice, not to mention an astounding stage presence. If you love a lady that can rock out on electric guitar while whipping her short bob all around, you're in for a treat. I was bedazzled by their performance and it was my first time listening to the band.
Dan Deacon@ The Legendary Horseshoe Tavern
If you read my preview for NXNE, you'll note that I was excited to check out Dan Deacon as I've often been told to see a show. I quickly learned why. Dan Deacon played his entire set in the crowd from start to finish. His eager fans were prepared to do anything he asked of them. There was a dance-off in which contenders shamelessly broke it down for 20 seconds or so before picking a new candidate. This got the crowd into his beats and sounds right off the bat. At one point he even started a "tunnel" with hopes of getting the entire crowd to run through the bar, into the street and back again. A bunch of people started but then we all seemed to forget and continued to enjoy the show. This only added to the hilarious and positive energy of the night. Deacon gets you feeling like you're part of the show, getting you quickly acquainted with your neighbours. You feel as if the whole show wouldn't be the same if you weren't there. People were losing their minds for this guy. If you're looking to get sweaty, get smushed against strangers and dance your ass off, look up Dan Deacon.
*Photos by Celia Moase. Check out our NXNE 2013 album on Facebook for more photos.