Around 300 people gathered in Montreal on Wednesday to protest police treatment of black people, both here and in the US. Over a thousand people have announced their intention to participate in a similar event this Saturday. The Black Lives Matter movement might be finally picking up momentum in Montreal.
Protesters met in Nelson Mandela Park on Wednesday, responding to the call of the Black Coalition of Quebec. The event was organised in the wake of the tragic events that unfolded last week in the United-States.
It was partly in memory of Alton Sterling and Philando Castile, both killed by the police in the space of a couple of days. Several people payed tribute to them and to the five police officers killed by a sniper during a Black Lives Matter protest in Dallas.
It was also meant to call attention to the way Montreal's black community is treated by the police. Several speakers stood up on a pick-nick table to address the crowd; some were planned, some were spontaneous. A peaceful march followed and no incidents were reported.
If you missed all of this, you will have another occasion to show your support, this Saturday in Cabot Square. A new Montreal NGO, Twese, is inviting people to gather there at 2pm "to honour the lives lost and express our rejection of police brutality and any kind of racial prejudice."
Cabot Square is a historically and socially meaningful place for indigenous people in Montreal. Co-founder of Twese Anne-Sophie Tzeuton says that the organisers are aware of the importance of Cabot Square to First Nations and that they want to honour it.
Police brutality and discrimination are also "a huge problem" for First Nations, she noted, "of course we intend to talk about it and we hope many will attend."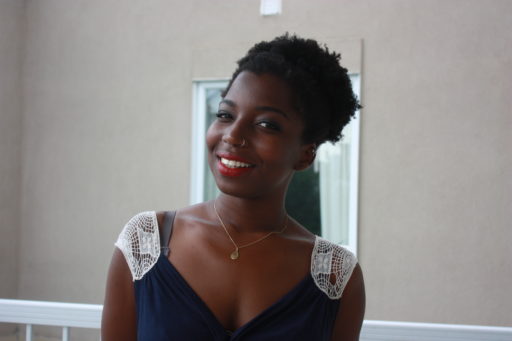 The main objective of Saturday's event, aside from rallying people to the cause, is "to offer concrete solutions that we can all apply to our daily lives." Several speakers will take the microphone to that effect. Spoken word performances and other artistic tributes to lives lost in police shootings are also planned.
Tzeuton is happy with the unexpected popularity of the event on Facebook, but she fears that all this attention won't last. "It often happens, after a tragedy: there is a lot of media attention at once, but it passes and then we forget."
She hopes the current momentum can be used to discuss lasting solutions before the hype dies down.
Twese ("everybody" in Kinyarwanda) describes itself as a platform encouraging the diasporas to exchange ideas and further a collective reflection about various topics. It was created this summer by four young black women who have played active roles in black student associations in McGill, Concordia and Université de Montréal.
Discussing Canadian Racism
Quebec's Minister of Public Safety Martin Coiteux reacted amiably to Wednesday's protest: "We have to be very careful to protect the rights of all minorities in Quebec so I support people who are demonstrating for having equality of rights and we are completely in solidarity with what happened."
However, according to him, "the situation here is, fortunately, very different to the United States." He insisted on the importance of preserving "our model here of peaceful coexistence."
How Different is it Really?
In 2013, the Office of the Correctional Investigator found that native people were alarmingly overrepresented in federal jails. In 2016, aboriginal youth made up 41% of people entering the justice system, despite representing less than 7% of the overall population.
Quebec's commission of human rights officially recognizes that police forces practice racial profiling since 2010. An internal investigation published that year by the SPVM revealed that in 2006-2007, in Montréal-Nord and Saint-Michel,41% of young black men had had their identity checked, compared to 6% of young white men. The study also found that black people were more often carded for "vague" motives.
Just a couple of months ago, a black man named Jean-Pierre Bony was killed by the police in Montréal-Nord during a drug raid. Bony was shot in the head with a plastic projectile in front of the bar where the raid was conducted. He died in the hospital four days later.
"The only difference between Jean-Pierre Bony and what we've been seeing in the U.S is that there was no camera," remarked Will Prosper, an ex-cop turned black rights activist, in a recent interview with Radio-Canada.
Many Canadians, like Coiteux, feel that the kind of systemic racism observed in the United-States doesn't happen in Canada. According to Tzeuton, those claims are most often made by people who are racially or socioeconomically privileged.
"It is very easy for people who are not living those problems to claim they don't exist."
* Featured image of the April 6th Montreal North protest following the police killing of Jean-Pierre Bony by Gerry Lauzon (creative commons)