A few weekends ago, I trekked all the way to Parc Extension to Café Artère to meet with spunky rockers Zinta Avens Auzins and Kate Bass of Ruff Talons, a local band topping the charts at CKUT 90.3 FM.
"If there was a zombie apocalypse," Zinta says, "I'd put together a bike army with a base out in the country. We'd wear sweet fanny packs, stocked with weapons and snacks, and we'd throw glitter at the zombies. No one's tried that yet, so who knows what it could do!"
As for Kate, when asked about her zombie apocalypse plan, she says she'd join Zinta's bike gang. After spending some time with Zinta and watching her rock the stage live, so would I. Time to buy a fanny pack.
In January, Ruff Talons released their debut EP Tuff Stuff, which they recorded in two days at CJLO  1690 AM recorded and mixed by Dorian Scheidt (Cinema L'amour). I started hearing buzz about their recording and decided to have a listen for myself. A fun, get on your feet and bob your head and sing really loud treat, this 7 track EP boasts gems like "Milkshake Sugar Rush" and "Put You in A Box". Their sound is recognizably post-riot grrl punk rock and reminds us why this kind of music is so fucking fun and brilliant.
Zinta (vocals, guitar), Kate (bass) and their current drummer Lisa Gamble, met through mutual friends. Their line up is complete with Max Halparin ("fancy" guitar) of Debt whom Zinta met at The Flat Collective, a bike collective in the city. As for the name for the band, it had been bouncing around Zinta's creative mind-studio for a few years. Zinta, who is also a graphic designer, liked the idea of a having a "tough bird thing that could look like feminine claws" and the silly spelling of the word Ruff brings in an almost antithetical element. The name of their EP, Tuff Stuff, is a quirky play on the silliness of words.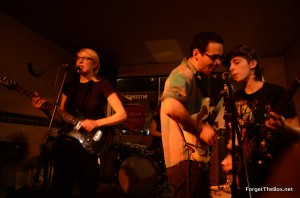 In terms of their musical journeys, Zinta started playing music when she was quite young, earning her chops at the piano and eventually the guitar. She started writing songs within a year of playing guitar starting with the acoustic and moving towards an electric sound. As for Kate, she started with the guitar on and off, playing in a riot grrl cover band at fundraisers for Rock Camp for Girls, an initiative that both Kate and Zinta hold in very high esteem. Through taking part in cover bands, Kate was reminded of the greatness of playing music with others. She then decided to try her hand at playing the bass for Ruff Talons and looks towards pop punk bass lines that are complex as well as the band Jawbreaker for inspiration. As for Zinta, she describes her songwriting as being based in how the personal is political, crush songs, straight up fun, and cute love songs. In terms of musical influence and inspiration, Ruff Talons are inspired by riot grrl bands like Sleater Kinney and Bikini Kill. They are also inspired by punk and rock bands like Xray-Specks, Buzzcocks, Ramones, and the Stooges.
I recently saw Ruff Talons play at Brasserie Beaubien, a venue I have mixed feelings about where I managed to injure myself whilst playing pool, and had a blast dancing and bobbing my head to their tunes. Forget The Box photographer Chris joined us for the punk rock fun and took some photos. For the full lot check out ForgetTheBox on FB.
Catch Ruff Talons on March 24th at La Brique 6545 rue Durocher #402 where they'll be playing with Poof Pony, Doppelbanger, and others in collaboration with Radical Queer Week.