If my article last week convinced you of the benefits of introducing more raw vegan meals into your diet, now is definitely the time to do it! Summertime is the best time because of the abundance of fresh, organic produce. Also, most of us have a natural propensity towards light meals during the summer, and raw vegan dishes are just that, in addition to being highly nutrient-dense and low-calorie.
This week, I thought I'd share with you this delicious raw vegan meal idea: zucchini spaghetti with a raw tomato basil marinara sauce and chunks of avocado. Who knew you could have not only raw noodles, but also a raw tomato sauce?!
I must admit that although this is an exquisite recipe, and so are all raw pasta dishes, really, they aren't pasta. It may have the look (slightly) of pasta and mouth-feel (somewhat) of pasta, it is not pasta. However, if you agree to keep an open mind and try this healthful, gluten-free, low-calorie dish, you may just appreciate it for its unique virtues! The best part is that you can enjoy a big heaping bowlful and not feel heavy and lethargic after your meal. This is one of the many advantages of raw vegan meals: you feel so energetic afterwards! Here we go!
Ingredients:
Makes about 2 servings
1 large zucchini, spiralized
1 large tomato, diced
1 garlic clove, crushed
1 1/2 teaspoon oregano
1/2 teaspoon Himalayan salt
1 teaspoon olive oil
1/2 red bell pepper, diced
2 tablespoons fresh basil, finely chopped (or more if you are a basil enthusiast like me!)
Pinch of black pepper and red chili flakes (if desired)
Garnish with shelled hemp seeds, fresh basil and chopped avocado
Method: 
1. Pass zucchini through Spiralizer.
2. Combine other ingredients in a large bowl to prepare Marinara sauce.
3. Pour sauce over zucchini. Garnish with hemp, avocado and fresh basil.
In order to create the zucchini spirals, you will need a spiralizer. I purchased mine online, but you can also check out your local health food store. This device is great for use with many other vegetables and fruits. For raw pasta, besides zucchini, you can try sweet potato, carrots or bell peppers.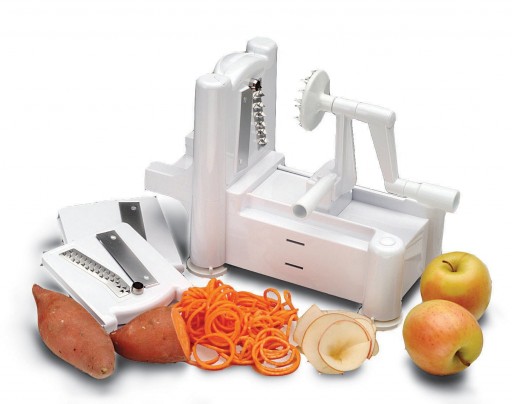 Bliss out with this one and enjoy these wonderful sunny days of summer!
Follow my vegan adventures on Facebook, Instagram and Twitter. Get Cooking With Amore for over 100 vegan recipes, all made with amore!
What we do is less than a drop in the ocean, but if that drop were missing, the ocean would lack something. ~Mother Teresa