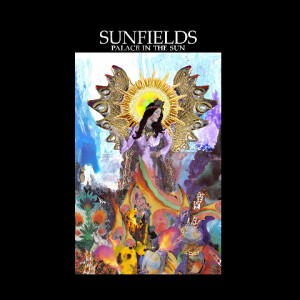 Hailing from Montreal, Sunfields started off as a solo project from Jason Kent who has been visiting England for years. Their first album which was completed in Spring 2010 began three years earlier during the Fall of of 2007 just north of London.
Longtime friend and guitarist Phil burns, who played with Kent in a previous band joined, along with Drummer Chris Wise, and Bassist Cliff Roberts. Fender Rhodes and James Watkins are only a couple to mention among many other artists that contributed to the Place in the Sun album. The album is full of different original instruments from mellotrons and mandolins right on through to saxophones, trombones, and vibraphones, which are just an example of the diversity of sounds used on this album.
Palace in the Sun starts off with a happy vibrant melodious track, Skin and Bones, using a head bobbing foot-tapping beat.   Their classic soft rock rhythm and country/jazz feel is felt throughout in every song right to the end of the album. The choppy pianos, background clapping and raspy vocals complement the bluesy tough sounding guitar and Kent's vocals add nicely on their single City, which can also be heard in their video.
Palace's harmonica intro calms you down a bit before raising your heart with inspiring vocals. With beautiful bright colors painted into an archaic portrait on a canvass with a dark background, the artwork for Palace is fresh and pleasant, and matches the album perfectly. Palace took me on an enjoyable journey through touching memories, all the while warming me with a sense of freedom that stays close to home yet still down to earth.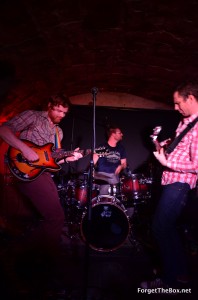 Palace in the Sun in a whole is a pleasant music journey in the sun through soft caressing fields. It gives you a nice blend of old classic rock smoothed out with a wide variety of original sounds for an uplifting experience. A good album altogether, great for that desire to sit back and relax in the sun.
Sunfields also recently played at CFC with Michou and ForgetTheBox was there! Check out our show review too.
Photo by Chris Zacchia