On November 23, 2015 the Arts and Science Federation of Associations (ASFA) of Concordia University reached a settlement with a former executive who accused them of discrimination and harassment based on her ethnicity and gender. The executive is known under the pseudonym "Mei Ling" to undoubtedly discourage harassment from misogynist and racist trolls and supporters of her harassers.
She sought $30 000 in damages after discovering a Facebook conversation about her between two male executives that was left open on a shared computer. The conversation made sexist and racist comments about her, referring to her as a "chink slave," "bitch" and "whore" and joking about having her impeached if she didn't have sex with them. Her complaints also include being excluded from executive events, being denied an award before she'd even applied for it and being the only executive not to receive a bonus.
She, with the help of The Centre for Research-Action of Race Relations (CRARR), a civil rights advocacy group, filed a formal complaint with the Quebec Human Rights Commission and the Youth Rights Commission last March. Though a settlement – which includes an undisclosed sum, a public apology and a promise to set up a task force to address the issues arising from the case – was reached with the ASFA, Mei Ling told the press she has every intention of pursuing her harassers individually before the Quebec Human Rights Commission. An investigation is currently underway.
This article is not about the fact that Mei Ling's harassers are clearly racist misogynist slime who have no place in any position of authority.
It is not about the fact that Concordia's refusal to give her justice and address the issues of misogyny and racism directly make them an accomplice to the harassment she received, and that the settlement reached is clearly an acknowledgment of their guilt.
This is about the reach of the Quebec Human Rights Commission and the Human Rights Tribunal.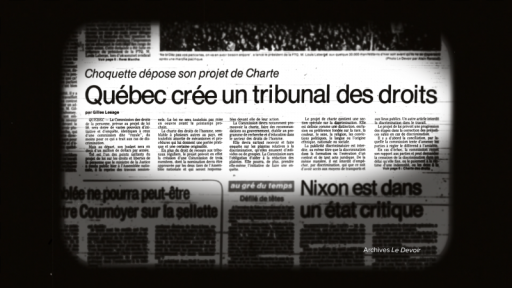 The Quebec Human Rights Commission and the Human Rights Tribunal are the organizations charged with the enforcement of the Quebec Charter of Human Rights and Freedoms. This law was enacted in the 1970s and prohibits, among other things, discrimination based on "race, colour, sex, pregnancy, sexual orientation, civil status, age except as provided by law, religion, political convictions, language, ethnic or national origin, social condition, a handicap or the use of any means to palliate a handicap."
Though the Quebec Charter isn't part of the Canadian Constitution and therefore can technically be changed by a simple act by the Quebec legislature, it is considered a fundamental "public order" law with quasi constitutional status. This means that it can't be trumped by other laws or contracts unless said laws provide even more rights and freedoms than the Quebec Charter and even contains a rule stating that all other laws can't violate articles 1 to 38 (regarding fundamental rights, freedoms including judicial and political rights and freedom from discrimination) unless the other laws specifically say that they apply in spite of the Charter.
Unlike the Canadian Charter of Rights and Freedoms which applies only to the government and anyone acting on its behalf, the Quebec Charter applies to all violations of rights and freedoms, including those that occur between private parties. That means that even if your harasser is a private business or some jerk on the street, he could still find himself before the Human Rights Tribunal while the Human Rights Commission demands an explanation and compensation on your behalf.
It works like this: your rights are violated, so you go to the Human Rights Commission and file a complaint. The Commission then conducts an independent investigation. If the Commission decides there are legal grounds and evidence justifying the complaint, it then decides the best course of action which could be the negotiation of a settlement between you and the violator, submitting the dispute to arbitration, or referring the issue to the Human Rights Tribunal.
If the Commission goes to the Tribunal, it can seek "any appropriate measure against the person or to demand, in favour of the victim, any measure it considers appropriate at that time." (section 80 of the Quebec Charter). This could not only include compensation for material damages but also any grief (known as moral damages) you experienced as a result, and even punitive damages if the violation of your rights was clearly intentional.
Take the case of Richard Zilberg. He's a Jewish hairstylist who worked for a spa in Montreal. In 2012 he filed a complaint with the Human Rights Commission when his boss Iris Gressy told him he'd no longer be scheduled on Saturdays, his busiest workday, simply because he's Jewish and shouldn't work on the Sabbath.
Zilberg, like many Jews, does not keep the Sabbath and rightly felt that his level of observance was his decision alone. The Human Rights Commission agreed and asked that the spa pay him $17 500 in damages: $12 500 for loss of income and $5000 for moral damages. In addition, the Commission recommended that Gressy pay Zilberg an additional $2500 out of her own pocket for her intentional violation of his civil rights. Gressy has since refused to pay and is planning to go to the Tribunal.
Then there's the case of Lettia McNickle, a black waitress working at Madisons New York Grill & Bar in Montreal who was given less work due to her natural braids. She claims racial discrimination. Though the chain's head office has since issued an apology, the restaurant, which had initially agreed to mediation, has since withdrawn. With the support of CRARR, McNickle too filed a complaint with the Human Rights Commission and an investigation is scheduled.
To many, the Quebec Charter may seem like excessive policing of individual behaviour, but it and the bodies made to enforce it have their place in a society where suing someone on your own is so expensive. It's an additional protection from harassment and discrimination and gives recourse to people who would otherwise have none.