The Fantasia Film Fest is already nearing it's midway point, and man, has it been a good one so far. While my FTB co-horts are off covering indie horrors and moody, introspective character pieces, I've been happily chewing away on Asian films and cinematic oddities, so let's dive in.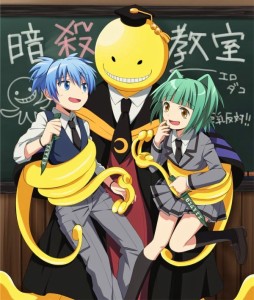 Assassination Classroom
I'm not as plugged into the anime/manga scene these days as I was a decade or so ago (the tubes started chafing me), but I gather that Assassination Classroom is something of a big deal these days. How the live action movie (evidently the first in a series) holds up as an adaptation of the manga and anime is something I can't comment on, but as a complete layman to the series, I can say it's a heck of a lot of fun. It's a prime slice of Japanese absurdity in the vein of Takashi Miike, but maybe with a touch less satirical wit.
The film, which tells the story of an alien who teaches a homeroom full of delinquent kids bent on killing him for a reward put up by the government, bears all the earmarks of an adaptation of a larger work, which is the biggest problem the film has. Characters who seem like they should be important come and go, plot points and important items are dropped in out of nowhere, giving the film that feeling of being condensed that you get with a lot of these kinds of works. It also doesn't entirely have a proper ending, leaving way too many loose threads for me to excuse.
That aside, it has a lot of charm, humour, and surreal visuals that kept me consistently entertained.
The Arti: The Adventure Begins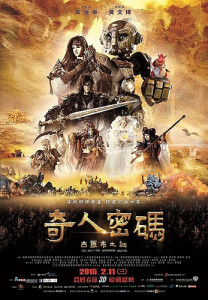 But speaking of movies over-packed with too many characters and story elements, here comes The Arti, a Chinese fantasy adventure brought to life by a combination of intricate puppet work and CGI that walks the line between Wuxia epic and Japanese role-playing game.
I don't make that last comparison lightly, by the way. The Arti feels very influenced by stuff like the Final Fantasy series, combining martial arts mythology with a metric ton of lore, magical locales, creatures, and increasingly outlandish character designs. While Assassination Classroom more or less held up under the weight of the story it was trying to tell, The Arti feels smothered by all the lore, characters, sudden betrayals, macguffins, and flagrant deus-ex-machina.
Which is a shame, because it's definitely an interesting film to watch purely on a visual level. The design and implementation of the puppets that make up the film's cast is at times astonishing, and the copious amounts of CGI actually doesn't look half bad alongside the puppet work. But it still feels ridiculously over-written in some cases, and under-written in others.
The Case of Hana and Alice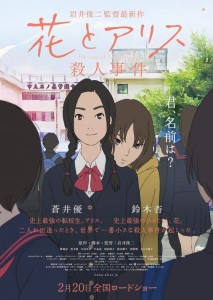 From two movies over-packed with story and suffering for it to a film light on story but heavy on charm, we turn to The Case of Hana and Alice. The film focuses on Alice, a teenage girl who finds herself in a new school and neighborhood, who befriends her reclusive neighbor on a quest to unravel a school mystery involving a supposedly dead classmate.
While this is the basic premise of Hana and Alice, the film seems less concerned with the plot as a whole so much as the scenes that make up the film. For long stretches, the quest at large will sort of drop by the wayside for infectiously charming scenes of simple character interaction, comedy sequences, and atmosphere. And throughout these sequences, I never felt myself growing bored or yearning for a return to the main plot.
I think this comes from the fact that the film is loaded with characterization. The cast rarely feels two-dimensional or hollow, everyone is bursting with character, which makes watching them interact and bond continuously fascinating. It's a ridiculously charming, enjoyable little movie, one that kept me smiling and entranced virtually from the first frame until the last.
Roar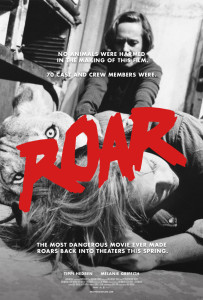 I don't think I've seen a movie quite so perplexing in a long time. Roar, a 1981 oddity of a movie that was recently re-released and picked up by Fantasia, is like some weird, tone-deaf mashup of a nature film and a home invasion horror movie. A hilariously All-American family comes to join the patriarch, a nature… scientist of some kind, in a house in Africa where he lives with over 150 lions, tigers, panthers, and other assorted big cats, in a mad scheme to prove that big cats and people can co-exist in the same habitat.
Of course, the family arrives when dad is out, leaving them to get menaced by their new housemates. The film was the demented brainchild of its stars, Tippi Hedren and Noel Marshall, who conceived of the film as a way to raise awareness about the hunting of big cats and to cast them in a new, less threatening light. But in the process, Marshall and co. accidentally managed to craft more of a horror film than anything else. Especially if you're aware of the fact that the big cats in the film's feline cast were mostly untrained, Roar is a tense, sometimes terrifying experience. Watching Hedren, her real life daughter Melanie Griffith, and Marshall's two sons run from big cats that very clearly want to do them no small degree of bodily harm is often more unsettling than anything I've seen in Fantasia's actual horror film crop this year.
Of course, the horror element is often underscored by the bouncy, happy-go-lucky soundtrack that seems to suggest we should be finding all of this terribly amusing. Tell that to my clenched buttocks during the screening. Roar may not technically be a good film, but it is a fascinating one. It's intriguing to see how colossally misguided and unaware of itself it is. I'm sure you could do a really interesting post-colonialist reading, the thesis statement being "white people are just so goddamn silly", but sadly, I haven't the room for that here.