The world has lost a true unbridled talent. Candye Kane was literally The Toughest Girl Alive!
Anyone who had the pleasure of knowing Candye knew she was a lovely and genuine spirit. She was an amazing friend, mother, performer, and mentor. She spent her life running uphill in heels, there were topsy turvy tribulations, but she never succumb to the hard times.
Candye used her artistic talent and voice to fight for sex workers rights, to end violence against women, was part of the body and sex positive movements, and co-founded United by Music, an organization that mentored developmentally disabled musicians. She was also openly bisexual and championed LGBTQ rights and headlined many pride events worldwide.
In her over thirty year career, she traveled the world spreading love positive energy. Candye played between 200 -250 shows annually despite battling cancer. She is a Super Hero!
Upon her death she knew her popularity would again rise. We must remember her for the real talented activist that she was and celebrate her spectacular sunshine through the screen of sensationalized lies.
It is important to know her as more than just a sex object. Even years later gross dudes would recognize her tattoos and say lewd things to her. Have some respect!
Yes, Candye was a pinup model, she did play the piano with her breasts, and she was in pornographic magazines. She tucked away that part of her life and did not let it define her. She found success through hard work and touring.
She had a brain under all of that beauty and the voice of a true diva. Her music was her soul. She sang original songs about accepting your body and celebrating your social status.
She wanted to bring light to the women who came before her, some of which were forgotten in the male dominated industry. Big Maybelle, Big Mama Thorten, Bessie Smith, and Etta James were her main inspirations. Performers like Devil Doll, Imelda May, and The Horrorpops have a lot in common with the retro-inspired Rockabilly vibes that Candye personified during her tumultuous career.
Adversity causes the most profound art. Candye started life with her abusive mother, who taught her to shoplift. Then she became a mormon, only to be kicked out when she became pregnant at 17.
She then moved on to punk music, living with a Mexican Cholo gang, and adult entertainment. Her voluptuous body evolved and left her vulnerable. She used the short stint in the adult industry to support herself and her child. She did like to party, but was always a classy dame.
Candye's son Evan was her drummer for many worldwide tours. Her son Tommy is also a musician. Evan and Laura Chavez performed with Candye in the play that was written about her called The Toughest Girl Alive (after Candye's song Toughest Girl Alive from the album of the same name).
She raised her kids in San Diego and it was very important for her to be an effective parent. She was diagnosed with pancreatic cancer but still kept on trucking. Her best friend and collaborator was Laura Chavez. They met while wearing the same shirt and eventually became artistic soul mates who toured constantly.
Laura was Candye's best friend, amazing guitarist, co-song writer, and producer. She lived at the hospital and was by Candye's side though out her many stints in many hospitals in the US and around the world. Laura was even there by her side when Candye passed away.
Candye's physique changed as she got sick. The cancer took away her curves but did not eat away at her raw loveliness. She always embraced her big beautiful body and was actually self conscious during the transition.
Candye briefly studied to be an opera singer. She loved classic standards and punkabilly music equally. Her close friend, Marika remembered a beautiful moment where Candye was singing Dream a Little Dream and Honeysuckle Rose while getting ready for a show.
Candye is a true inspiration, she never gave up, performed through sickness, and probably would have been happiest if she had died on stage. I was always amazed that even through her pain and hard times she still held her head up high and wanted to march on to the next town. She shared herself with the world in such a way that her legend will live on forever in the hearts and future artistic performances of all who knew who she was.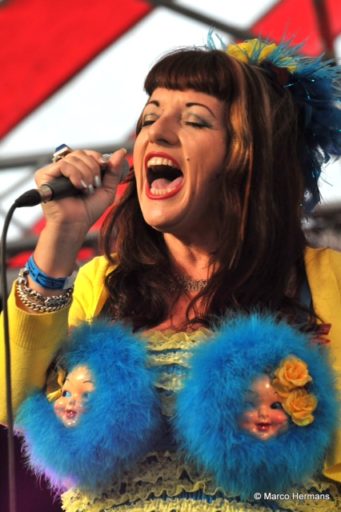 I was lucky to open for her in 2013 with my burlesque troupe, The Stripteasers, at Nietzsches in Buffalo NY. She completely blew me away with her powerful attitude and unwavering positivity.
Candye loved playing in Buffalo, Rochester, and Canada. I knew that she was part of the reason I was where I was. I was honored to share a stage with her.
As a plus size girl I look to Candye for guidance. She was a BBW pinup model when it was hard to do it. She transcended size and was more than just a fetish. She was a true super hero.
I loved her flawless sense of style, especially the ridiculously amazing dress with doll faced boobs. You know you are doing well when you are spoofed by drag queens.
She was classic, original, and absolutely timeless. I especially relate to songds like 200 Pounds of Fun, You Need a Great Big Woman to Show You How to Love and Fit Fat and Fine. They fight size discrimination and make me feel good about my soft and squishy delicious body.
Candye Kane shall sparkle in the collective memory of us all, she will live on in the hearts of her fans, friends, and all of the women she inspired to be themselves and take pride in their beautiful bodies. Award winning Delta Blues diva punkabilly swing superstar feminist icon super hero, you are now singing with the angels.
You inspired a generation of women to not give up, you didn't allow yourself to be discredited or shot down, you rose up and showed the world that there was no room for self doubt. Thank you Miss Candye Kane, the world will not be the same without you.