The MUHC (McGill University Health Centre) intends to sell several major properties, including the Montreal Children's Hospital, the Montreal Thoracic Institute and Royal Victoria Hospital, as a means to offset the cost of constructing the new super-hospital. This strikes me as an unfortunately negligent action on the part of a once well- respected public healthcare organization.
It's a terrible irony that a hospital gifted specifically to improve public healthcare and foster institutional collaboration would be sold off to the highest bidder to pay for an obsolete super-hospital, itself a testament to illogical centralization and public-sector graft.
The super-hospital is a step in the wrong direction. Experts knew this to be the case twenty years ago when the concept was first discussed – better overall healthcare requires multiple facilities, spread throughout the city.
Specialist hospitals more often than not require specialized design and geographic considerations in order to maximize efficiency. Facilities under construction at the Glen Yards, though large and impressive to look at, will be unable to fully replace the current number of beds. Moreover, the Vic's widely praised and well-respected maternity ward will likely only be half its current size in the new hospital.
How many more hints do we need? Shuttering the Children's and Royal Victoria Hospital completely is a bad idea.
While many of us are resigned to thinking that what happens with the Vic is well outside our control, I believe quite the opposite is true. The Vic belongs to the people of Montreal; the land was donated in perpetuity to be used as a hospital and the documents attesting to this still exist.
The Government of Québec has made it clear they have every intention on pressing ahead with this ill-conceived super-hospital project. In my eyes, since the provincial government has been so insistent that we consolidate medical operations in a single site, they can pay for it from general revenue. Selling the Vic to offset the immense cost of the Glen Yards facility is quite simply unethical.
The right of first refusal should therefore be granted to the citizens of Montreal, and I would hope the Anglophone community would lead the charge to prevent the large-scale regression in public healthcare that will come with these closures. After all – Anglo hospitals serve all Montrealers and these closures will affect everyone negatively.
The Vic should therefore be repurposed. Another piece of crucial institutional space, the Children's, is also in need of major renovations for any future re-purposing, but it's location, size, space and facilities all make it, much like the Vic, ideally suited to continue on in an institutional role.
Dawson College is nearby and currently renting space in the Forum to deal with over-crowding. The Children's could provide an ideal location for a Dawson satellite campus and its easternmost pavilion could be re-purposed as a downtown 24-hour clinic and overflow emergency room.
Either way the point remains the same – the community has to at least be given the opportunity to try and auto-finance what the government no longer wants to pay for.
In terms of what ought to become of the Vic I suggest we look at what led to its creation for inspiration.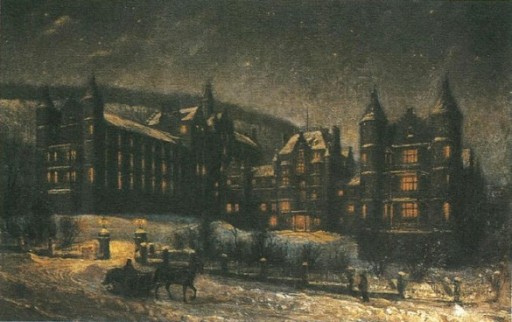 As originally conceived, the Royal Victoria Hospital was designed to offer better healthcare for the wealthy elites of the Square Mile. Providing better healthcare to the city's rich elites facilitated philanthropic and political efforts to improve public health citywide well before the advent of free public healthcare.
It further served to solidify the relationship between the Vic and McGill University, a partnership that has driven medical innovation in our city for most of our modern history. It's location, set as it is jutting from the side of Mount Royal, was deemed ideal for the rehabilitative process, as proximity to nature was considered during the late Victorian Era to have a universal curative effect. Though I'm glad they no longer perform surgery by open windows (as was the practice about a century ago), one can't deny the sanctuary aesthetic of the Vic.
I strongly believe it is for this reason that so many local women choose to have their children there – it looks like a castle, set high upon the mountain, with inspiring views of the city and all its potential unfolding before you. It's safe, secure. Since so many of us were born there over the years a natural trust developed and strong bonds were forged between the hospital, university and the community.
The Royal Victoria Hospital, as its namesake and the affiliated nursing order might imply, has had a particularly strong bond with middle and upper class women of the city. During the hospital's early days there were concurrent civic improvement, public hygiene and public health initiatives principally driven by local women's clubs.
Efforts to provide green space, hospital services, school lunches, parks and playgrounds, public vaccination campaigns and the like were nearly universally championed by socially-minded philanthropic clubs organized by the ladies of local high society. It opened a unique nurses' residence in 1905 and a women's pavilion in 1920, from where the Vic's role as birthplace to so many Montreal Anglos originates.
So why not go back to the roots?
Montreal does not have a specialist women's hospital and I truly believe we're lacking as a result. In a day and age in which there are renewed efforts at limiting women's access to birth control both at home and abroad, not to mention the horrors of sexual abuse, rape and mutilations we see from all corners of the globe, I believe we should go against this backwards tide by providing a sanctuary for the women of our city in one of its safest places – atop the mountain in a Scottish Baronial castle.

This new community-run women's hospital could focus on providing obstetrics and birth control, gynecological, neonatal and early pediatric care, though if space permitted it would be worth investigating whether a shelter could be fitted into the design as we're lacking in that department as well. As a public service for the citizens of Montreal the hospital would be naturally bilingual in operation, whether it remains part of the MUHC network is another issue. These facilities should be developed as a means to ease over-crowding at the new super-hospital by providing a more specialized alternative.
This is just one possible solution to help keep the Vic alive. It's possible the MUHC and provincial government may instead decide to repurpose the Vic as a medical tourism hospital – a potentially lucrative venture that could serve the broader interest by heavily offsetting the cost of public healthcare. Or they'll be sold off for residential re-development, the exact opposite of what we both want and need in this city.
These are possible outcomes only as long as we don't make our case to have our say. If we believe that a community ought to have the right to determine how we collectively utilize institutional space, then we need to make our voices heard. We need to stake our claim to that which belongs to us.
* Top image by Jason C. McLean, other images courtesy TaylorNoakes.com and WikiMedia Commons