Bhakta = One who practices the yoga of devotion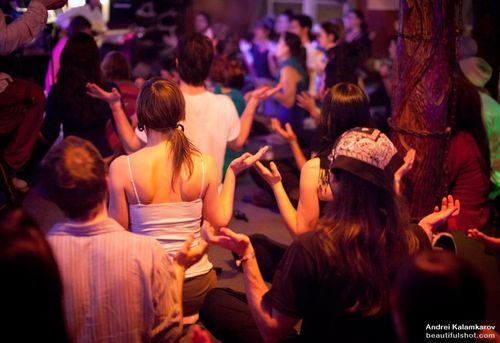 Break out your ankle bells and meditation pillow, the 1st Annual Montreal Yoga Music Festival gets grooving this weekend at Loyola campus. With 2 solid days of scheduled kirtan (devotional call and response singing), talks from such infamous locals as Dr. Bali, and even Kids' Yoga to keep the wee ones engaged, the fest is poised to make quite the splash on the city's spirit and yoga scenes. Normally you'd have to wait for periodic events at local studios to showcase even one of these performers, whereas this time you get ten different musical groups and side events so you can make a whole weekend of devotion.
Admittedly, we won't be welcoming kirtan kings like Krishna Das, MC Yogi, or Bhagawan Das (this time out), but we don't have to shell out crazy big duckets or float our yoga butts down to Wanderlust either. Ottawa natives Bhakti Connection (who I've seen more than a few times and can't wait to see again) will be coming in to regale us with their talent and passion, as will NYC based Ma Kirtan, Guru Matha Amma, and Eric Iverson of 5 Rythms will be leading a moving meditation celebration trance dance bound to feel like a party in your body.
I've never been to an outdoor kirtan, and it seems perfectly apropos to sing our hearts out and into the sky with our toes in the grass. The goodness goes on rain or shine, though meteorologists are all but guaranteeing sunny skies the whole way through. While I do expect the requisite show-offs and cross promoting, I feel confident that the seekers, revellers and pure of heart will be there in droves, and I can't wait to lose myself with them.
Bring your mat, your blanky, whatever makes you comfy and thrilled. Bring water, water, water. Bring munchies too, 'cuz there's no food being sold there, so picnic lunches are highly encouraged. Once you have your pass in hand, you can wander off the grounds and back, but once you're in the zone, why on earth would you want to leave it? Tix and deets available here.
I'll be Tweeting while chanting…it's almost like bilocation… @McMoxy
Also share this article and leave a comment below to win a free Yoga mat and passes for sessions at Happy Tree Yoga!