« We believe you » : that was the cry chanted again and again at the rally against rape culture in Montreal on Wednesday. Over a thousand people gathered in the Émilie-Gamelin Park around 5:30 pm despite the freezing temperature.
Several people spoke on a small stage before the group marched through Quartier des Spectacles and Place des Arts. The night ended at Club Soda with a mixture of speeches, testimonies and performances by popular and emerging artists.
Similar events took place in Québec, Sherbrooke, Trois-Rivières, Gatineau, Chicoutimi and Saguenay.
Denunciation and solidarity
The demonstration was equal parts an act of denunciation and solidarity. Denunciation of the acts of sexual aggression recently exposed by the media and of the subsequent victim-blaming that surfaced.  ("Comparing women to cars? Fuck You Éric Duhaime" read one of the signs.)
It was also a broader denunciation of a culture that claims gender equality as a core principle while routinely allowing – even encouraging-  disrespect of women's rights to consent and to bodily autonomy.
Just as importantly, the event was a show of solidarity for all women and support for all victims. "We believe you" protesters shouted to Alice Paquet, the young woman who recently went public about Liberal MNA Gerry Sklavounos raping her. "We believe you" they chanted to the students of Université Laval assaulted last week. "We believe you" they assured the shocking number of women in the park who raised their hands at the question "who here, has ever been sexually assaulted?"
More generous estimates report a crowd of 2000 people. While young adults remained the dominant group, people from all ages, ranging from young families to the elderly, were present. The number of men was not too far below the number of women. Several speakers expressed appreciation for their presence and support.
After various speeches, indigenous singers sent off the crowd with a traditional music number. The march lasted about an hour and a half. It ended with protesters forming a wide circle around Indigenous performers at Place des Arts. At the artists' insistence, people joined hands and danced to the sound of traditional native songs.
A smaller group continued marching under much closer police supervision.  Protesters mockingly imitated the heavy rhythmic steps often used by riot police as an intimidation tactic and chanted jeering slogans about Bylaw P6 being declared unconstitutional, but the protest remained peaceful. The police stayed as an escort and no major intervention was reported.
Safia Nolin, Queen Ka and other artists on stage
Meanwhile, organizers and many protesters converged on Club Soda for a post-protest show. The event was organized by a group of women from different backgrounds.
Among them were reporter Sue Montgomery, known for starting the trending hashtag #beenrapedneverreported on Twitter, and Tanya Saint-Jean, co-founder of the Montreal collective Je Suis Indestructible, as well as militant authors Natasha Kanapé Fontaine and Léa Clermont-Dion. After their speeches, the crowd was treated to a high quality music sho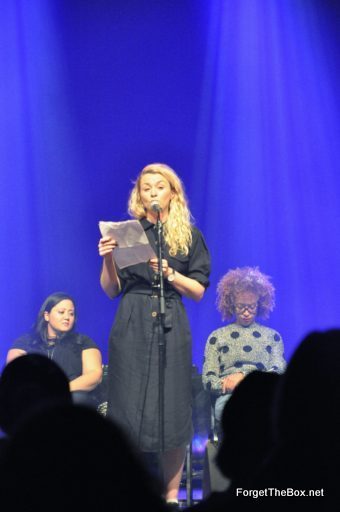 w.
First came the Buffalo Hat Singers, a contemporary Powwow band that provided a nice continuity with the protest's ambiance. Then followed widely popular female artists Safia Nolin and the Sisters Boulay. They each provided a solid performance of their own before uniting for a song.
Sabrina Halde (Groenland) and Laurence Nerbonne were also featured. Slammer Queen Ka notably delivered a brilliant poem about rape culture that she said she wrote the same morning.
A few artists hinted that they'd had minimal preparation and openly admitted to being nervous, but it didn't hurt the show. What was missing in sophistication was more than compensated for in authenticity.
Stéphanie Boulay's spoken text about her personal experience with rape culture and Safia Nolin's spontaneous anecdote about a driving teacher with wandering hands contributed to a general feeling of intimacy with the public.
The night ended with an open mic.  Anyone who wanted to was invited on stage to share experiences, poems and anything they wanted about rape culture.
"The fight will be intersectional or it will not be"
That's what the humorous duo Les Brutes said when they introduced the open-mic segment of the show. It was a prevalent theme of the event.
Intersectionality is an academic concept according to which the fight against one type of oppression must intersect with fights against other types of oppression. The failure to integrate this concept in past feminist movements has lead them to focus on the rights of cis, abled, white women.
The organizers of Thursday's event did their best to address the compounded vulnerability of disabled women, trans women and women of colour.  A special effort was made for the event to be as inclusive as possible.
Both the protest and the show were held in wheelchair accessible places and a sign language interpreter was present at all times. One even masterfully translated the entire performances in Club Soda. Organizers also acknowledged Indigenous issues on several occasions, starting by recognizing they were standing on unsurrendered Mohawk grounds.
That effort was greatly appreciated by two young indigenous women who spoke to FTB after the show.
"I had the impression that there was decent representation, with native presence and Natasha Kanapé Fontaine, who is an excellent  spokesperson, especially for indigenous people," said the first.
Her friend underlined however, the importance of also having events with native women as a soul focus.
According to Statistics Canada, one out of three women has been assaulted at least once since turning 16. 40% of women with physical handicaps will be assaulted at least once in their life. 75% of indigenous girls will be sexually assaulted before they turn 18. A 2014 government report estimated that only 5% of all sexual assaults are reported to the police.