rusbankinfo.ruWhen I say "sake," you say ___ ? If you cannot fill in the blank, turn off your computer. Run straight to your local Japanese pub.
Nothing nearby? Try Imadake.
This neighbourhood watering hole (if you consider Place Alexis-Nihon a neighbourhood) has been around for three years. But you've been so blinded by Kazu and Big in Japan that I bet you've been missing out.
That's a shame. Because you have no idea how much a wee tray of oily mackerel and a Sapporo-drowned sake can brighten a winter's day.
Imadake may already be well-rooted in Montréal—albeit on a bleak stretch of Ste-Catherine West—but I still think too many izakaya fans are missing out on the culinary form in its most rowdy and flamboyant.
The longstanding Japanese concept of the small-plates-drinkery (annoyingly called "Japanese tapas" by some here in the West) is still a bit of a novelty to us in Canada.
But, you might protest, Kazu is like a household name by now!
I don't disagree. But although the latter brings izakaya plates to life, Imadake brings life to the party.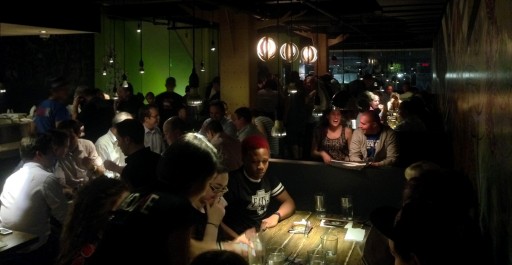 A warning: Imadake's long wooden tables are built to order…for sake-bombing. If you don't know what I'm talking about, you'll find out within about five minutes of sitting down. If you're already getting anxious, you needn't worry—the worst that could happen via proximity is a beer-stained blouse.
The biggest groups, it would seem, rev up in intensity as the night wears on. A horseshoe of two-seaters keeps couples at bay—though well within auditory range. Imadake is not a forum for intimate chatter. It might be argued, however, that neither is izakaya.
But you deserve to cut loose once in awhile.
At worst, you'll learn a new tradition and get to bask in the sprawling, epic feat of graphic design that is the Imadake menu.
Once seated, however, you never know what could happen. You might just stumble upon some adventurous cocktail offerings and crisp variations on Sapporo and Kirin Ichibn. Try especially the Tokyotini (gin, ginger syrup & sake) or cassis-tinged rice lager.
While the night is still young (and your tastebuds pure), it's a good time to sip a few varieties of sake (again, groups work well for this). You won't find more varieties on offer in town (more than two pages worth!), so make the best of it.
Personally, however, I was there to dig in. So I'll give you some suggestions: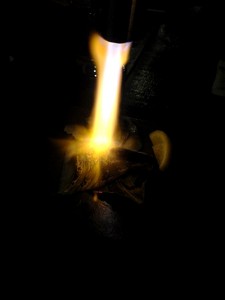 Torched at your tableside (see photo), the mackerel sashimi is simple, gorgeous: a steal at $6.50. Naked but for a squeeze of lemon, I could very easily have downed these fishy slivers all night.
Sake bombs go better with sampling, however, so be sure to venture further. In complete opposition to our expectations, we found the dumplings bland and texturally nondescript, yet the "burdock french fries" a surprising delight. Wasabi-octopus dashi is tempting but hit-or-miss, but it will help you sober up for a stretch.
If, at this point in the evening, you find yourself ravenous from so much table-banging (the one and only way to dunk sake into beer), do this: get the Surprise Dome.
Do not be alarmed when, the server at your side, your tongue is suddenly coated with doubt. Persist. Because the worst part is over once you've said it aloud ("one surprise dome, please").
That said, you will need a little bit more persistence when it arrives. First, excise the wafer-like globe. Then, dismantle the (tastier than expected) shell. You will be enchanted by something akin to a forest floor: greens, avocado, scallion, crunchy tofu and chunks of tuna as pink and juicy as grapefruit sections.
Now that I've ruined that surprise for you, here's another spoiler: Imadake's best bite might just be a tiny blob of tendon.
Fatty, tender and ever-so-slightly gamey, this beef is served with a mound of turnip slaw—a brilliant, delicate garnish that, as you gnaw, sinks with steady grace into the heady ponzu broth.
It might be a pub, but you should still give dessert a try. You'll be doubtful of your ability to stomach a cartoonishly-depicted creamy/crunchy/chewy/slimey experiment after who knows how many beers, but you've come this far: don't back down now.
In fact, the Imadake experience might be summarized with a mouthful of the sweet-soybean-ice-cream-mochi bowl: slightly wacky, slightly awesome, but totally worth the adventure.