January in Montreal means many things: frigid weather, atrocious driving, and from a commercial perspective, Valentine's day prep. There is no clearer demonstration of this than at the annual Salon de l'Amour et de la Seduction.
Sponsored by MyFreeCams.com, it's held every year towards the end of January and is a massive combination of trade show, educational conference, and performance festival. The rules are that it's eighteen plus, you must be respectful and mindful of consent, and though you're welcome to dress to impress, you must keep your genitals covered at all times. Inclusion and open minded-ness are the name of the game, and the Salon does a lot to make sure its disabled attendees are comfortable, with ramps and seating areas for those with visible and invisible illnesses.
As a reporter who's had the honor of covering the event every year, the differences between this year and last year's Salon did not go unnoticed. One of the biggest changes was clearly due to Canada's recent legalization of recreational marijuana.
Though in previous years, vendors of bongs and pipes had one or two tiny booths, this year their presence was much grander. One massive booth offered pipes, vapes, and bongs in a variety of materials and price points. Another booth was devoted to HighonLove.ca, a Canadian company that makes hemp-based massage and bath oils, lubricants, and even chocolate body paint.
Though their products seem sound, their prices are quite high, with a bottle of massage oil going for as much as sixty bucks. The representative I spoke to said that this was because the product contained no fillers, though it is clear that their prices are also driven up by their fancy packaging, which gives it the appearance of a luxury brand.
Among the sex educators present this year was Morgan Thorne, author of A Guide to Classic Discipline, Exploring BDSM: A Workbook for Couples and Medical Aseptic Technique for BDSM. Thorne is not only a sex educator who runs BDSM workshops and offers Couples Education and Coaching both in person and online, but she is also one of the only visibly disabled exhibitors present at the Salon.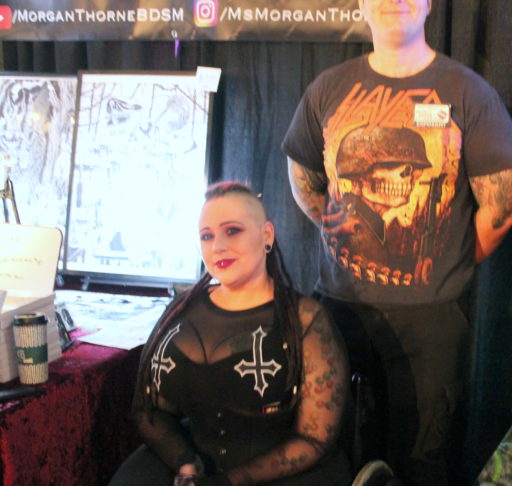 She spoke to me in depth from her wheelchair as I leaned on my cane about the difficulties disabled women face getting treatment for pain issues. The impression she gives off is one of empathy and open-mindedness and also has free BDSM educational videos.
Among the many sex toy vendors at the Salon this year was Bliss, which had a second booth for their other company Spank Toys. Of all the vendors at the Salon, their prices for vibrators were some of the most reasonable, with a decent model going for as little as thirty dollars.
I noticed upon arrival that there were fewer exhibitors this year. A representative of the company named Jeff told me that this was because the cost of exhibiting at the Montreal show – the Salon also has events in Las Vegas, Vancouver, Calgary, Edmonton, Regina, Red Deer, and Toronto – was particularly high this year. Despite the high cost, some smaller vendors were also at the Salon to showcase their works.
One such vendor is DicksWithWicks.com, which sells penis-shaped candles. I asked their representative whether her products were modeled on a real penis and she told an amazing story. She was on social media one day when a man sent her an unsolicited dick pic. Her horror and sense of violation quickly turned to empowerment.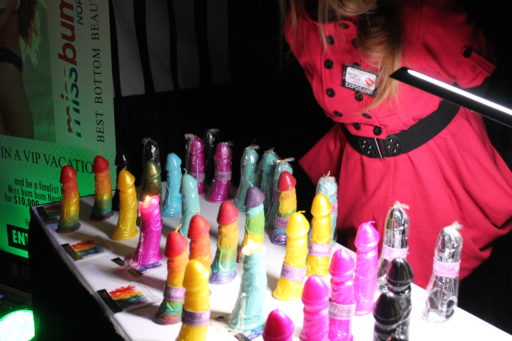 She asked him for more photos of his junk from different angles, which he freely and willingly provided. The photos were then used to make the mold for the candles. When the man in question saw the products, he demanded a share of profits, to which she rightfully replied that he sent the images freely and with no presumption of privacy and she therefore owed him nothing. In the era of #MeToo, we need stories like hers more than ever, and it is companies like these that we need to support.
Another small vendor present was Exotique Spa Candles, a company that makes blacklight sensitive candles for sex play. Designed to not burn you when the wax is poured on your skin, the proceeds of their products go to the Alberta sex positive education and community center, a sex ed group that gives courses and workshops on consent and sexual health.
Their representative spoke to me in depth about how there is still a lot of shame tied to sex and sexuality in Canada and that the shame keeps people from having healthy discussions about it. A lack of discussion and health education has led to such problems as the increasing rates of gonorrhea and syphilis among people over the age of fifty. Information about their non-profit can be found at Aspecc.ca.
In addition to vibrators, dildos, candles, and lingerie, the Salon features the latest sex toy tech. La Marquise Sex Toys had a lifelike sex doll on display. Their rep said the entire doll costs around ten thousand dollars, but they also had lifelike hips with vagina and anus built in for four hundred dollars.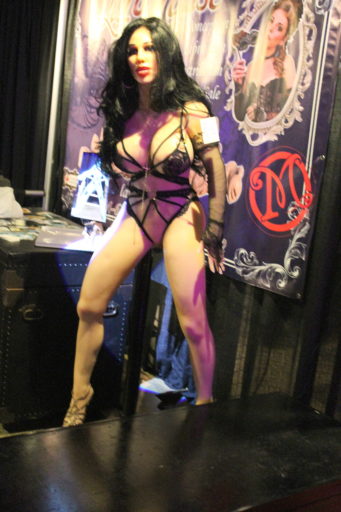 .Another company, Robot Sex Machine, had two machines in operation, demonstrating how their technology could be used to rhythmically move dildos and pocket pussies.
One of the biggest disappointments of the Salon this year was their kink corner. Though in the past the kink section had ambient lighting and tamer displays of kink, this year was a demonstration of mismanagement and a lack of discussion about what should be shown.
When I arrived the kink corner on Saturday around 2 pm, the area was impossibly dark due to a lighting issue that had never been resolved, and the displays of kink were too hardcore even for this crowd.
Many who come to the Salon and check out the kink corner are not kinky themselves, but curious and perhaps tempted to try it. That means that what they see should not be overly shocking, and should certainly represent healthy BDSM relationships to dispel myths resulting from the Jian Ghomeshi trials and the abuse portrayed in Fifty Shades of Grey.
Unfortunately, while one section showed a tame display of rope play, a kinkster in another section was furiously spanking and whipping a sub with few check-ins or after care. It was a display that turned the stomach of my friends, some of whom are kinky themselves.
It was the kind of display that would scare some off and give others the impression that abuse is acceptable if you call it BDSM. That said, I know the kink community can do better, and here's hoping they do so next year.
The Salon de l'Amour is a lot of fun. Not only can you get quality sex toys and lingerie at discount prices, but you'll also see great shows, see innovations in sex toy tech, and learn about sexual techniques, identities, and kinks. Your ticket also has the benefit of helping small businesses and educational groups that in the era of #Metoo need our support more than ever.
Check it out, have a blast, and leave your judgments and biases at the door.
Photos by Kerry Ann Cannon