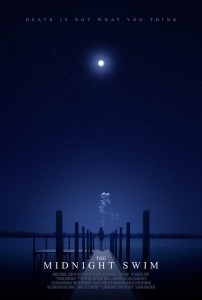 "There's always been a link for me, maybe not exclusively, but something that I'm drawn to about water and female power. The way in which when women come together can almost have a supernatural force. More so than when they are alone," explains director Sarah Adina Smith, 'When I say that now, it sounds like the movie is about witchcraft or something like that which it's not really. Not at all. It's about connections."
I simply can't get Sarah Adina Smith's The Midnight Swim out of my head. This mesmerizing film had its world premiere at Fantasia this past July yet continues to cyclically ripple across my thoughts.
The Midnight Swim is an inspired, meditative, and compelling narrative of relationships, sisterhood, and grief told through transfixing and poetic cinematography. Amidst the chaos that was July, I had the pleasure of sitting down for tea with Adina Smith to speak candidly about writing verus directing, liminality and the road to directing her first feature.
The road to making The Midnight Swim was nothing short of a winding mountain road. Adina Smith who studied philosophy, is an painter, and spent some time acting, knew after college that she wanted to make films. Along this winding road, Adina Smith began writing for the big screen almost out of necessity: "I liked the idea of being a director and started reading scripts and couldn't find anything that I liked enough."
"Really," she added, "it's only in the past couple of years that I started finding my voice as a writer and realizing that I like that too actually. I feel like screenwriting is my way of getting to think philosophically. The life of the writer is a lot like the life of the mind: it is asking questions and doing it through storytelling in character. So, that's been actually really wonderful and it's also really torturous."
For several years she ran through the motions of having projects almost off the ground, even running a successful kickstarter campaign for seed money, and still having last minute financial backing fall through. During this cycle of ups and downs, Adina Smith shot some shorts as well as cowrote and produced a feature entitled Goodbye World.
Writing a feature, she remarked, is a very different affair than directing one. Comparing writing a script to being akin to a sperm donor, Adina Smith elucidates the differences she has experienced, "in a way, it can't be my baby. The director of the film is going to be the person to raise it from start to finish. I am very proud of Goodbye World. I feel like there was a lot of my DNA in it that I still see and recognize."
Adina Smith remarks that she uses different parts of her herself and her mind when writing for films she also directs. For the material she directs, inspiration comes from a darker and stranger part of herself such as The Midnight Swim. Still on the winding road towards making this novel feature, Adina Smith looked back at the kickstarter seed fund and knew it was shoot or die so to speak.
With a twenty five page treatment in hand, Adina Smith approached actors whom she was thankful responded and joined her in taking a risk on a low budget film with a two week shooting schedule. The circumstances required Adina Smith to take a completely different approach to what she was used to, forcing her to think spontaneously:
"I was still discovering the story as we were shooting. What was great was there was only so much planning I could do in advance. I really had to stay on the pulse of the story. Actors talk a lot about being in the moment but I feel that as a director I had to be completely in the moment: just listen as much as I could and just feel our where the story wanted to go. This process changed me."
In terms of inspiration for The Midnight Swim,  Adina Smith pointed towards in between spaces, liminal spaces, as being a focus of her interest. In the film, Adina Smith points to this by making the sisters explicitly half sisters, and leaving their mother's body unfound, creating breaks in connection. Moreover, she speaks of her love of lakes and their surfaces, mirror-like but filled in their depths: "That to me is the thing I keep coming back to in my work. There's a feeling of magic there in these liminal spaces."
One of the strengths of the film is the performance of the cast who at times are breathtaking. In terms of directing them, Adina Smith cites this part of the process as being most natural to her and the highlight of directing.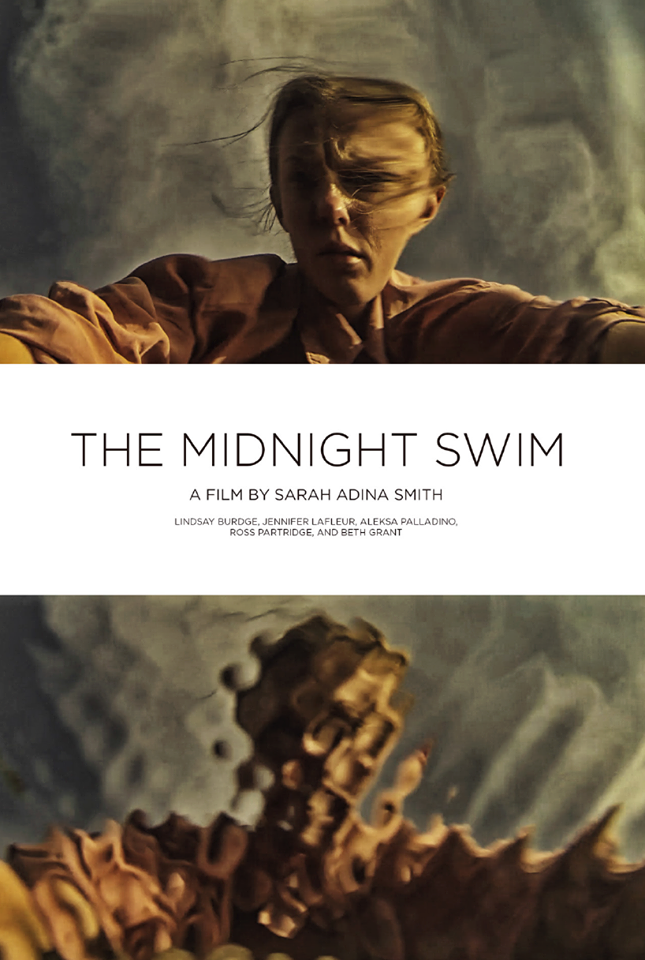 "A lot of the actors that I work with or cast are people who also think from the inside out. We almost develop an language that no one else would understand."
"I like to tap in and tell the story with them from the inside out," she reflected, "I feel like the director's job is to create the working environment where everyone can try and do their best work: make it a really safe environment for them to take risks in. When I'm on set my relationship with my actors is just my first priority and my most important job."
The major highlight of the film is the stunning visuals which make the most of the rich locations: both the lake and lakehouse. A central dimension to the visuals is that they are diegetic. Whether one tries to classify this as neo-found footage or contemporary epistolary, the camera is a character in the film, a technological extension of the youngest sister who is a documentary filmmaker.
The visual beauty of The Midnight Swim, Adina Smith explains, was the result of deliberate artistic choices and the collaboration of herself and director of photography, Shaheen Seth, who she finds a "very sensitive cinematographer and intuitive  camera operator."