Censorship at every level is difficult and feels dirty and wrong. Artistic freedom is taken away daily while over sexualized children and extreme violence are plastered on billboards and ads without remorse. Yet a woman cannot be topless? What's so gross or wrong about that? Every human had nipples, I just can't figure out what the fuss is all about?!
Recently in Saskatchewan at the Lyric Theatre's Chautauqua Theatre Festival a burlesque performer called Rosie Bitts was censored during her performance about censorship! It is currently illegal to strip in the province of Saskatchewan. She did a non-striptease performance involving audience banter. She does her number in pasties and a g-strip to show how ridiculous the laws are.
When Ms. Bitts brought a male audience member on stage to reveal his nipple, she pointed out that revealing her female nipple would be completely illegal. Quickly the president of the Lyric Theatre shut the show down and the burlesque performer gracefully left the stage.
She was basically told to shut up and dance like a nice girl. The audience was left shocked, some thinking that the stoppage was all part of the act. Sadly it was not.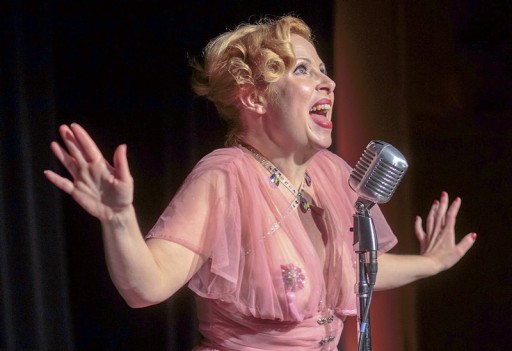 Are all nipples created equally? Guess not! I love how on Instagram there are women who are photoshopping men's nipples over their own to talk about how silly it is that the female nipple is so sexualized and the male nipple is just fine. Women are fighting against this absurd double standard with a loophole that makes Instagram look like an a-hole.
Artist Micol Hebron created a digital male nipple pasty template. Celebrities such as Courtney Love and Sarah Silverman have even used this app. Currently the only female nipples allowed on Instagram are of women breastfeeding and post mastectomy scarring. #freethenipple is the hashtag used for this important feminist movement.
I'm not afraid of public nudity! My dad was arrested for streaking in the 1970s, so it's in my blood. Besides baring it all on stage I walked in the first NYC Slut Walk, rode my trike in pasties in the Buffalo Naked Bike Ride (nude not lewd is the slogan), and have done many street performances wearing nothing more than body paint or pudding in some cases.
The best art causes a conversation. I'm an organizer of the Buffalo Infringement festival. With organization comes making venues and artists happy. Luckily I've only dealt with artist censorship a few times.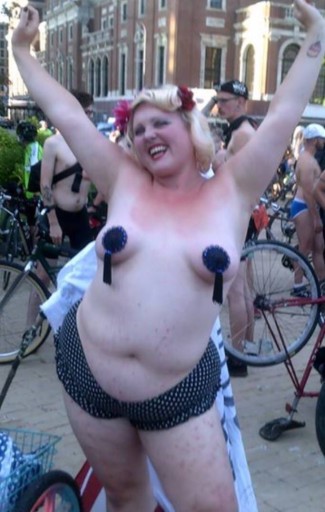 Once was during a show about addiction. There were plenty of pieces about drug addiction and other realty dark shit. But as soon as my friend hung a painting about sexual addiction the owner of the gallery got pissed.
He let the artist hang her work and then as soon as she left the building her work was fucking ripped off the wall. Can you say coward?! I fought the good fight. We never used the venue for visual art again.
This was a simple painting of a girl masturbating. No realistic interpretations of genitals. It was black lines on a yellow canvas. I couldn't believe that THIS was the piece that was too controversial.
Only a few years before this same gallery was under different ownership and I showed my own graphic sexual paintings (it was actually my first time hanging in the Buffalo Infringement Festival).
This guy would have shit a brick if he saw my stuff. It included a 5 ft painting of a vagina dentata with grillz that said CUNT in rhinestones, an even bigger painting of two beautiful obese women feeding each other cupcakes, and a painting of my vagina cumming out frosting made of pink tinted caulk.
The same painting was torn off a wall by a teacher while I was in college. He took it down during a foundation art class for being too lewd. The students in his class defended me and the painting remained on the wall. Fuck you buddy!
My Kitty Porn series was torn down off a wall during the Montréal Infringement Fest two years ago by an employee who found it lewd. The art was later reinstated by the venues manager, but was now slightly damaged.
I was happy with how it all worked out, my work is now slightly more infamous knowing that it can offend someone so deeply. That girl must have had some issues with her own sexuality to want to destroy someone's art like that. I put a slash in the win column.
I would be a hippocrite if I didn't share this story. There is one case of censorship that I was involved in: An artist was not allowed to show their cartoon because it showed all of the worst things including violence towards trans women. This particular venue is a safe place for any and all people who are queer or transgender.They also allowed a full on X rated art show during the festival, so they didn't care about nudity.
So in this case I understood why censorship occurred, it was not for sponsorship reasons, not because the venue was prude, but instead because showing this cartoon would take away the safety of the space itself. You always have to see things from every perspective. The cartoon was not banned from the festival, it was just moved elsewhere.
I'm happy I live in a place where stripping is legal and I can swim topless if I want. I'm not happy that my male burlesque counterparts do not have to cover their nipples with pasties.
Freedom of speech is everything in the art world. Women need to take a note from Rosie Bitts and the boobies of Instagram and smash society's stupid standards of nipple censorship by letting it all hang out without consequence or remorse.
Featured image of The Stripteasers Burlesque troupe, Buffalo, NY