Remember January 1st 2000? Or December 21st 2012? Those were supposed to be the End Of Days, the Apocalypse. I am no Nostradamus but I have a prediction, a new arbitrary date for the end of the world. November 8, 2016. Civilization as we know it will crumble, only the rich and slithering will survive.
When Chris Wallace (from Fox News), the moderator of the United States Presidental debate last night, said "I am not a potted plant here!" it resonated with me. I feel that way too! I am screaming for it to stop and nobody listens.
Sometimes all of the propaganda really gets to be overwhelming, I feel like my voice is lost in the chaos. Sitting there in a window, someone forgot to water me, and I am not a cactus. I am a dried up succulent, an ancient aloe vera maybe, spiky and sincere.
My tendrils need attention, they are covered in dust. If nourished my insides can heal, my ideas can save the world, a natural combatant of inflammation, squeeze me out on to your wounds, I will kiss them and make it all better. Houseplants bring oxygen and warmth to a room. We need it as the earth is dying because of humanity's overall greed and lack of conscience.
If politics doesn't kill it I believe this world will end with Terminators Vs Zombies. It is a movie that hasn't been made yet, but is totally plausible. The rise of machines is taking away jobs (more than immigrants as Donster has complained about).
People are also becoming zombies to technology. It is scary when I am sitting on my laptop in front of the desktop and texting on my cellphone at the same instant. Or a table full of children at the dinner table sit mouth open staring onto their glowing devices instead of having conversations with their family. It is all so in your face, fast and present. technology is bizarre and is turning people into literal zombies.
Now we also have the clowns to deal with. Clowns are taking over the US. Creepy clowns yielding weapons are trying to lure kids into the woods. GREAT!
There are so many things to be terrified of this Halloween season. I am terrified that people are supporting Donald Trump. Currently I am watching shit spew from his stupid, racist, misogynist mouth. It makes me sick when his supporters speak out. I go to the Halloween store and see their faces in mask form. Its absolutely bizarre.
Amy Schumer called Hilary Clinton "Hilldog" when she performed at her birthday dinner. I was a big Bernie Sanders supporter at the time, and not as Gloria Stienam would say "for the boys." I actually thought he had a good heart, he cared about people and the environment, he was not evil. The current candidates are a "lesser of two evils" scenario.
Falling asleep at the wheel of life, swerving the car and trying to blast the music and open the window of cool air to the face. This government should crash and burn. I am afraid because these are the same idiots that elected George W Bush TWICE!
The people who run the government are the ones you don't see. All of the candidates and winners are mere puppets. The strings are being pulled by an omniscient secret society, perhaps the Illiminati? But I don't want to seem crazy. Billionares giving money to these politicians expect something in return, much like a guy buying me a drink and expecting more. I don't accept drinks for that very reason.
In a world where some women are not even attractive enough to grope, let alone vote, Trump constantly belittles women, venomously wanting to take away our rights. I am disgusted when I see his supporters, there is a man in South Buffalo, my neighbor, that has his house painted with signs that say Trump Mafia and has a noose hanging on the front lawn. Strange fruit indeed. WTF?
Trying to deal with my own problems and I am bombarded with so much else. I can't even clean my room, can't pick up my phone because it's all bill collectors. I think about all the loves I have lost or never got the chance to love, I contemplate loneliness and the survival of society. Then there are places where they push gays off buildings and kill women.
"If you don't like what I did you should have changed the laws," you should have stopped me from being an asshole Trump says, admitting to wrong doing and saying it was HER fault for not stopping him? WHAT?! Blame women. She is rehearsed and he is crude. I want a Native American President. Imagine going back to nature. If I can't have that, I really want anarchy!
I work at a hostel and was watching the debate with people from around the world. I wanted to hear their perspectives at the idiocracy in front of us.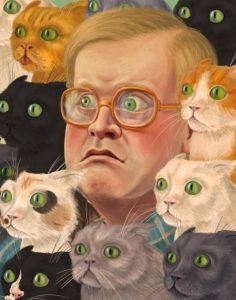 Sometimes you just need to come home to your house full of cats and beautiful creative roommates and smoke a bowl and drink a tall boy. Purry furry love nuggets – unconditionally waiting, ready to cuddle.
I have always done better with animals than people even. It goes animals, then kids, then old people, then adults, then my peers (I will never see myself as an adult).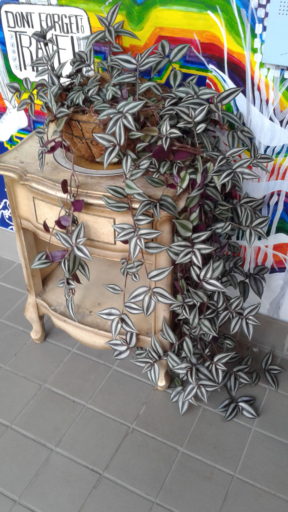 My cats are my world. We watched Hedwig and the Angry Inch. A story of the triumph of love and search for self worth in an imperfect world. Punk rock opera perfection, escape from the vicious reality.
Like all humans I have hopes and dreams, I hope the world doesn't really end on November 8th and I dream of a future filled with constant change.
I yearn to travel, I want to go to Poland and see the blue light up fairy bike path. I want to backpack through Germany. I want to paint in Paris. I want to smoke in Amsterdamn. I want to lounge in Jamaica. I want to paint with Elephants in Thailand. I want to kiss the Blarney Stone. First I need a passport.
If you want to be a painter, paint, if you want to be a musician, make music. If you want to be a politician, be an asshole, be a puppet, be a phoney.
I vote for the houseplants, for the trees and the animals. I vote for the children, for the future. I vote for the good clowns. Since the Apocolypse is Meow there is no time but the present.