FTB is proud to bring you another piece from The Rover, a site dedicated to Montreal arts and culture. This post comes to us from their Festival City series. Expect more festival coverage from The Rover and Forget The Box as well this summer in Festi-Ville.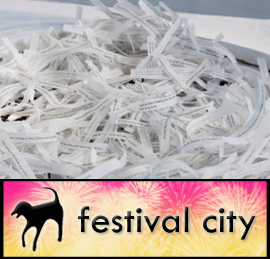 by Shawn Katz
26.05.2011
Chance, it seems, is everywhere we look. It is the unknowable force that governs all our lives: the guardian angel that correctively cradles us when our designs go awry, or the mischievous troll that wreaks havoc with our best-laid plans. But what, in the end, is it, this 'chance'?
For this seventh edition of the Biennale de Montréal (or the BNL MTL 2011, under its more branché moniker), curators Claude Gosselin and David Liss invite us to explore this most omnipresent, omnipotent of forces, offering us a multitude of lenses, from the visual arts to electronic arts to installation and video, and more. The theme of the show, entitled Elements of Chance, is drawn from Stéphane Mallarmé's seminal 1897 work, Un coup de dés jamais n'abolira le hasard ("A throw of the dice will never abolish chance"), in which the French poet muses that "all thought expresses a throw of the dice."
Happily, the same can't quite be said about the organization of this show. Its curatorial design, in fact, is exceptionally cohesive, and while approached from a wondrous array of angles and artistic mediums, an impressive faithfulness to theme is nonetheless present throughout the exhibit.
None of which, it seems, is enough to put a smile on the face of the affable Claude Gosselin these days, founder and co-curator of this seventh Biennale. It was a discouraged and defeated M. Gosselin I reached on the phone on Tuesday afternoon, with the sounds of a man grown tired and weary of long wars in the trenches though holding firm, in his own humble manner, to the nobility of his cause. After fourteen years of bureaucratic wrangling with funding organizations like the Canada Council for the Arts, of struggling to rally competing organizations around a unifying project, and of a media establishment interested more, in Gosselin's view, with nitpicking the shows' logistical flaws than in the calibre of the art presented, the Biennale de Montréal still struggles to pierce through the noise, its funding and with it, its future left dangling in the void.
It's a shame that it has come to this. The BNL MTL 2011 is a formidable show, one every bit the equal, if not superior, to shows presented with budgets many magnitudes larger, whether at the Musée des beaux arts (MBA), the Musée d'art contemporain (MAC), or other such venues benefitting from major establishment backing. The smaller size and inferior edifice aside both directly attributed to the BNL's lack of adequate financial and institutional support the artworks themselves offer an enticing and inspiring view of the cutting edge of Canadian and international art.
From beginning to end of the show, visitors are confronted with a multisensory and multilevel exploration of the role of chance both in our lives and in artistic creation, with the two often mutually reinforcing. In one notable work by Montreal artist Jean Dubois, key concepts taken from works by Jacques Derrida and Gilles Deleuze are randomly disjointed and sprayed in light across the walls, with visitors invited to blow on a device at the centre of the darkened room in order to propel the projections. With other installation works, we are challenged to make sense of apparently senseless arrangements and structures; with video works, often designed around random algorithms, we are forced to confront the cruelties of fate, or the senselessness of suffering. And therein lies one of the greatest successes of this year's Biennale: its consistency and strength across a wide breadth of mediums. From sculpture to e-art to video and everything in between, this stimulating and innovative encounter is sure to unravel more enigmas than it solves; itself a testament to the Biennale's success.
And yet despite such a curatorial triumph, M. Gosselin readily admits: the BNL MTL has failed to rally Montrealers, and its scope, as a result, remains quite limited when compared to the world's great standard-bearers, from Venice to Sao Paolo to Shanghai and others. So who is to blame?
In other cities, Biennales are organized by large cultural institutions such as museums or regional agencies, not tiny independent entities like Gosselin's own Centre international d'art contemporain (CIAC) which organizes it here. And in fact, when Gosselin launched his project in 1998, he approached the MAC to see if they could work together. He soon found instead that the MAC preferred "dividing to be king of a little village" than to work together around a unifying project. The MAC, once headed by Gosselin while it was still run out of the Québec government's Ministère de la Culture, eventually went on to found its own Triennale québécoise in 2008, definitively opting for competition over cooperation (Gosselin's Montreal Biennale is 50% pan-Canadian and 50% international artists). As for the MBA, Gosselin says they have been generally more receptive to cooperation, but logistical wrangling always came in the way.
This is Claude Gosselin's final year at the head of the Biennale, and whether someone will be there to carry the torch is anyone's guess. Gosselin of course hopes the good work will carry on, but after fourteen years, he simply has nothing left to give.
The future of the Montreal Biennale is hanging in the balance. We owe this city better than to simply leave it to chance.
The BNL MTL 2011 is on exhibition at the former École des beaux arts on St-Urbain street until May 31st. Visit their website here: http://www.biennalemontreal.org
Photo: 1000 Catastrophes by Lois Andison