Just a year short of its 10th anniversary, Osheaga Music Festival is like a young kid who appears streetwise and all the cool older kids let him hang out on the corner. What I mean is, it's pretty impressive that a festival not even a decade old sees Nick Cave rocking out on a stage beside Jack White, where HAIM ends a set just as Modest Mouse begins, where Shlohmo rocks the after-party, where Billie Joe Armstrong from Green Day makes a guest appearance with The Replacements, where the forest is full of hammocks and white lights and, because this is Montreal, there was a lot of painting.
Dazzled by the Hollywood-esque Osheaga sign that glittered from the hill, impressed by the Mark of the Beast-styled wristbands this year (you had to get the chip in your bracelet scanned by cellphones and gate devices before roaming free to different areas), I also found myself intrigued, in an anthropological sort of way, by the thousands of girls in flower crowns.
In my Top Picks, I wondered if Modest Mouse would still be relevant. Answer? Yes. "Float On" will never fade. "The Good Times are Killing Me?" Are they ever. Isaac Brock had painted his fingernails turquoise and pulled off a live performance satisfactory enough that I actually stayed in one place for almost all of it.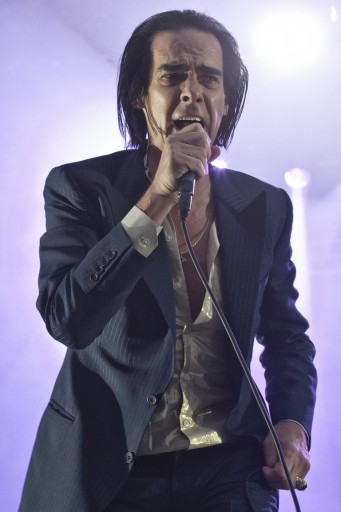 When Nick Cave came on…goddamn, I still don't think I'm ready to talk about it yet. It's been burned into my brain like a brand of awe and now I understand. I can't write about this. It was too good. As for Jack White, well, this goes out to the entire crowd in front of the stage: FUCK YOU. Yeah, that's right, I said it. I wasn't even trying to push to the front, I was trying to push to the BACK and the aggression…My life flashed before my eyes. I thought I was going to get my skull crushed. And it wasn't even from females. It was from males. Tall, aggro males who glared down at my lil' 5 foot 3 self and refused to budge.
Finally, I raised my face to the sky and roared, "Let me the fuck through, and nobody touch my fuckin' camera!" When the crowd realized that I was a loose cannon, they shifted uneasily. When I made it out of the pig pen, I climbed up the hill overlooking the grounds; as Jack White reminded us that being cool is still a concept that does in fact exist, fireworks exploded white hot in the background and I pulled an Irish exit to the metro so that I wouldn't be stuck in line for three goddamned hours.
I want to use this area of screen to say a huge thank you to the people who were running about in green T-shirts, cleaning up after the troglodytes who still think it is acceptable to litter. And another thank you is due the festival itself, for providing such a great area for media and artists: Beanbags by the water, the comfiest outdoor furniture; mad style; bathrooms that weren't traumatizing…I was rolling around back there like a pimp in a fur coat, totally drunk on my own power and sense of self-importance. Thanks, Osheaga! That wouldn't have been possible without you.
Photos by Pat Beaudry courtesy of Osheaga.