To conjure a more perfect day for an outdoor festival, one would have to conjure a cluster of unicorns to fart pastel coloured clouds of glitter and cupcakes. The sun was bright, the breeze was cool, and no one was talking about Humidex. I had a ziplock full of toilet paper, and was ready to rock the day away.
The pre-game ran late, and I started to panic: we must make it in time for L7! There with 15 minutes to spare, I was glad to see so many eager faces and bands shirts (because 3pm doesn't feel like the epic time slot they deserve, but no one asked me).
They played everything: from Andres, the first song of theirs I heard back in *ahem* 1994, to last year's fab singles, and singing along with them in the sun on a Friday afternoon, was epic. Drummer Dee Plakas was out with injury, so Motley Mel held down the beats like she'd always been there.
In fact, in my only almost-brush with fame, I swear Jennifer Finch and Motley Mel passed right in front of me at the Sick Of It All stage, but it happened so fast that I didn't have the chance to make a fool of myself, so it worked out for the best.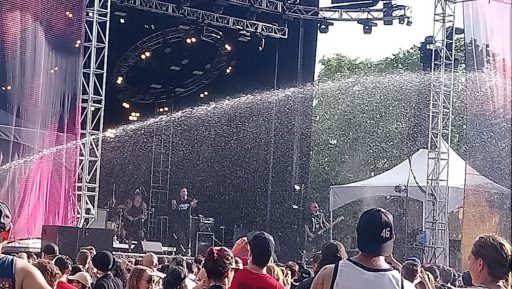 Sick Of It All had all the energy you complain that you don't, and I had to remind myself that brothers Lou and Pete Koller have been fronting the band since 1986. They fired up the crowd, and then hosed them down.
There was a great turnout of cool families with adorable mini punks, so we're teaching the children well. Bonus points go to those who had to balance small humans over sketchy Porto potty seats and managed not to drop them in the blue. My ziplock of tp proved essential before the sun had even set.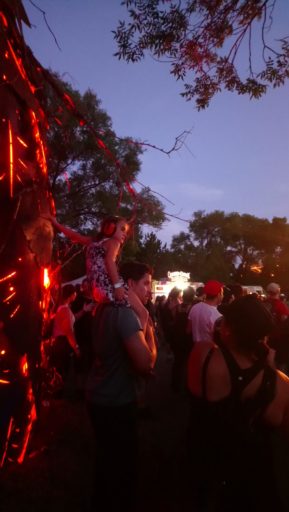 Me First and The Gimmie Gimmies brought the slick threads, and cool classics. They have an endless repertoire, of course, yet I never thought I'd be part of a crowd singing John Denver's Take Me Home, Country Roads; I was, and I liked it!
They did other improbable ones like Jolene and a super deep cut, a cover of a cover, 60s French band Les Pirates version of Del Shannon's Hat's Off To Larry, Oublie Larry.
Fresh of their Thursday night appearance on Jimmy Kimmel, and on a collective three hours of sleep, The Interrupters brought the upbeats, and the hits we wanted to hear.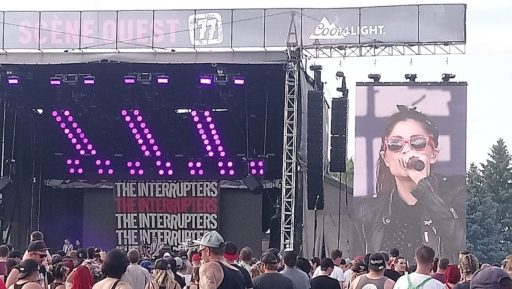 Rise Against put on a helluva show, which I'M sure didn't surprise their fans, though I was pretty unfamiliar with them, so I got to be freshly impressed.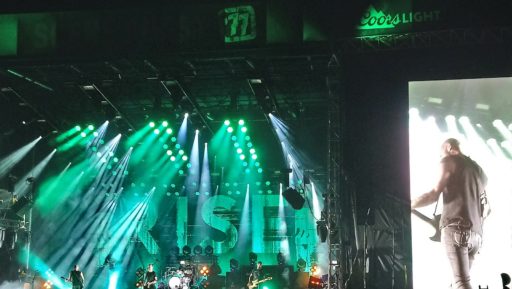 There was a neat little food court near the Garden Stage, and I had an awesome kalbi meatball sandwich that I swear was from Lavandaria, but I can't seem to find any online listing to prove that the reservations only Westmount eaterie was out punking, so all I have is my half baked, sun and beer soaked memory of a damn good sandwich.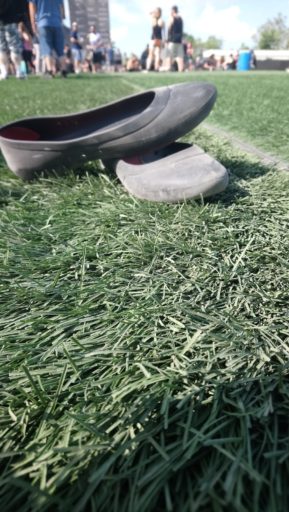 On our way out, I had one more stopped planned, and that was for DOA, who haven't actually stopped doing anything since 1978. It was a pleasure to close out the night with a band that was proudly celebrating their 40th anniversary.
This being my first trip to 77, it's safe to say that I'll be back with bells on next year. A shout and and much respect to those who did the three day double fest of 77 Mtl and Heavy Montreal; it's Sunday night, and I'm still beat from Friday…and still super jazzed, too… and totally typing in my new L7 shirt.
* Photos by Dawn McSweeney