Everyone knows the best parts of Spring are those sexy little flowing dresses that all the pretty girls wear. All that skin getting light shed on it for the first time in months. Long smooth legs glistening in the golden sun. Perfect arms, bulging cleavage, and sexy exposed shoulders causing car accidents.
Unless you have skin problems, then the horror of showing some skin can be very stressful and downright traumatic. Nobody wants to be the creepy flakey guy scratching and picking at his skin on the bus.
My name is Cat and I have chronic plaque psoriasis, it is an immune system related disease that is characterized by itchy red and scaly patches and dry crusty lesions on the body. It is not contagious.
My body grows skin cells up to 10 times faster than normal and cause the inflammation and plaque spots. Mine is moderate but still covering most of my body at the moment.
It is especially bad on my elbows, knees, behind my ears, on my butt, and scalp. It also effects my joints and is especially bad in the dry winter or when I'm stressed. It's almost impossible to wear black without being covered in a snowstorm of skin flakes. My toe nails grow in thick and flakey. Yum, that's attractive in a pair of cute sandals.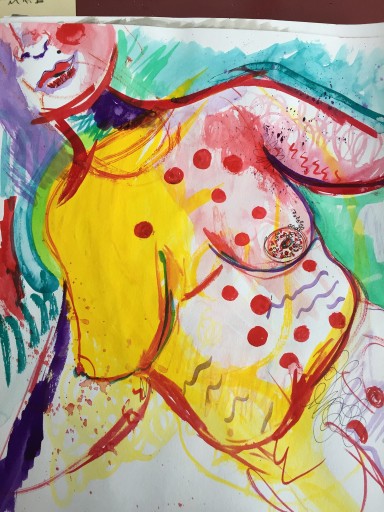 Why me? Why can't I have smooth skin like all the other girls? Being scaly is just awful. For psoriasis sufferers social situations can be terrifying. It's embarrassing to go swimming or even let your legs show on a hot day. Sex is often easier in the dark, less to explain.
You become tough when dealing with this skin imperfection. It makes life a little harder, but obviously not impossible. Much like acne and other skin diseases, psoriasis is socially taboo and not fully understood by the general population.
I have suffered from this most of my life. Even when it's not terribly inflamed it's still always there, taunting me. My grandmother had it, I always knew it was coming for me.
I am generally very comfortable in my skin. I love my fat rolls, every squishy bit of me is beautiful. I even don't mind my stretch marks, I've earned them. But the lesions are really hard to deal with, especially when they take over intimate zones.
It's hard to explain these nasty patches attacking your inner thighs and nipples. You make sure to keep your STD test results handy. It's also terrible when it decides to go on your eyelids and face,there is no concealing that. You feel helpless and ugly.
The drugs on the market to help either contain harsh steroids or have grueling cancer causing side effects. Alcohol and smoking make it worse, small amounts of UV light make it better. Your body can react to treatment but usually becomes immune quickly and adapts, bringing you back to square one.
Even though I am more self conscious of my skin than any other part of me, I still choose to bare it all. I am a burlesque dancer, which means baring my skin for art. The bright lights can be unforgiving but most shows happen under the red glowing bar lights that make everyone look sexy.
Besides that, I regularly pose nude for figure drawing classes. Being 100% exposed in front of a group of students is so liberating. I have noticed that not one student has ever drawn my skin imperfections into their art. After close inspection they have added in my tattoos and got my hairstyle perfect but have not dealt with the skin issue.
I always wondered if they were just being nice. I think that beauty and art is more than skin deep. Nobody is perfect but everyone is absolutely flawless. I advocate feeling sexy no matter what and being proud of every nuance your body has.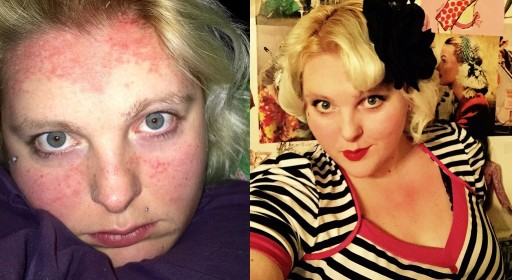 Dermatologists can help some but usually don't have the answers. I have found blogs from real people have helped me more. Diet, exercise , and getting enough sleep all have a positive effect on skin problems. More fruits and veggies, and whole grains help your immune system. Stay hydrated, use sun block, moisturize with natural coconut oil, relax in sea salt bath soaks, exfoliate, and get some vitamin D in your life. Self tanning lotions and some cover up can also help conceal the patches of yuck.
As far as fashion goes it is important to avoid dark, solid colors. Multicolored or patterned clothing helps to hide flakes. Soft cotton fabrics can feel more soothing than scratchier fabrics like wool or synthetics.
Do not hide behind your clothes, keep them loose and breathable. Sunshine helps. Tight fitting clothing can irritate your skin even more. I often opt for fishnets over bare legs, they offer some coverage without being too constricting.
It's not your fault and your life and happiness does not need to suffer due to psoriasis. Take time to relax and de-stress, this will help every aspect of your life, including your skin.
The struggle is real. Be open and honest about your psoriasis. I am not ashamed of my body or my skin. I will not hide behind long sleeves and pants in the warm weather. I am proud of myself regardless of petty judgement.
I will take my clothes off shamelessly and make sure the world knows that having a skin disease does not make you less sexy. Don't live in fear, it's okay, we are in this together. Show that summer skin you sexy thing.