Friday, June 14: Imaginary Cities @ Mod Club
Imaginary Cities, from Winnipeg, have been together for about four years now. The band's members are Marti Sarbit, Rusty Matyas, David Landreth, Ryan Voth and Zack Antel. Sarbit's voice will have you smiling ear to ear. Girl's got some wicked dance moves while belting out her tunes. The passion she shows on stage for her music is outstanding and the connection between the group members can be felt from inside the crowd. After their set at Mod Club, I asked Sarbit why I felt like I was in the 1950s for a bit. Who are her influences?
"Aretha Franklin, Sam Cooke," she replied with her infectious smile, "but I love The Shins too! And Feist!" Her story on how the band formed explains why their sound reminded me of Motown – she met bandmate Matyas while he was mixing sound for her Motown cover band! The rest is history, as they say.  Thankfully, they come to Toronto often and their next show here is planned for Edgefest at the end of July. Imaginary Cities is a fabulous band that is on the rise with an adorable and admirable stage presence.
Saturday, June 15: Smif-n-Wessun @ The Drake Hotel Underground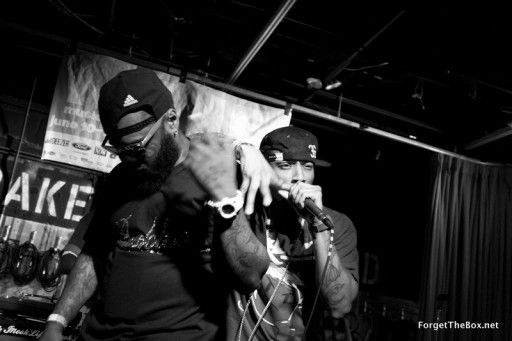 Smif-n-Wessun is a hip hop duo from Brooklyn comprised of Tekomin Williams and General Steele. Tek and Steele are some seriously talented rappers. It was unbelievable to see dudes of this caliber on stage spitting lyrics without hesitation – all while acknowledging crowd members, giving props and pumping fists. Paying homage to the deceased, we were treated to samples of Biggie's 'Juicy,' 2-Pac's 'Keep Ya Head Up,' Big L's 'Skins' and ODB's 'Shimmy Shimmy Ya.' All were received with high enthusiasm from the crowd – especially a girl to my right who hit every word on spot and continued when the sample was done. It was dope.
As a huge reggae fan, I completely lost my shit when Steele started into the reggae beats and Jamaican Patois. I was on a chair grabbing some shots right next to the giant speakers and, for a second, felt like I was breaking it down at an underground basement beat reggae session. I know the whole crowd could feel the good vibes from this duo: Steele and Tek kept reminding everyone that life is short and to tell your loved ones you love them any chance you get. This show was off the hook and every person in the Drake Underground was immersed in it. Smif-n-Wessun have five albums to their name and a sixth set to release in October of this year. Keep your eye out for it but in the meantime gather some friends, throw on an album, crank those speakers, and break it down, yo!
*Photos by Celia Moase. Check out our NXNE 2013 album on Facebook for more photos.