I've been enthusiastically trying to schedule an interview with 'thunderous-meltdown' local rockers Smokes, whose Unlucky EP cassette tape is a favourite in my collection. Finally the stars aligned, Saturn returned, and I had the luck of sitting down with Nick Maas and Patrick Cruvellier at Chez Boris for discussions about their inspirations, how Smokes came to be, and their favourite Montreal spots over a dozen delicious donuts.
Nick Maas (vocals, guitar) and Patrick Cruvelleir (violin) met during their time at McGill where they lived in the same dorm and eventually moved across the street from each other and became best friends.
"The first band we played in was called The Under Water Fight Scene," said Maas letting out a small laugh, "It was really fun, it was with a bunch of our friends but it wasn't a super serious thing. Then we had a band after that called Bananafish, for about four years, it was kind of jazz prog fusion. Our friends Nick and Dave who play in Saxyndrum were playing in that band with us."
When Bananafish ended, Maas and Cruvelleir naturally knew they would be working on a new musical project together. Maas wanted to write rock songs and get back into singing. The two moved into the Torn Curtain, a local jam space which they shared with Parlovr at the time. Over the years, they've moved to different jam spaces including the Marsonic, the other Marsonic, meeting and collaborating with musicians and local bands along the way.
For two years, the two spent time writing and experimenting with what sounds they wanted to include in the project. Cruvellier explained that things really clicked when Jeremy MacCuish (drums), whom they met when he was a member of Parlovr, recorded on two demo tracks with them. Both Maas and Cruvellier knew they wanted MacCuish in the band and were thrilled when he accepted.
"That's really when Smokes became Smokes, which was maybe two years ago," Maas emphasized.
Recently, they added Andrew Miller (The This Many Boyfriends Club) to the line up on bass and speak highly of the energy and fresh take he has brought to the band.
"Being a trio is great, that dynamic of three people is awesome and we were able to make it work but we just realized that we were kind of limiting ourselves," Cruvellier explained. "Not necessarily dumbing down the parts but not able to execute everything we had in our heads, we needed a proper rhythm section and that frees Nick and myself up to do a lot of different things."
In terms of songwriting and inspiration, Maas, who writes all the lyrics for Smokes, explained that the material is deeply personal and speaks to overcoming struggles in his and generally ones life: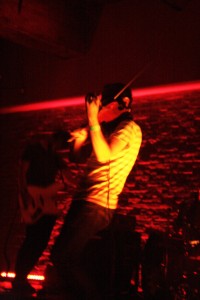 "It's really visceral for me", Maas elucidated, "There's angst, but it's kind of hopeful and triumphant in a way, even though some of it is really intense but it's never really that dark. There's always a light at the end of the tunnel."

"I feel I've connected to this project a bit deeper than I have with other projects." Cruvellier said, "In my own way, it's a very personal project. Smokes is an avenue for me to explore what I can do with my instrument and get more out of it maybe than you might think up for a string line in a folk tune or a pop song. I'll write riffs and I'll write parts and it's feeding off of Nick's energy and and contributing something back and reflecting something back during the initial phases of writing the songs."
Writing songs is a collaborative process, Maas emphasized:
"I write the song lyrics but I certainly don't write other people's parts, maybe I'll have an idea for a melody,  and everyone gets to put their unique personal spin on what I'm doing. Jeremy has some really good ideas too, he has a lot of experience and I really value his experience. 'Cause to me it's about the group band dynamic. I want everyone's voice in there and I think we are getting better and better at doing that."
When he wasn't busy performing and/or writing prog rock tunes with Smokes, Maas recently graduated from culinary school and worked a stage at Maison Publique (4720 Marquette). During this time, he fell in love with cooking, although he would rank it second only to his love of music. "I wish I was cooking right now," Maas added swiping a donut. As for Cruveller, he played with local acts like OHARA, Sea Oleena and Tamara Sandor as well as runs a local music licensing business.
When these busy bees are enjoying some down time, they can be found at their favourite place to get a drink in Montreal. Cruveller enjoys Snack 'N' Blues as his preferred winter spot. As for Maas, he is really fond of Casa del Popolo for a drink. For a sandwich and a coffee, Maas cites Chez José on Duluth.
Smokes is currently recording a full length album at Studio La Traque, studio of local act Les Breastfeeders. They are recording with Marce-Pitre and Samuel Gemme (Elephant Stone). They are aiming to release the record in the late spring or early summer.
Check out Smokes this Saturday at Casa del Popolo (4873 Boulevard Saint-Laurent) with Alden Penner, Bantam Wing, and Year of Glad.