Hundreds of people were still gathering in St. James Park on the east end of downtown Toronto late Saturday for the Occupy Toronto protests inspired by the Occupy Wall Street movement.
Earlier, reports said about 3,000 people rallied and marched from Toronto's financial district to the park, the group's chosen occupation site, at the corner of Jarvis Street and King Street.
The movement, which is against increasing financial inequality and excessive corporate influence in politics, arrived in Canada with the New York City protest set to mark a month at Zuccotti Park in Lower Manhattan on Monday.
The protest gathered high school students, seniors and everyone in between with a variety of viewpoints.  Signs could be seen in support of the Marxist party, socialism, environmental concerns and even American politician Ron Paul though most evoked the main themes of the movement.
"I'm sure that you'll even see many people here that are pro-capitalism, but think that it needs to be a fairer form of capitalism," said William Anderson, a father and train conductor.
"So when I look around, I see everyone having one common interest, which is a war against apathy."
Peaceful protest, curious observers and cameras
Police on bicycles were stationed in groups on the edges of the park, but did not enter.   The protest remained peaceful into the evening and reports say police were pleased with the conduct of the crowds, though two arrests were made.
As of mid-afternoon many people had left the site, but a core of about a thousand protesters remained while others flowed in and out of the park.   Those who planned to stay overnight continued setting up tents in the park's southeast corner.
In addition to participants, the protest attracted curious observers.
"I came down because I didn't really understand what was being demanded here and what the goal was," said blogger Amanda Stratton.
"And I haven't seen that there is one here.   So there's sort of no contract to this protest, if that makes sense. There's nothing that's being demanded so what are we expecting governments to do."
Stratton found it positive, however, that a committee had been formed to set out the concerns of the protesters.
As the afternoon went on, people chatted, held signs and walked around the park waiting to be called to a meeting, the Toronto movement's first general assembly modeled on that of the Wall Street protests.
At times, spontaneous marches of protesters broke off onto the streets around the park.   17-year-old high school student Katharyn Stevenson and friend Becky Martinez took part in one of the marches.   Like many at the protest, Stevenson carried a camera.
"I'm planning on writing something for our school newspaper," said Stevenson.  "I think blogging, Twitter, taking pictures, Facebook, whatever, is a really great way to spread the word about the movement. I think that's what people want here, to raise awareness about what's going on."
The movement has been notable for its use of social media, including Twitter, Facebook, Tumblr, blogs and live video streaming that has allowed viewers from around the world to watch in detail what has been happening, from the mundane to confrontations with police.
Marches and general assembly
As one group of marchers returned to the park, the larger group shifted away from the central gazebo and gathered for the group's first general assembly.
In a crowd of hundreds, volunteer facilitators used a voice echo technique sometimes called the 'human microphone' to speak to those gathered. The facilitators spoke in short fragments and waited as parts of the crowd closest to the speakers loudly repeated what was said for the benefit of those standing further back.
The assembly provided updates from the New York City movement and Canadian cities like Montreal and Vancouver.   The focus, however, was on laying ground rules for how discussions would be organized, including explaining hand signals for agreement, misunderstanding, adding information and opposition.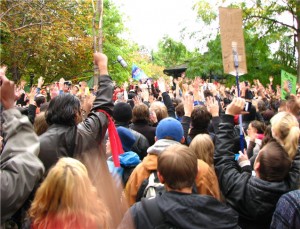 One by one, volunteers from the medical, legal, logistics, food, ideas and facilitation committees each spoke to the crowd with their words echoing out to the edges of the park.
Retired actor Richard Partington arrived on his bike, and hung back in the crowd.
"Well I knew that it was happening and I knew that it was happening worldwide and I wanted to show some solidarity because I believe firmly in the principles behind these 'occupy' situations," said Partington.
The Occupy Toronto protesters took to the street again on Sunday in Toronto's downtown and plan to march to Ryerson University Monday to join students in a midday rally against poverty. Some reports claim a 'large-impact' action is also in the works.
Photos by Tomas Urbina