"Re
dnecks are a dyin' breed ya know," a sweaty, fat man in a white cowboy hat called 'Cousin' explained to me, as he aggressively scrubbed the last of the ­bean sauce off of the bottom of a pot, "except here in Calgary, they flourish!" His entire body laughed. He knew I was a rookie.
Before the Stampede I hadn't thought much about Calgary really. I knew what most native Montrealers know about the city. I knew it was where Steven Harper lived and that oil and gas money built the tallest buildings and greased the economy. I'd heard about the Stampede of course, people in South Africa have heard about the Stampede, but aside from casually tuning in to the annual animal activist brouhaha that swarms the national media during these fateful summer months, Calgary was pretty much off my radar.
It came as a rather abrupt shock to my very un-Calgarian system, when my fist visit to Canada's fourth largest city did not consist of a trip to Chinatown or an afternoon at the Glenbow Museum. Instead, I spent a week working in the 'VIP' section of the infamously controversial chuckwagon empire.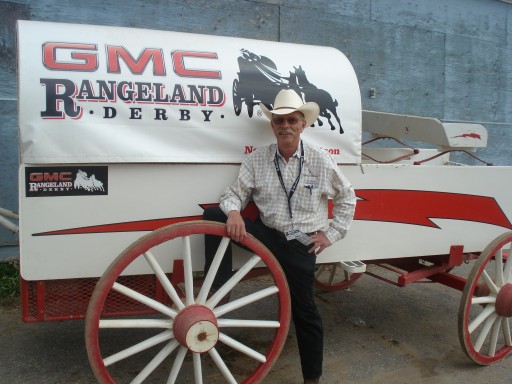 Not only did my feet find their way on to Calgary soil, but before I knew it, my moccasins (my silent protest) were caked with layers of Cowtown mud. I was in deeper, I was told, than most people ever get to be. "People who come to the Stampede year after year for their whole lives don't get to be where you are," my new boss would explain.
Initially I thought I was going to the stampede to sell watches. It wasn't until I was handed a security pass and was led through three security check-points that I began to question this assumption. Finally, when I arrived at the "Chow Wagon" I knew watches weren't going to be on the menu. The air was hot and thick and smelled of hay and horse shit.
The Chow Wagon was a restaurant/bar in the shape of a chuckwagon that hooked up to the back of a pick-up so that it could be easily transported from rodeo to rodeo. It was set up "behind the barns," the chuckwagon base, with all the other tents.
"Each rider has his own tent," a tall, handsome man who said his name was something or other, but who I just called 'the Cowboy,' explained. We were walking along the back of the barns while I was trying to get my bearings. "So," I said, "what does that mean? What's a… tent?" He pushed his hat up over his hairline and revealed a thick band of glimmering sweat, "each driver has a sponsor and that sponsor sets up one of these here tents fur entertainin' their vee ay pees before and after the races."
I would later  learn that this is the most important part of the derby. Every spring, major companies try to out bid each other for advertising space on a chuckwagon tarp. They call it the GMC Rangeland Derby Canvas Auction.
Eleven time derby champion Kelly Sutherland's sponsor, YaYaCalgary.com, a nascent bargain-hunter website, paid $170,000 for the their ad to be on the tarp of his chuck for the duration of the Stampede. This year, the cost of the canvases ranged from $77,500 to $170,000. Some companies, such as YaYa, will absorb the entire cost of the canvas space, others will share it with up to 9 other companies. In this case, the add on the tarp will alternate between the participating companies or several logos will be displayed on a single tarp. In 2007, the highest grossing year to date, over 4 million dollars was bid on 36 drivers during the auction. This year, the total tarp auction proceeds amounted to $2,840,000. The auction is viewed by many Calgarians as an indicator of the city's corporate health.
The Chow Wagon was run by the catering company hired by the 'Kidz Wagon.' The Kidz Wagon tarp cost $70,000. The wagon then goes to subsequent sponsors for different nights of the races who pay $10,000 each a night. The sponsors of the Kidz Wagon were major companies, such as Gibson Energy, Courtesy Air and various oil companies.
Ten grand buys an all inclusive, all you can eat and drink exclusive BBQ courtesy of the Chow Wagon, exclusive access to the barns and passes to see the "chucks!" And of course, the highly sought after spot on the Kidz Wagon tarp. This shameless endorsement of animal cruelty, according to Stampede officials, also buys "recognition during the live radio, internet  and television broadcasts, track announcer promos during the live races, over  60 seconds of extreme marketing nightly as [the] wagon thunders around the track  and more."
But the Kidz Wagon is unique among the chucks, because unlike West Jet, every year it sponsors a different kids charity. Which is great for it's sponsors because for $10,000 they get the exclusive opportunity to look like they give a shit.
This year's chosen charity was the Kristin Kares Klub Humanitarian Foundation. The foundation was created in memory of 13 year old Kristin who tragically passed away last year due to a combination botched medical procedures, misdiagnosis and cancer. It was set up by her mother to fulfill her lifelong dream of "helping people and animals. "Kristin wanted to change the world for the better and to inspire love, peace, friendship, faith & joy by helping people and animals around the world," her mother writes on the charity website.
Kristin's mother Pam, is an incredibly passionate and dedicated woman. I can remember watching the races with her. "This was one of Kristin's favourite scarfs, I kept this one because it was blue. That was her favourite colour," she said as her eyes darted to her feet. "We're gonna change the world with this charity, you know."
I asked her what she thought about the chuckwagon races. "Horses die every year during the races, don't you think that's a little…off?" I said. I was trying to be careful  not to offend her, it was after all an incredibly sensitive issue. I was trying to understand how a charity that in part wants to "help animals" would have anything to do with the stampede at all. She just looked at me with this piercing blank look as the orange sun slipped gracefully behind the grandstand. "I don't really know much about it, I know they treat them really well," she finally responded. It was as if she had never though about the stampede that way. Never questioned it, never thought to.
That same night, in fact the very same race that conversation took place, one of "our" horses broke its leg and later had to be euthanized. I didn't find out about this until after the race because most horses will keep on racing after a fracture. "Did you hear?" A girl I worked with poked her head into the Chow Wagon. "Hear what?" I said. "One of Jim's horses broke it's leg, somebody cut him off!" She put her head in her hands. Her genuine concern was touching but later that night I asked Jim about it, he shrugged it off and said, "It happens…" and smiled.
Historically, a chuckwagon is a horse-drawn portable kitchen. Think The Oregon Trail. It wasn't until 1923 when Stampede cofounder Guy Weadick thought it would be a good idea to race them around a couple of barrels along half a mile of track. Over 50 chuckwagon horses have died and hundreds have been injured since 1986. These harrowing numbers have earned the stampede the unofficial title of the Calgary Deathpede.
Although positive steps have recently been taken by the stampede to increase animal welfare and safety, this year's stampede still saw two horse fatalities and several injuries.  Wagon driver Jim Nevada has defended the sport on several occasions. "We don't pay four or five thousand dollars for a horse and try to kill it. You don't win money if you don't take care of your horses. We're drug tested, both us and the horses. Those horses would be in a dog-food can or on a plate in France, if it wasn't for wagon racing." Many riders will defend the sport with two key arguments. The first being many of the chuck horses are ex-racing horses who would otherwise be euthanized if it weren't for the chucks. Pro-chuckwagoneers will explain that these thoroughbreds have been given a second chance at life. The other popular comeback is that they are treated like the rock stars they are.
"Anybody feed you the best oats in town?" Cousin asked me one particularity sticky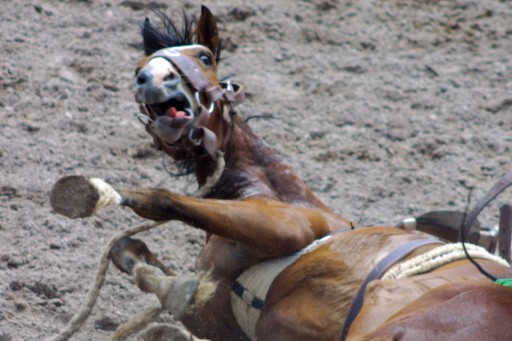 day after I expressed my concern for the horses. "These horses get treated better than any horse out lookin for food in the wild. They were born to run. They love what they do and they die loving what they do. Don't forget we are in charge here. Don't you think if horses ran the show they would be makin' us run? Haven't you seen planet of the Apes?!"
Vancouver Humane Society spokesman Pete Fricker argues that "It is totally unacceptable to continue this event when horse after horse is dying just to entertain a crowd."
Though the horses are loved, it is a love that much more closely resembles the way someone might love their car rather than another animal. Some riders customize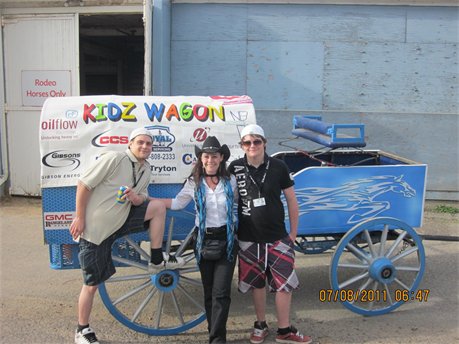 their horses the same way a teenager might customize their car, branding the horses bodies with flowers or the riders initials or even their company logo.
I haven't been around a whole lot of horses in my lifetime, but I have never see horses so skittish and frightened in my entire life. Walking through the barns one night, I reached out to pet one of the horses. "Get back!" A woman yelled. "They bite!" Bite? It turns out they kick too and run away, as one horse I saw did as he tried to escape his owner.
In 2009, stampede officials estimated that the 10 day event brought in 172.4 million to the city and 226.7 million to the province making it the biggest money maker of any single Canadian event…ever. The "greatest show on earth" wont be going anywhere anytime soon, especially when it has a plethora of corporate stakeholders.