NDG, yesterday you outdid yourself. You welcomed summer to Montreal in the best way possible: with a truly grassroots and community-based music festival experience.
It just made so much sense. Of course an idea like PorchFest would work in my old hood. NDG is known for its abundance of musicians, laid back weekend attitude, and strong community feeling. Plus it has some rather nice porches.
There's no need for an over-hyped, over-commercialized festival here. NDG residents can go downtown if that's what they're looking for. In the Deeg, it's all about hassle-free good times, partying with neighbours and, of course, great music.
On my first early afternoon Porchfest odyssey, I had the perfect musical travelling companion, my mom. A long time NDG resident, she felt right at home walking around the streets she knew all too well, now emboldened with a musical party vibe that was always there, just not in such an obvious way.
This wasn't an event tailored to a specific age group or musical genre. There were children, seniors and every age in between. There was folk, rock, electronic-styled music with real instruments and even a punk band doing an acoustic show. We didn't catch the punk band and almost caught the electronic act, but we took a wrong turn.
Multi-Generational Appalachian Country in the Early Afternoon
Our first step was a glorious mis-step, as we headed down the wrong street and caught an excellent show. Now, to be clear, our error had nothing to do with the listing of events provided by PorchFest organizers. They offered as clear a guide as possible of when and where each of the 60+ acts who had signed up were performing.
No, in our excitement, we mistook Wilson for Melrose and caught a performance by Stephanie Flowers and the Sticky Finger String Band completely by accident. This multi-generational country band was fronted by a 12-year-old with incredible musical talent for someone her age or any age. They will be playing the Montreal Folk Fest later this summer.
While their style may have sounded bluegrass, they made it clear to the increasingly growing audience that it was, in fact, country music from the Appalachian region of the US and, in fact, a precursor to bluegrass. What was made clearer was that this band knew how to play and really capture a crowd with their music.
The stage Stephanie Flowers and her band played on was actually the front porch of an apartment building. It was used by multiple acts throughout the day. Before we arrived, FTB's Jesse Anger caught The Guillaume Jabbour Band playing in the same location. He liked what he heard and took a pic of the band and the spot: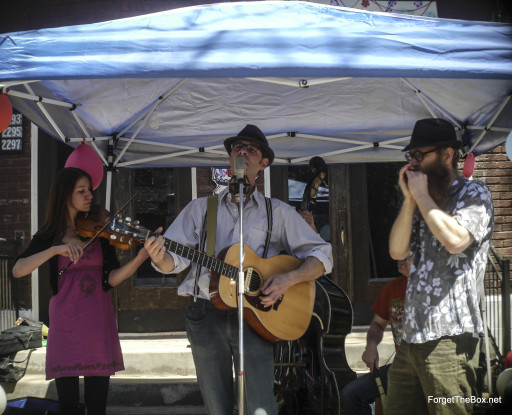 Backyard Rock Rocks
While, for the most part, this was a front porch-centric event, we were fortunate to catch a show on a back porch and, more to the point, sit in a back yard to take it in. It was a performance by Les Skidoos Jaunes, a local rock band playing cover songs in both English and French, occasionally changing instruments. Full disclosure, the drummer is my brother. I guess you could say it was a real family affair, as is PorchFest overall.
The band was joined on stage by Blake Adams and other members of the Adams family who were hosting this event. They were also offering up hot dogs and freshly squeezed lemonade and only asking for donations to the NDG Food Depot in return.
As Les Skidoos expertly played through their varied repertoire of more recent and older rock tunes, more people arrived via the alley and took their spots in the backyard. Near the end of the show, the crowd taking in the event was bigger than ones I have seen at some bar shows booked months in advance on good nights.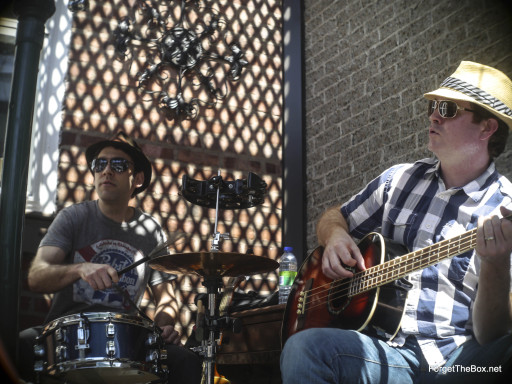 People were really getting into the music and the scene, singing along and even dancing a bit. Not bad for a lazy Saturday afternoon.
Once the Skidoos had finished playing and the official PorchFest show was done for this particular porch, my mom had had her musical fill and left. I decided to stick around. Mike Dawson was doing a set on the balcony and there was a real jam vibe happening.
This meant I didn't get to catch some of the acts playing in western NDG. Come to think of it, there were quite a few acts I would have liked to catch but didn't get the chance to: FTB Fundraiser veterans Po Lazarus and some former members of the United Steel Workers of Montreal performing together to name but a few.
No, it's not possible to catch all of PorchFest. So much is going on in such a short period of time. Regardless of what specific acts you get to listen to, though, one thing you will experience is the overall feeling of a community coming alive culturally on a beautiful summer afternoon, and the first one of the year at that.
As for those acts you missed, well, there's always next year. And that's not some hollow promise, but rather something to get excited about.
* Photos by Jesse Anger