As we approach the end of summer, the steamy hot days and humid nights that sometimes force us out of our beds mid slumber just to ice our heated bodies start to cool down. In turn, people start to put some effort into their outfits again.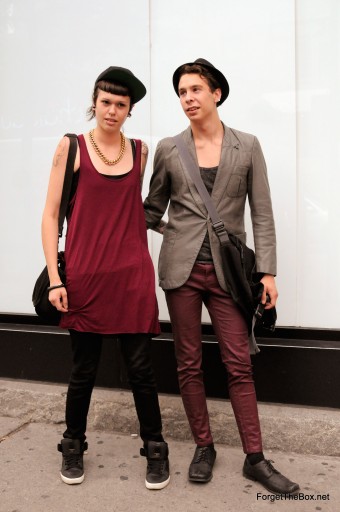 That's the thing about living in Montreal; extreme weather=don't give a shit about what I'm wearing, as long as it accommodates the temperature. In winter, we're covered from head to toe so that we may brave our inevitable treks through the snow and -20+ weather (Oh, Canada.) and in the burning hot months of June and July, it's all about short, loose dresses, tanktops, shorts… basically, leaving the house wearing as little material as you possibly can.
In between times are perfect- Indian Summer, Spring, Fall, because you can play around with more looks: shorts and a blazer, perhaps… or long skirts with tank tops. Long pants with T-shirts, and scarves also make a cute comeback at this time.
This was apparent when the temperature dropped in the past week. As we strolled up and down centre ville's busiest street, rue Ste Catherine, I zealously approached people hoping to capture their outfits on film.
Like a sexually charged adolescent boy seeing a naked woman for the first time, I initially appeared as clumsy, desperate and aggressive when approaching the busy and introverted civilians who had better things to do than get their picture taken on a dreary, grey Wednesday afternoon.
For the sake of inspiration, my talented photographer and I moseyed on down to the popular boutique Editorial. Wedged in the middle of Stanley and de Maisonneuve, Editorial has been coined by local residents as the Mecca of urban fashion and cutting edge style.
Urban and cutting edge it is. It is also a bit on the pricey side, but their apparel is of such good quality.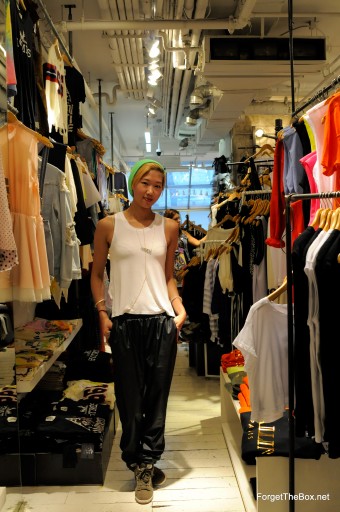 Like an overflowing coffee cup, the store is brimming with hot trends. It's filled with pieces that play on classic themes, logos and looks, with a completely new and loud look.
They have chunky heeled ankle booties with both downtown and by celebrity street styles. There are graphic tees that play on brands like Hermes (turned into Homies and Hotmes), studded and spiky shoes, earthy yet edgy bustiers and pieces that would mirror an overall look of 90s rap videos with an haute couture twist.
And then, it was like catching bees with honey. The beautiful people of downtown Montreal have adapted a similar style, but manage to stay eclectic at the same time.
We found that studded and spiked touches on accessories such as bags, shoes and shoulder pads were popular. Futuristic looks with chunky moon boot sneakers and blazers, funky hair and sailor moon jackets with knee high stockings.
It's like Downtown Montreal is a can of mixed nuts where everyone is doing their own thing, but it feels consistent since it all looks so "tough guy" yet lovingly… 2013.
Side note: I wish I could pull off this long red skirt. Work it, Baby.
*photos by Nicole Small, for the full Downtown Montreal Street Fashion set, check out our Facebook page