"In the regular world, Halloween is when children dress up in costumes and beg for candy. In Girl World, Halloween is the one night a year when a girl can dress like a total slut and no other girls can say anything about it."
Unless you've been living under a rock for the past decade, I'm sure this Mean Girls quote is of the most recognized in our modern culture. When I first watched this movie almost ten years ago at the ripe age of 15, I laughed hysterically and was like "OMG SO TRUE!" and sure enough, the following Halloween, I'd donned my shortest skirt, tightest top, and a pair of improvised cat ears for some lame high school party. Done. I don't even think my face was made up to look like a cat- but I was a sexy kitty with pretty hair so what did it matter?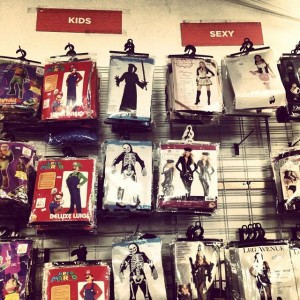 Ladies, haven't you ever noticed how strange it is that as children we were encouraged to dress up elaborately for Halloween, yet as soon as we hit puberty, we start taking advantage of the holiday as a time to reveal our tatas and what not? The other day, the well known PolicyMic social justice writer and a dear personal friend of mine, Elizabeth Plank, pointed this out when she uploaded a picture of kids costumes and sexy costumes side by side in a store. The caption of her photo read: "This #halloween shop wants to make sure little girls know exactly what's expected of them later. #NotBuyingIt". My favourite feminist makes a point: In the past, I myself along with plenty of other women in my age group (and beyond) went from dressing up in our childhoods as innocent cats, witches, and princesses to sexy cats, sexy cops, sexy nurses… Dorothy becomes sexy Dorothy- thank you for ruining my childhood. A bee becomes.. a sexy bee? How the hell does that work? What's so sexy about pollination!?
I'm not bashing the desire to look hot on Halloween, ladies and gentlemen. This holiday is a day of release, and in our culture, it is a day where most rules should be forgotten. However, we have the right to look hot every day, not exclusively on a holiday. Really, a woman should be able to dress like a "total slut" if she wants to every single day of her life, and no one should say anything about it because it's HER choice at the end of the day. But we should take a minute to think that for the most part, women are being encouraged to strip down for Halloween, and this should be a choice, not an expectation… and frankly, the whole lingerie+bunny ears thing is getting kind of boring.
So as long as you're still procrastinating your costume… why don't you keep these tips in mind.
My List of Commandments for creating your Halloween costume:
-Thou Shalt Not Buy Into Media Induced Expectations (We're living in the 21st century, after all.)
See rant above. If you want to look like a "slut", do it, but know that you don't HAVE to. Lingerie+animal ears aren't the only option you have. College freshmen/women under 20, I'm looking at you.
-Thou Shalt Not Dress Offensively: sure, you have the right express your inner self (blah blah blah) on Halloween, but come on. Don't blackface yourself. Don't add detail to your eyes to turn Asian. A race is not a costume. And please, for the love of God, and this is coming from an Arab: PLEASE. Don't dress as a terrorist. It's not funny, it's rude. Be considerate of who you might offend.
-Thou Shalt Not be Wasteful: If you must purchase something for your costume, choose wisely and welcome it into your wardrobe. We all know the drill: you buy one of those shitty packaged Halloween costumes that you wear once, spill beer on, never wash, and never wear again. That's totally wasteful. You would be surprised with the treasures you could keep from Halloween costumes past! One year I was.. well, something that involved a leather skirt, Doc Martins, a short black wig, and a whip. I'd purchased a pleather corset top from Cruella especially for the occasion. Three years later, I'm pairing that top with high waisted, long billowy skirts and calling it my "Carrie Bradshaw"outfit. It has gone from costume to respected staple.
-Thou shalt raid thine closet: You'll be surprised with what you can come up with, especially if channeling an iconic figure like John Lennon, Marilyn Monroe, Janis Joplin, or Bob Dylan.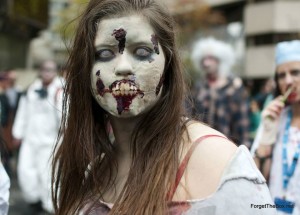 -Thou shalt respect the classics: Whatever happened to being a witch, a ghost, a pumpkin, or a ghoul on Halloween!! Did we throw all those costumes away to become nurses and pop stars? I'm personally bringing the witch back this year, and I'm so excited. I haven't been a witch since I was 8 years old!
-Thou Shalt Own It: Own what you wear, honey. Strut your stuff, and be creative. Halloween is the funniest night of the year, after all.
And the final commandment: Thou Shalt attend the Glam Gam production, Tales from the Crotch on October 31st at 10pm!! I'll see you all there, and if you're wearing a costume, it's 10 bucks admission. If you're being boring, the price to pay is 15. nyahahahahahahahaha!!
Alright my pretties, have yourselves a wonderful Halloweek, and don't forget to enter Forget the Box's costume contest. See the link below for more details!!!!