I've seen burlesque shows before, some damn good ones at that. I was also familiar with the Suicide Girls, but then again who isn't. I wasn't quite sure what to expect when I walked into La Tulipe Monday night to catch Blackheart Burlesque.
This was the burlesque show which had toured with some rather large rock bands. It also featured performers already Internet-famous thanks to their appearance on SuicideGirls.com, the alt-punk-geek erotica site with a strong and entertaining social media presence.
That presence was very much a part of the show. As with similar spectacles I have seen, there was an announcement at the beginning for the audience not to take pictures. Unlike other burlesque shows, though, that command was quickly rescinded and the audience was not only invited to photograph the performers, but to share the images on Instagram using the hashtag #blackheartburlesque.
That wasn't the only unexpected part. Montreal shows are famous for starting late, but this show not only started on time, but it started early, like 30 minutes early with local opening act The Royals.
Once the Suicide Girls took the stage, the show moved at a breakneck pace, in keeping with the excellent, rocking musical selection. The numbers were hot, professionally choreographed and fun.
They were also filled with spot-on pop culture references. We got everything from Thriller to Orange is the New Black (kind of fitting) and my favorite bit: Star Wars.
They even did the Time Warp. I didn't think it was possible to sex up Rocky Horror, but they did it, mainly by removing more clothing. I love Tim Curry, but I'd rather see these girls wearing less than him (yes, Rocky Fans, I know Tim Curry wasn't in Time Warp, it's just an easily understood namedrop).
Now this is where I'd usually start mentioning specific performers I liked, but that's really not possible. Most of the numbers featured multiple performers if not the entire cast. There wasn't an emcee intro before each number, and when there was, it was simply Suicide Girls. An ensemble in every sense of the word.
As for the host, she was fantastic. Not only did she keep the audience's interest (the crowd was about 50/50 female/male FYI) and get plenty of site promo in, but she also sang two raunchy song parodies. Think Weird Àl, but horny and way better looking. Her Little Mermaid number was my favorite. Sexy, clever and can sing, wow.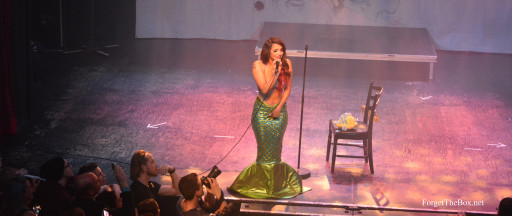 She also led two audience interaction parts, the first brought some Montreal Suicide Girls hopefuls to the stage to strut their stuff and the second saw some very lucky dude trying to concentrate on the assignment he was given while our hostess gave him one incredibly distracting lap dance (not that there are is such a thing as a non-distracting lap dance, but I digress).
I'd love to tell you her name, but I didn't catch it and how feel like some dude after a one night stand who's really trying not to be "that guy" who doesn't remember her name. If she wants to contact me on Twitter @jasoncmclean I'll update the piece.
But you didn't come here for some dude's analysis, did you? You came here for the pics, and here they are in the gallery below. Oh, and if pasties aren't enough for you, I hear there may be some more revealing imagery available at SuicideGirls.com
photos by Iana Kazakova