After being infamously evicted from his St. Laurent Boulevard location by his landlord last October, Terry Westcott has re-opened his jewel of a bookstore, the Librairie T. Westcott.
The revived store is in the St. Hubert Plaza, a bustling shopping area that promises to provide a new community of devotees for the beloved old landmark. The address is 6792 St. Hubert, and its accessible location – halfway between the Jean-Talon and the Beaubien metro stations – makes it an easy destination for bibliophiles. (ED's Note: Yes, we know the area is currently under construction, but even in Montreal, that won't last forever)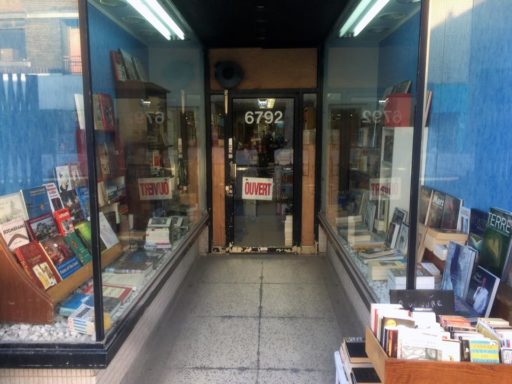 "It's a good location, it's a nice long store," Terry says, "and I have the same number of bookcases I had before." The space is indeed long and narrow – actually quite a bit longer than the previous store – and perfect for housing Mr. Westcott's extensive collection.
Not so long ago, on a bleak and rainy day, I'd been a grim witness to the effects of rising rents, as a chunk of the 20 000-volume Westcott collection was carted away by a 1-800-GOT-JUNK dump truck for recycling. I asked Terry how much of his collection he'd been able to save.
"There are certain sections I've had to rebuild – my Latin American history section, my Jewish History section, my travel books, my Chinese History, my Russian History." But, after 25 years, he's not starting over from scratch.
Most of his treasured collection survived the purge. Concerned about his wide-ranging science fiction section, I was relieved to discover it was intact, although still packed up.
Did he have any misgivings about opening an English bookstore in a largely francophone part of town?
"Oh, I looked around," he explains. "The problem with NDG, for example on Monkland, or in Verdun – they're busy on the weekends but they're slow during the week because those are mostly residential areas. People are at work. Children are at school. So on weekdays it's very quiet. But St Hubert Plaza is quite crowded, seven days a week. That's what a bookshop needs to survive. And of course it's much busier on the weekends."
Terry adds: "There are a lot of people moving over to the Petit-Patrie from the Plateau. Everything's so expensive over there and so things are shifting over here."
I wonder how it seems to be working out so far, considering the preponderance of English in the store. Terry is upbeat.
"A lot of French people are glad to have an English bookshop [in the area]," he says. "There are two French book stores down the street – a Renaud-Bray and Librairie Raffin– and there's also a second-hand bookshop, Parenthèse. Most people in the Montreal area that read are fluently bilingual. So they're happy to get an English bookshop. This is their chance to get a lot of English books, and also publications like Indiana University Press or South Georgia University Press that are never going to be translated into French."
As before, Terry will no doubt make use of every square foot in the store, where the books were organized by subject and piled almost to the ceiling. Finding what you wanted was sometimes a challenge, as well as a balancing act, but Terry seemed to always know what he had, or at least, where it was likely to be found if he had it.
I express my relief that he didn't have to retire and spend his days watching golf on TV, something he'd contemplated during the demise of the old shop. Instead, he's now looking forward to having his bookshop become a new community hub again, like it was in the old location on St. Laurent.
Then I notice a photo of an impressive feline on the wall. Terry denies that it's there as a reminder of his previous cat companions Emma (as in Jane Austen) and Eliot (as in T.S.) who had the run of the place.
"It's a Florida panther," he explains, "and they're endangered. So I leave it up there so people can see…. He's got a very intelligent look on his face. No deception: 'I am what I am.'"
Whether deliberate or not, there couldn't be a more apt metaphor for Terry Westcott and his resilient bookstore. While some see bookstores as endangered, Terry is steadfast in his chosen occupation.
He is what he is – and so as long as there are people with a passion for books, Terry Westcott and his Librairie will serve a vibrant new community of readers.
* Photos by Dan Svatek