During it's 20th edition, the Fantasia Film Festival presented Takashi Miike with a Lifetime Achievement Award. Mike's name has been a staple of the Fantasia experience over the years which is no surprise because the prolific Japanese filmmaker has over 100 credits to his name in 25 years.
If the shear number of films doesn't blow your mind, the topics, extreme style and depictions of violence, dark humour, and the range of genres of film Miike has directed should: from crime dramas to kids' films to ultra-violent manga adaptations to musicals to downright disturbing romances.
Personally, my introduction to Miike's work came in the form of a recommendation by my trusted video store clerk, whose employee curated shelf served as a perfect Fantasia primer for my teenage self, handed me a copy of Miike's 1999 film Audition (Odishon) with a firm warning and the seriousness of one facilitating a rite of passage. The film still unsettles me whenever it crosses my mind.
I had the honour of sitting down with Miike for a quick interview and had a chance to ask the filmmaker a couple questions.
Fillion: How do you choose which film projects you take on?
Miike: Firstly, I always look to see if I have the capacity to take on the project, if my schedule would permit it. So, if a project comes to me… If I think too much about the content, the budget, or which company the project is coming from, it would be shielding myself and it would cut off certain paths in my life. I don't want to do that. So, I tend to take on work in the order that it comes to me.
Things change a lot depending on the times. Some of these elements will never come together again. Actually, my natural way is to see that the timing is right. If I think too hard I'll miss certain connections and things I would have otherwise not known. My way is to try even if I am not familiar, even if it is the first time I attempt something.
Fillion: Which films have you found the most challenging to make?
Miike: Westerns or samurai films. Things that are not happening in our time. In my career, I had never done that before taking these on and it was something that was very interesting.
For example, when you are using horses, I didn't know where to rent horses or where we could have the horses run. It was completely new for me. These are things that were common in older films but are on the verge of disappearing in current cinema.
The next thing that will be going will be action films with cars. They are too risky and many people no longer want to take that risk. In a film, there always needs to be an element of risk or else the spectators will feel this, that it's not natural and lacks something. A film is like a gamble, to amuse the public, you have to bring something exciting. So overall, for me, making samurai films, older styles of films, was both interesting and very challenging.
Terra Formars: Bugs in Space
Along with coming to receive his Lifetime Achievement Award, this year, Miike brought two titles to the festival: As The Gods Will (2014) and Terra Formars (2016). Terra Formars is a live action adaptation of the Japanese manga series of the same name. Although not among the type of films I usually cover at Fantasia, Miike's Terra Formars turned out to be a total blast: an action packed sci-fi somewhere at the meeting point between Starship Troopers and Power Rangers with a nod to Blade Runner.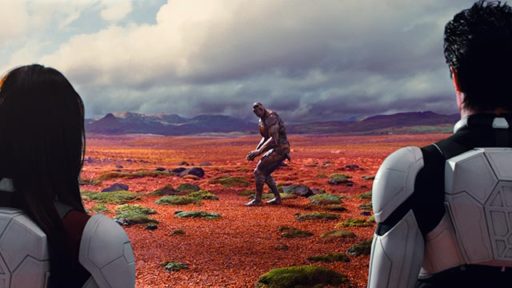 In a distant future, humanity is looking to Mars as a solution to the overcrowding on Earth and the depletion of its resources. Hundreds of years ago, a space program sent moss and cockroaches to Mars as a means of warming up the planetary atmosphere and making it a livable habitat for humans. After a failed first attempt at colonization, a second top secret mission is sent to Mars to rid the planet of its cockroach problem.
Led by Ko Honda, the mission participants are promised big bucks and fresh starts as long as they accept being subjected to some genetic modifications to survive on martian soil. Oh, and kill the cockroaches.
Not even an hour after their arrival, the space team (a mix of small criminals, murderers, hackers, yakuza), quickly realizes that beyond being annoying and strange, Ko Honda has misinformed them. Turns out the cockroaches have mutated into gigantic powerful beasts of sorts and that their genetic modifications were actually to give each of them the abilities of insects multiplied to human scale.
Terra Formars is ridiculous in so many ways and self aware. The film is as funny as it can be sort of gross, in the best of ways, and the action is exhilarating. Discovering which creature the crew have been spliced with brought me back to the thrill of seeing Power Rangers as a kid and waiting to see what the rangers would morph into.
Ko Honda, the film's villain of sorts, is one of my favourite characters in the film. I'd honestly like to see a sequel that focuses on his character some more. Although he has some of the stereotypical characteristics of film villains (especially those of earlier films), there was something really endearing, fun and fresh about Miike's villain.
Ko Honda's obsession with fashion took on a new meaning after meeting Miike in person. Ko Honda is almost a counterpoint to Miike in many ways: Ko Honda is agitated and skittish while Miike is poised and calm. That said, Mike has to be one of the most fashionable directors I have ever met at Fantasia. His jacket was striking, enough so to make Ko Honda totally jealous.
*Photos of Miike courtesy of Julie Delisle