While he might not share the same distaste for Canadian Liberal culture as his onscreen alter-ego Ron Swanson, being a libertarian, Nick Offerman certainly does appreciate the craftsmanship of a good canoe.
Sporting his famously groomed mustache (one that would make even Ernest Hemingway quiver) Offerman began this year's Talk of the Fest by disseminating the differences between the character made famous on Parks and Recreation and the real Nick Offerman.
But whatever politics makes them different, their mastery of woodworking makes them both modern day renaissance men. During his introduction he held up a ukulele for us to see. It was his newest creation.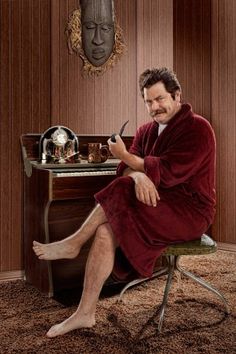 Offerman then showed off his mastery in songwriting, performing a little ditty for Canada about the great Canadian manly man. The crowd filled in the chorus. The song was a hit as it listed off iconic names from Canada's past from Leonard Cohen to Farley Mowat.
And after we moved on to the comdey sets…
This is the Talk of the Fest, after all, featuring many of the great comics from this year's festival. After going to my first Talk of the fest Last year, I learned that this was the"best of" buffet of comedy taster . A mix of short sets from all over the fest whether clean or crass: Ralphie May, DJ demers, Debra Digiovanni, Nick Thune,  Kyle Radke, Bobby Slalton and Shawn Collins, were part of the 7 o'clock show.
Some of the Highlights were:
DJ Demers talked about problems with bathroom signage and asked why some bars make it so complicated?
Bobby Slaton,who hosts the Nasty Show, took us on a funny routine while shopping with his wife and explained why staring at young woman isn't wrong.
Nick Thune, a new parent, drove the hospital staff crazy looking for Baby Penises in his wife's ultrasound.
Shawn Collins had the audience in tears suggesting that we take the two biggest search results "cats" and "porn" and combine them into the largest website ever called "Kitties and Titties.com" Interesting…let me sleep on that one.
One more thing of note about the show, keeping it clean. As the assembled cast of comics went through their routines it was difficult to stay clean and not scar the children. Many of these comics had been in the Nasty Show at the beginning of the Just For Laughs and had prepped  a little too well for crass. And while a few nasty remarks got by,  everybody was too busy laughing, so nobody really cared.
The evening was capped off by Nick Offerman closing the Talk of the Fest, and although I didn't love every comic, the evening had moments of brilliance. But it was Nick Offerman's, cool composure as host and his famous witty dry deadpan humor that made the night remarkably enjoyable.