Taxi and Uber drivers are at war.
Montreal taxi drivers are fed up with Uber stealing their business. Uber drivers are fed up with the barrage of blockades, eggings, protests and insults being hurled their way.
Those who favor Uber consider it an affordable alternative to the heavily regulated and costly taxi system. Those against Uber claim that it's promoting itself as a ride-sharing service and therefore exempt from government regulation and taxes. They claim that Uber is taking money from people who paid their dues taking government courses and paying outrageous fees to operate as taxi drivers in their respective cities.
The critics of Uber are absolutely right.
If you go to Uber's website, they don't call themselves a taxi service. The motto for people who want to become drivers is:
"Work that puts you first; drive when you want, earn what you need."
It promotes itself as a network of independent contractors in which people who need a ride are connected with drivers – the contractors. All the driver needs is a car, driver's license, smartphone and the UberPartner app, which you can download for free from the Google Play store or from iTunes. Once you've got the app, you have to register on their website, which means you provide your name, contact info, and proof you are legally allowed to drive a car in your area: license, registration, and proof of insurance. The only security check Uber requires is a standard background check.
Once you're signed up, all you need to do is stick the Uber sticker to your car identifying you as one of their drivers, turn on the app and Uber will not only hook you up with riders, but also provide you with directions. It's up to the rider whether to take a chance and pay for a lift from you, and riders can share their experiences by rating you on Uber's website. Payments to drivers are made via the Uber app, which deposits the money directly into their bank accounts.
Having said all that, becoming an Uber driver is insultingly easy and cheap when you look at all the hoops, both financial and regulatory, that taxi drivers have to go through just to be able to work in Montreal.
Taxi drivers in Montreal are regulated by the City of Montreal's By-law Concerning Taxi Transportation, Quebec's Act Respecting Transportation Services by Taxi, and rules set out by the Societé de l'assurance automobile du Québec (SAAQ).
In order to become a taxi driver in Montreal, you need more than a valid driver's license, a car, and a background check.
A lot more.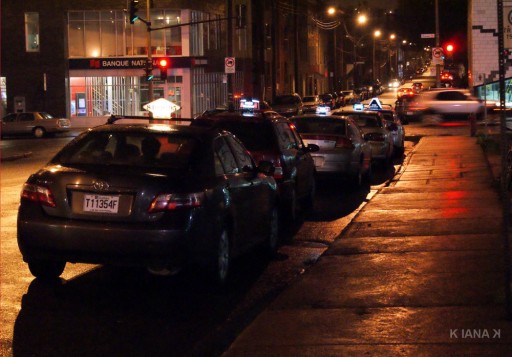 First off, you need to be a Canadian citizen or permanent resident. You need to have a class 4C driver's permit issued by the SAAQ, and that means taking a 150-hour training course and passing a test on taxi transportation regulations. You need to be able to speak, read, and understand French and English enough to do the job.
The vehicle you use has to be a sedan or a station wagon and the model can't be more than ten years old. The car has to have a hardtop and four side doors and glass sides. If you want to drive a van equipped to carry a maximum of nine people, it has to have a running board and three or four side doors with a window each, and the net mass of all in the vehicle has to be less than 3500 kg. If you just got your taxi permit, your vehicle can't be more than five years old, and no taxi can have an exterior surface damaged by wear and tear.
Taxi laws require drivers to adhere to a strict set of rules regarding their conduct. There are so many this article will only point out the major ones.
Taxi drivers are required by law to keep the taxi clean, inside and out. The driver has to make sure that customers can open the doors of the cab at all times and can't take on more than one passenger without the customer's consent. Drivers can't have animals in the car with the exception of those the customer needs to compensate for a disability. Drivers are also required to drive safe, be courteous, act with dignity and civility, and provide the customer with a proper level of comfort.
The only time a taxi driver is allowed to refuse service is if the customer is with an animal other than one required by their disability, the customer seems drunk or on drugs, seems to require immediate medical care, the customer's stuff won't fit in the trunk, he or she can't pay the fare, or the driver has reason to believe that his or her safety would be compromised. The driver also has to provide receipts upon request. Recent changes to taxi laws have even imposed a dress code of dark pants and white shirts for cabbies, with exceptions for warmer months when they can wear shorts.
The main source of the outrage for Montreal cabbies is one of cost. Taxi permits can cost up to $200 000 and many cabbies have to get loans to pay for them, which adds interest and taxes to the mix. Fares are regulated by the government, and the extensive maintenance and cleanliness rules jack the price of driving a cab even higher. Montreal's bylaws also have strict specifications about the dome lights and fixtures all taxis must have right down to the colour and material they're made of. Cabbies who don't obey the laws can have their license taken away…
But until the laws are changed, Montreal cabbies can take comfort in the fact that if they lose their taxi license they can always work for Uber.
* Featured image by Chris Zacchia