I have it on good authority that Genghis Khan would have been a huge Slayer fan. Galloping double-bass drums and furious riff-based thrash seems like a natural fit for the Golden Horde charging through the steppes of Central Asia. Just add booming Mongolian throat singing and horsehead fiddles that sound like a blade being drawn, and you have the perfect recipe for an incredible live performance.
The crowd at Foufounes Electriques got a taste of that Friday evening, when the Nomadic Folk Metal Horde known as Tengger Cavalry charged into town at the end of their North American tour with Incite.
These guys aren't just fronting about the whole horse thing, either. In addition to using folk instruments like the Igil, Shanz, Morin Khuur and Throat Singing, Tengger can ride too.
"Yeah, I'm okay on horseback," muses Nature Ganganbaigal (Guitar, Vocals) at the beginning of our pre-show chat. "One time, I went to the Mongolian grassland and I had to stay on a horse's back for one hour because he ran off from his owner. I got the bridle on, and I can gallop no problem…I'm more comfortable playing guitar, but I can make a horse go, too."
While experimental genre-defying music is always exciting, it's unfortunate that a lot of this blending of traditional music with contemporary styles can be seen as a gimmick, or attempting to cash in on the novelty of "look at us, we combine The Monolythic 'Old' with The Monolythic 'New!'"
The obvious workaround is authenticity and commitment to what the artist is creating as a performance that creates something new, unique, and hybridized instead of just two distinct styles – see Canada's A Tribe Called Red, and Chile's Matanza for examples of groups who do this well. Tengger Cavalry does this spectacularly in the studio, but live it's even more impressive.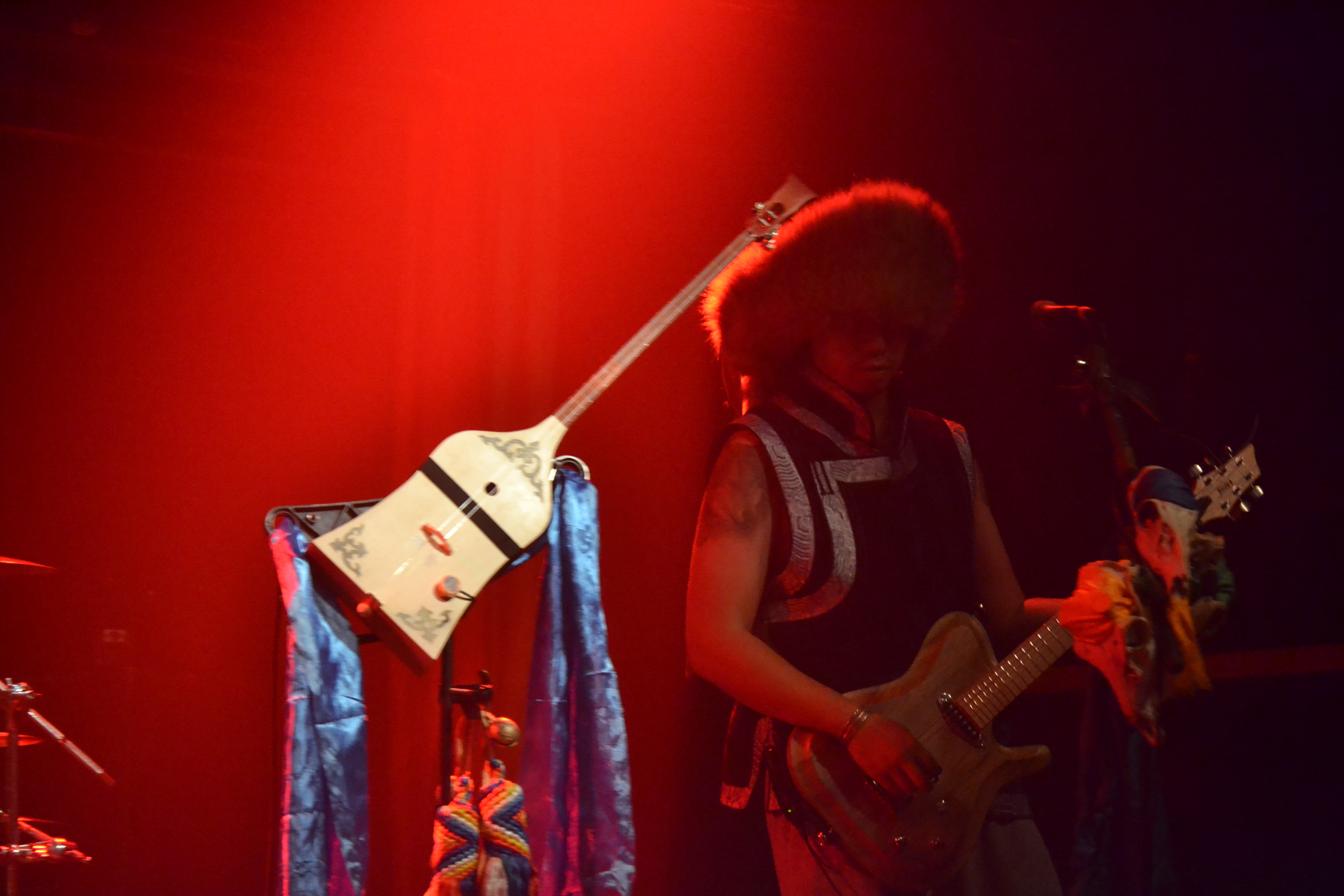 Tengger Cavalry presents a fascinating live show because these musicians focus their stage presence into capturing the sonic rush of stampeding cavalry as opposed to attempting to shoehorn sacred Mongolian traditions into popular contemporary music.
"When you travel a lot, and play from place to place, you're already living a Nomadic lifestyle," says Alex Abayev (Bass). "And since we're all together, it's like a Unity we can all feel," chimes in Josh Schifris (Drums). Alex continues that with their music, "we can make people feel connected to the Steppes, even if they've never been there."
To paraphrase from the acclaimed Coeur d'Alene author Sherman Alexie, writers from Indigenous cultures are often better off treading lightly on hallowed ground. Writing about sacred traditions and exhibiting them for public consumption outside that cultural group is an invitation for people searching to give themselves cultural capital via conspicuous consumption of "the other" ("look at how cool and open-minded I am, I saw a ~~Mongolian Metal band~~ last night").
"When I was in high school, I listened to a lot of metal, which meant I listened to a lot of Scandinavian bands bringing traditional music into their sound," explains Nature when I asked about the genesis of the band. "I thought, 'well, why can't I do this with my own culture? Why not create something brand-fucking-new?'"
The band tells me that "talks are happening" about a future tour in Turkey and Central Asia. "We get a lot of messages from Istanbul, with fans telling us that we are their nomadic brothers." This current tour has been a blast for the band, and despite weeks on the road, they show no signs of fatigue; if anything, they're coping with post-tour depression now that the constant gigging has finished.
Canada has treated them well, with some of their favorite shows taking place in Toronto, Montreal and Vancouver. Josh has asked me to include a note to Neil Peart shouting out Rush (and the Great White North in general) as major inspirations to this band.
"The most important thing is about what's in your music," says Nature. "We see ourselves as combining cultures, not combining genres. We're all from different backgrounds, but we're all in this band."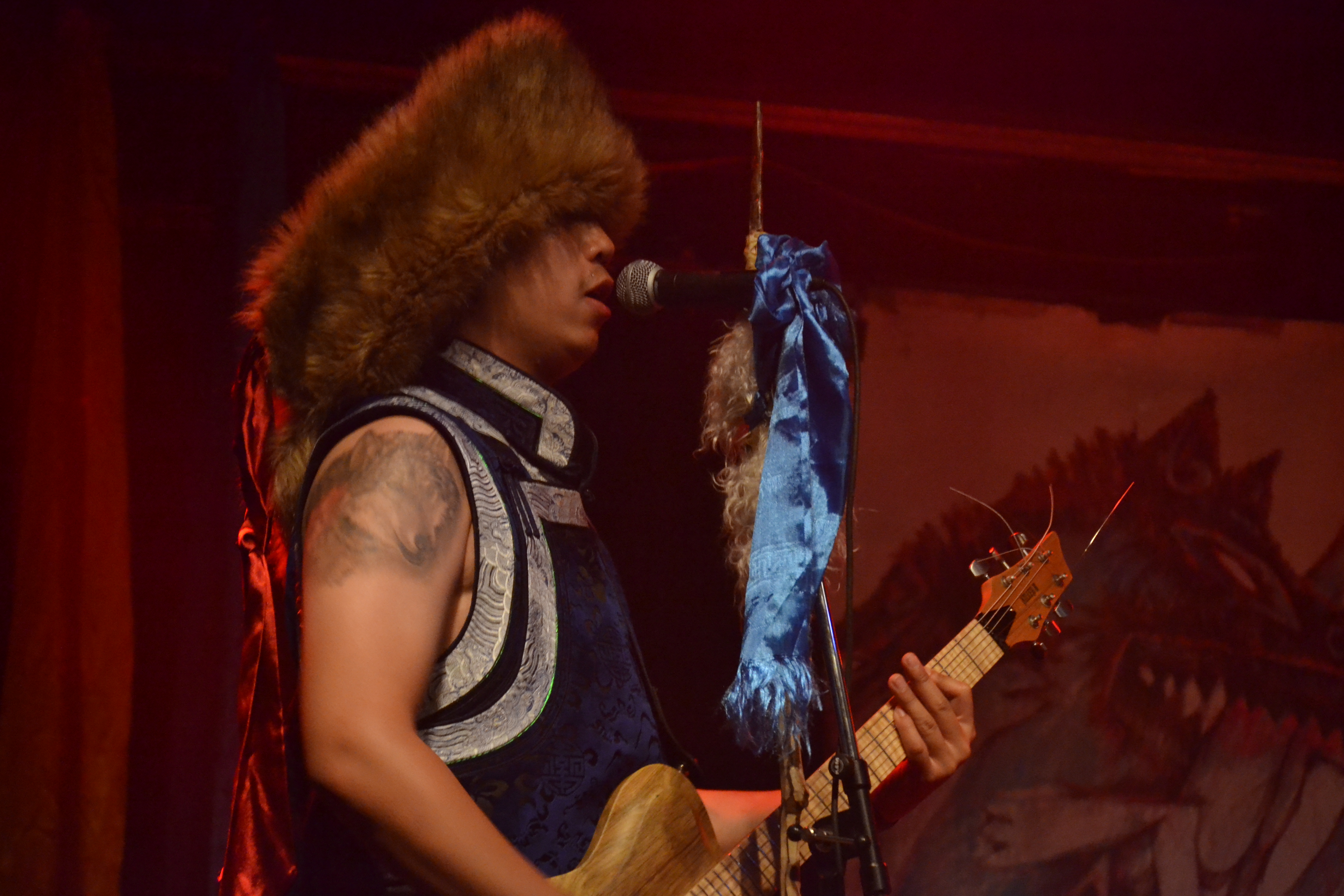 The band would like to express their sincere appreciation to the tour's sponsors, Kay's clothing (UK) Killer B Guitars, Rock N Roller, Reunion Blues, Sinister Guitar Picks, and Strukture.
Photos by Cem Ertekin