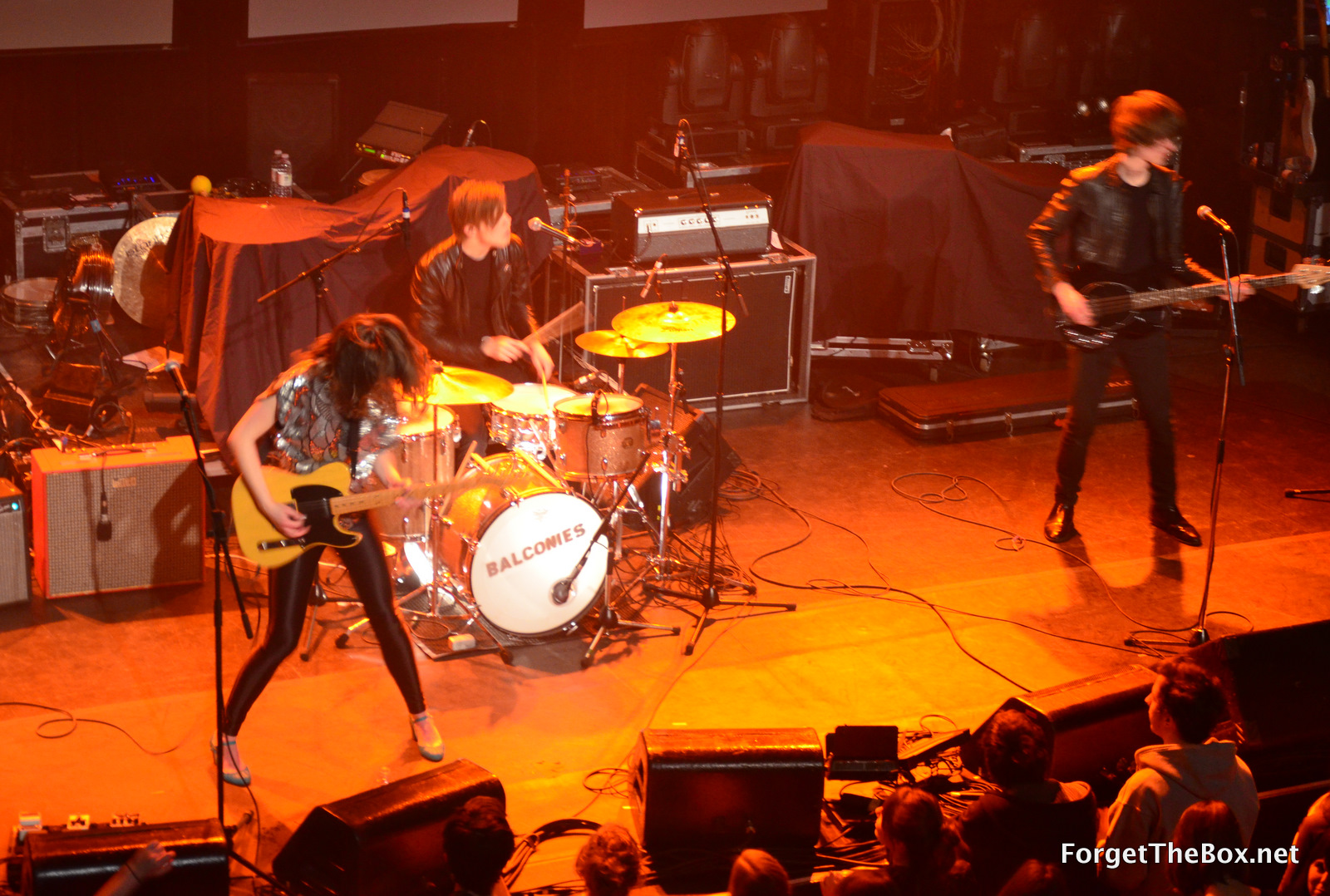 A girl who can circle head bang while holding her own on the guitar should garner any audience member's respect, which is exactly the kind of stage antics that Balconies front-girl Jacquie Neville was going for.
The Balconies were deceiving, with a slow start; the audience was half-heartedly nodding, but the band never faltered. Their sound was consistently tight, and while the first song kind of came across as a lucid sound-check warm up, the band took off with the next song, drawing the audience into their jumpy young rock.
Jacquie Neville impressed the teenaged audience members with a series of weird yoga-like lunge moves, pelvic thrusts and lots of bending over in her high-waisted spandex pants, all while maintaining some furious and solid guitar playing. She even threw in a little solo that seemed to be derived from the 12-bar blues. Her vintage-looking Fender wasn't bad either. At one point, there was an enthusiastic drum breakdown, at which point Jacquie did some little Flash-Dance two-step in time with the four-on-the-floor and cymbal crashes. As for the music itself, it was surprisingly not bad, and computer previews actually failed to convey the frenzied energy the young band brought to the stage.
The songs, which at first started out at as yawnable, hastily escalated into a fever pitch, and then of course there was Jacquie's circle head-banging.
Suddenly undersexed boys are yelling that she's hot, one lone gangly youth begins crowd surfing, and then they break into their hit single, Serious Bedtime. The instruments fall away and it's just Stephen and Jacquie Neville singing, "If you do it in the dark, in the dark, no one sees it…" And Jacquie's doing these PG-13 dance movies that show audience members exactly how she behaves when she does it in the dark.
Balconies brought a tight manic sound to the stage; their set was polished and lead singer Jacquie's vocals were wildly impressive as she hit long screams of sound, overtop of sugary dance rock, and while the disco-infused hard pop style isn't for everybody, they definitely blew the young and excitable crowd away.
COLD WAR KIDS
As for Cold War Kids, well, one wonders if they get their name from the apathetic way they played this show. The band didn't take a cue from their opener, and get hotter as they went along; no, maintained a nice and steady lukewarm set throughout. And while Balconies were checking in with their audience, asking how they were feeling and getting the crowd revved up, Cold War Kids seemed to skim over all that and rely on their little fame; it kind of looked like they were playing for…themselves. Somewhere toward the end of the show, they did play an audience-requested song, which brought a small cheer, but other then that, the performance as a whole was pretty blasé.
Ironically enough, Cold War Kids chose to lead their audience into a sing-a-long on a song called, Dreams old men dream, which lyrics consist of, "I don't care", over and over again. In the middle of the set they played what is probably their most well-known song, Hang me out to Dry. The song itself was repetitive and obnoxious, but the audience sang along and lead singer Jonnie Russell seemed to enjoy it the most out of anyone involved.
Cold War Kids played a song called Skip the Charade off their new album, and most of the audience started singing along the most enthusiastically to a song called, Audience of 1. Russell took time outs from his guitar to lean on his keyboard and smash blindly away on the keys for a few songs, and they finished the set early, in order to get an obvious encore. They got one, but it was no surprise that it was coming, as the roadie was already out tuning the guitar before fans even had a chance to ask for one.
All in all, Cold War Kids should have been opening for the Balconies.
Want more? Come see more show photos on our facebook page. We've got lots and lots of instruments.