Day Two is now in the books, let's try to recap the blur that just happened, shall we. Like with any festival you're always experiencing something while missing out on something else. It's the nature of events like this so someone else's snapshot of the day might be completely different.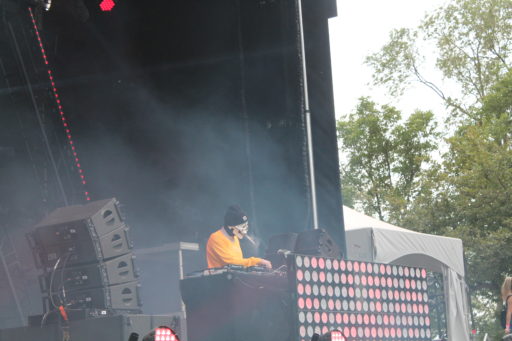 We at FTB went into the Saturday with a plan that we wouldn't at any point make a plan. Just follow a friend to what they're going to, ask a stranger for a suggestion or wander aimlessly. Here's a few of the places our wanderings took us to.
We happened in on King Princess who a friend told us was the next big thing waiting to blow up. She didn't disappoint, we'll have to remember to check her out again.
@KingPrincess69 master of the telecaster! #osheaga2019 @forgetthebox pic.twitter.com/d2M3AxnlWK

— Joseph McLean (@joemclean24) August 3, 2019
We decided to hang in the back for Janelle Monáe, see the big picture of the festival.
A view from the back while @JanelleMonae does her thing. #osheaga2019 @joemclean24 @depressingbear pic.twitter.com/p270rFWLvS

— Forget The Box Media (@forgetthebox) August 3, 2019
It can't all be high energy, met up with some old friends and made some new ones hanging out on the hammocks
Just another beautiful day to chill on a hammock. #osheaga2019 @joemclean24 pic.twitter.com/iigpwvhO71

— Forget The Box Media (@forgetthebox) August 3, 2019
The crowd for Black Tiger Sex Machine was a drum of gasoline waiting to go up and the Montreal based trio didn't waste any time lighting the match that set the whole thing off.
We found the devil, looks like even he is having a good time at #osheaga2019 @joemclean24 @ZacchiaMachine pic.twitter.com/pP32mlBpO8

— Forget The Box Media (@forgetthebox) August 4, 2019
The best hidden gem for the day (and strong candidate for highlight of the festival) were garage rockers Reignwolf who used every possible inch of the stage and every ounce of energy they had during their performance.
Frontman Jordan Cook seemd hell bent on climbing to the top of every structure he could find while playing his guitar solos. Amps were swaying, patch cords were being pulled tight around beams, security was having a panic attack. You know, standard rock and roll stuff.
He even jumped into the crowd for a little bit one on one time with everyone. All this while singing the chorus "Are you Satisfied?" Yes Jared, very much so.
The Chemical Brothers capped the day off with an immersive performance combining their music with a multimedia light and video show complete with confetti, giant robots and beach balls. Probably the most complete top to bottom performance we've ever seen and a masterclass on how to combine music with other medium.
Featured image courtesy of lamyazpixels
Osheaga 2019 finishes today (Sunday). Tickets at the gate or through Osheaga.com