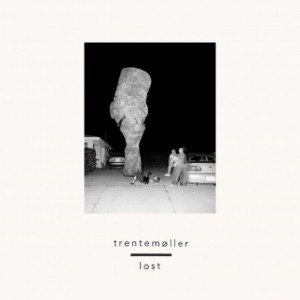 Anyone who has ever listened to Trentemøller's music knows that the Copenhagen-based producer's sound is not easily classified. His new album Lost is no exception. Is it something to pump in the club or to play on a rainy Sunday afternoon? Is it possible that it's both? Perhaps it doesn't quite matter what we should call it and when we should play it. The important thing is that this album is worth a listen.
Lost maintains Trentemøller's signature sound heard on his earlier releases The Last Resort (2006) and Into the Great Wide Yonder (2010) but features a more song-oriented program. His sound could be described as cinematic, and Lost certainly fits that billing, but here each song works on its own as a distinct piece of music. Every cut has clear structures and complex harmonies. The enhanced songwriting prowess is no doubt aided by the plethora of guests who join the album. These include Jonny Pierce of The Drums, Low, Sune Wagner of The Raveonettes, Jana Hunter of Lower Dens, Marie Fisker, Ghost Society, and Kazu Makino of Blonde Redhead.
Even with the number of vocal guests, the few instrumental tracks lose none of the intrigue and heart of those with lyrics. Every track has something to say, whether it has words or not. Trentemøller's sound is an enticing mixture of differing elements. The album sounds wholly organic despite the coexistence of digital and analog parts. He also fuses electronic sound sources and real instruments with seamless ease.
Trentemøller's demolition of listeners' expectations should not come as a surprise. We know it will happen and yet the opening track of Lost entitled 'The Dream' is still astonishingly unforeseen. The slow, somber track features warm vocals from Low whose heartfelt harmonies and minimalist arrangement lend themselves easily, if unexpectedly, to the Trentemøller aesthetic.
The rest of the album follows a somewhat more traditional (by Trentemøller's standards) electronic vibe. He masterfully summons various melancholic moods with and without lyrics. 'Trails' is a guitar-driven slow jam that builds in intensity before dropping off, making way for a fluttering synth orgy to close out the track. It is the kind of song that could be used as a soundtrack to someone's life in an action-packed moment.
'Morphine' has a haunting, minimal swing groove that evokes mysteriousness and wonder. The acoustic bass makes the song feel like an eerie, jazzed-out dream sequence, in the best way possible.
The longest and perhaps one of the most captivating tracks on the album is the closer 'Hazed,' which goes through many evolutions before finishing with a poignant, almost Chopin-like piano solo. Before that, though, we are guided with a pulsing bass through an atmospheric journey of ambient sounds. One could imagine that we are being taken into the recesses of Trentemøller's psyche. The chords are striking and almost uplifting. That is, until the staggering tritone progression that could send a shiver down one's spine.
The lyrics on the album, although varied in their content and delivery, all contribute to the work's overarching sense of introspection. In 'Gravity,' Jana Hunter sings, "Let nothing stop you from being alone." The first single off the album and one of its highlights is 'Never Stop Running' which features Jonny Pierce in a Sting-like performance. The song is perhaps also one of the most meditative on the album, with Pierce lamenting, "I don't know where I'm going and if I don't feel it in the air then I don't know who I am."
Lost coaxes the listener to look inside and search for the true essence of her or his life. It can also make the listener's every day experiences feel altogether more cinematic and significant. Through his craft, Trentemøller sonically negotiates the dichotomy between life's importance and its irrelevance. After such an accomplishment, who cares how we label his music?
Trentemøller's Lost is available on iTunes and on the artist's website.