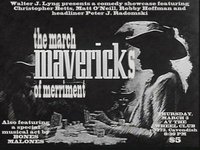 The March Mavericks of Merriment
The Wheel Club, 3373 Cavendish
8:30PM
$5
Tonight at The Wheel Club, get a no-gym $5 workout! Comedians Peter J. Radomski, Walter J.Lyng, Matt O'Neill,
and Christopher Betts, The March Mavericks of Merriment,
will have you laughing so hard you'll break a sweat and from the Montreal Ska Festival, the music and musings of Bones Malones will get you more physical than Olivia Newton-John! PLUS, back by popular demand, the Wheel Club's own Robby Hoffman. Add two reps of beer curls and you've got yourself a full body workout!
8:30pm at The Wheel Club 3373 Cavendish Blvd, just below Sherbrooke (Métro Vendôme). $5 at the door.