It's always a thrill to watch Ty Segall perform. A truly talented, earnest West-Coaster who churns out guitar-driven psychedelic tunes more often than some of us change our sheets, he deserves every bit of praise he gets. Not only does Segall live up to the hype, but every time I see him live (this weekend marked the fourth), he surpasses himself and somehow steps it up a notch. As the venues get bigger, so do his power and devotion grow.
The night started off with The Nymphets, a band I've heard tons about but have never gotten around to seeing. The trio is comprised of a brother and sister on guitar and drums, respectively, and a friend on bass. Hailing from Montreal, they've toured extensively since their beginnings a decade ago, opening for bands like Jay Reatard and CPC Gangbangs.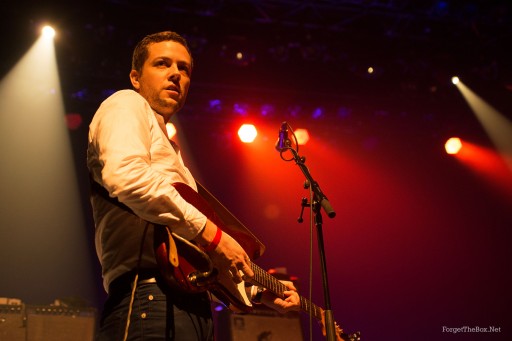 They warmed the crowd right up tearing through some hard, fast tunes at a feverish pace. Their particular brand of punk is infused with a late 70's/early 80's British influence, veering from sweet to frenetic punk à la Buzzcocks in one quick, swift beat. Their set ended with a tune sung by drummer Johanna Heldebro, her voice jumpy due to her drumming, a perfectly intentional decision that illustrated the Nymphets' frenzied sound and style so accurately. Thoroughly enjoyable, wholly appropriate, and I think the guitarist might have winked at me.
La Luz's Damp Face EP has been on repeat at my place all summer, the perfect soundtrack to accompany a mending heart. It's hazy, dreamy, and makes me wanna slow dance, my head tightly nuzzled in a dude's shoulder, while we sway side to side.
The band only got together a year ago in Seattle, and already they're making waves. Their surf-inspired brand of rock'n'roll has a dreamy, hypnotic quality, and though the mood they evoke is one of longing, it's anything but desperate –it's steady; it's patient; it's knowing. Their music is worthy of any spaghetti western worth its salt. Somewhere, someplace, Franco Nero is cracking a shit-eating grin.
Onstage, the girls are magnetic. Singer Shana Cleveland's intimidating gaze and her twang-y guitar licks commanded our undivided attention. The girls are skilled, and have a fresh take on a style so familiar it could easily bore – but their grasp of it is so fierce, they make it their own.
I had no doubt the band would hook the crowd, with a sound reminiscent of a cowboy disappearing into the distant sunset at the end of a searing hot day in the desert, but I was struck by their complicity with one another. The girls share a connection that is rare for a band who've been together such a short time. They're a playful bunch who were evidently having as good a time as anyone else – keyboarding Alice Sandahl even took a stage dive towards the end of their set – and were obviously stoked to be opening up for Ty Segall.
A cowboy eventually rolled onto the stage to present Ty Segall Band, claiming they'd recently escaped an alien abduction. Though the veracity of this story is questionable, it's undeniable that Ty Segall is one of the most talented contemporary musicians, across all popular genres (in my opinion, this isn't even up for debate). His style is heavily influenced by a variety of genres, yet is inimitable. His shows are raucous, and this time was no different.
The band pumped out song after song from their most recent album, Manipulator, with a couple of throwbacks to Twins and Slaughterhouse. Their energy bordered on unhealthy: drummer Emily Rose Epstein pounded her kit like a maniac, carefree yet focused, while Ty and the boys forcefully tore their instruments to bits with force. Highlights included an all-too-brief reminder of the greatness that is the Rocky Horror Picture Show, jumping from "Science Fiction Double Feature" to "Time Warp" and onto "Touch-a, Touch-a, Touch-a, Touch Me" in a hot minute.
The band demonstrated their true allegiance to punk ethos when Ty stopped playing mid-song (as the rest of his band continued) to disapprovingly stare down a security guard trying to get rid of a kid who was stage-diving, and motioned for him to get off the stage while shaking his head, then picking up in the middle of the song. The crowd went ballistic, with kids stage-diving and body-surfing throughout the entire set, and a large pit going. As is the band's habit, the encore featured a cover, Motörhead's (or Hawkwind's, Ty's favourite band) "Motörhead" this time, ending with "Girlfriend" off Melted, a personal favourite.
My only gripe is that I wish the set had lasted longer – I could watch these guys play for hours. I left the show feeling like a teenager, speechless and in awe. It's almost difficult to describe the excitement, both from the crowd and the band, and I feel sorry for those who missed this: you really had to be there.
* photos by Bianca Lecompte (click on first image to open gallery)
Ty Segall POP Montreal