"I called it! Liberal Minority Government."

– Pretty much every Canadian political pundit on Election Night, professional or otherwise, and even me this time.
The 2019 Canadian Federal election turning out the way it did was, for the most part, about as predictable as Justin Trudeau taking selfies in the Montreal Metro the next day. The next few years in Canadian politics, though, are about as unpredictable as which metro lines will go down with service interruptions every other day.
When the Trudeau shine started to fade and NDP Leader Jagmeet Singh's popularity rose, the Liberals pulled the old strategic voting chestnut out of their playbook and ran with it. A Majority Government was now out of the question but the fear of Conservative Leader Andrew Scheer coming to power made a Liberal Minority Government almost inevitable.
Fear-based strategic voting helped to lower the NDP seat count in most of the country, including on the Island of Montreal, but a resurging Bloc Québécois undid what was left of the Orange Wave in Quebec. That last part is both the most unfortunate turn of events and a little bit unexpected.
I honestly had thought the Bloc was done for and irrelevant. But they found their relevance through an appeal to bigotry and now both the second and third-place parties in this Liberal Minority are right-wing.
Yes, the Bloc are progressive on some issues, most notably the environment, but their support of the xenophobic Bill 21 means they are not a progressive party. Secularism of the state means no state-imposed religion, banning public-sector employees from wearing religious symbols on the job is nothing more than an attack on customs that aren't white and European in origin designed to appeal to bigoted fear of the "other" and latent Eurocentric white supremacist instincts.
Speaking of bigots, the People's Party of Canada didn't get enough people to vote for them to win them one seat, even leader Maxime Bernier's in Beauce. So that's a good thing.
Trudeau Has Many Options
Minority Liberal governments with a strong NDP (and despite losses, this NDP is strong, more on that later) have given us some great things in the past. Universal healthcare and the Canada Pension Plan are just a couple of examples.
These happened, though, because the NDP (and a few Red Tories) were able to force the Libs to the left. I'm not sure if the makeup of the incoming Parliament will offer the same sort of incentives.
In fact, Justin Trudeau may very well still be in the drivers' seat as long as he switches up who rides shotgun depending on the bill. If it's a social issue, say protecting LGBTQ rights, call on Singh and the NDP for support. SNC Lavalin investigation rearing its head again? Yves-François Blanchet and the Bloc have your back. Want to build a pipeline? Pretty sure Scheer and the Official Opposition Conservatives won't oppose this one, officially or otherwise.
No wonder it was Trudeau selfie time the next day. While this doesn't give him the same power his last majority did, he has the right setup to stay in power for a while and get most of what he wants done.
And he knows it. He's already ruled out forming a Coalition Government and announced he plans to move ahead with the Trans-Mountain pipeline.
The Power's in the Details
That doesn't mean that the opposition parties are powerless, far from it. Their power, though, won't be felt in what gets put on the table, but rather in the tweaks they get to make to proposed legislation in exchange for their support.
It's also crucial for them to be the party that Trudeau needs support from. If he goes to the Cons, they'll make him move to the right. If he goes to the NDP, they'll make him move to the left. If he goes to the Bloc, they'll just try and get some sort of special deal for Quebec.
The first vote will be on the budget, which is automatically a confidence vote. If Trudeau puts Trans-Mountain into it, there's no way the Bloc or NDP could support it, so he'll have to rely on the Cons, which will push the rest of the budget to the right.
If he leaves the pipeline out for now and adds a bunch of progressive things, then the NDP can push him just a bit more to the left. Yes, they'll be making him look good, but also potentially getting a better deal for everyone.
I suspect that out of the gate, Trudeau won't go to his right, because he knows another election will happen sooner rather than later. But honestly I really don't know.
Opposition Leaders Should Be Safe
I have been hearing some talk from certain members of the opposition parties (except the Bloc, for obvious reasons) demanding their respective leader's political head on a platter. While some of the "Scheer/May must go!" calls have merit and none of the calls to replace Singh do (more on that later), I suspect none of the opposition leaders are going anywhere.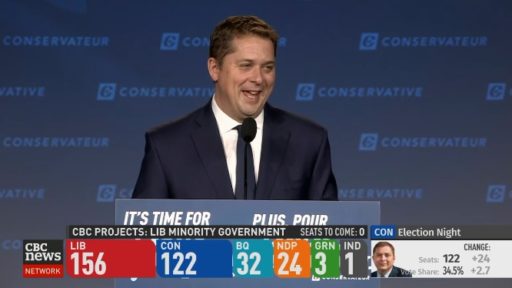 Simply put, no one replaces a leader in a Minority Parliament unless the party establishment wanted them gone before the election (see Stéphane Dion). It's just too risky, even for the well-funded parties (see Michael Ignatieff).
For the parties whose pockets aren't as deep, paying for a leadership race and then potentially paying to compete in another election campaign a year later could be financially disastrous. Also, what happens if the government falls and your party doesn't have a new leader in place yet?
Singh Has Reason to Celebrate
If you watched Jagmeet Singh talk on election night, it really came across as a victory speech (or at least it did until Scheer cut him off only to be cut off himself by Trudeau). And with good reason.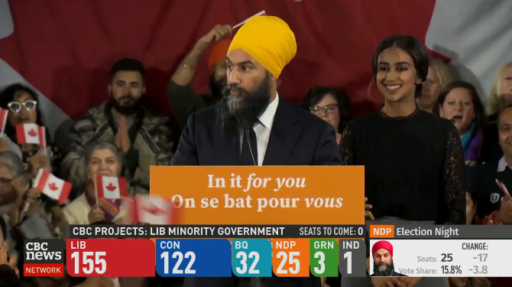 This wasn't the decimation of the NDP many had predicted just a few months ago. There was a Singh Surge, it just didn't turn into the wave New Democrats had hoped for.
I'm sure there will be arguments that the NDP should ditch Singh now because they pushed Thomas Mulcair out after he won more seats. Yeah, Mulcair's seat count after the 2015 election may have been bigger, but he actually lost more seats than Singh did.
Mulcair went from a pre-election total of 95 seats, already down from the 103 the party won under Jack Layton, to 44 , meaning the party lost 51 seats (including a good chunk of the Orange Wave) on his watch. Singh, by contrast, went from 39 to 24, only losing 15 seats.
Singh may not have stopped the bleeding entirely, but he bandaged it up pretty well. Also, holding 24 seats with a Liberal Minority Government in power is potentially a more powerful position to be in than holding 44 seats with a Liberal Majority in place.
It's important not to forget that while Mulcair may have been a solid Member of Parliament and even Deputy Leader, his tenure as leader was due to a deal he didn't live up to his part of. The party let him move the NDP to the right and in exchange he promised them they would form government but they didn't.
If you make a deal with the Devil and the best the Devil can deliver is third place, you get out of that deal as fast as you can. Singh, on the other hand, campaigned as a bold and progressive New Democrat, one Trudeau couldn't outflank on the left, and did okay.
Yes, some solid Quebec NDP seats were lost and Alexandre Boulerice, the party's Deputy Leader, currently holds the only New Democrat seat in Quebec, but Singh didn't abandon us, at least not in his speech. He wants to win back what Mulcair lost and what he was unable to hold on to.
Now, with a Minority Parliament, who really knows what will happen next. It's going to be an interesting few years (or months).