Oh ye ole Fantasia Fest. Ye sideburns of geek. Ye vixens of awkward. Ye meowers of dark. Ye forever awesome lineup.
It's been a few years for me, but I'm right pickled to be back in the Fantasia action, and these first few days have not disappointed. Here are a couple of movies you might want to check out, whether at Fantasia, or in theatres down the road, God willing.
Set in an Any Nowhere USA of the late 70s, Riley Stearns' first feature brings us Orsen Roth: down-and-out cult and mind-control expert, living out of his car, touring regional hotels with his book no one wants, broke, eating ketchup with a fork. Down on his luck, nose continually bleeding, he owes a lot of money and is desperate for any way out of the hole he's dug himself. A deprogramming job comes along, and it's a chance at salvation, for better or worse.
Well-written, evenly directed and featuring a great ensemble of character actor weirdos, following likeable but despicable Roth around as he gets beat up, manipulated and teeters on every kind of edge is a good way to spend your evening.
Faults is screening for a second time tomorrow, July 24, at 7:15 p.m. at Theatre J.A. de Sève.
The Mole Song – Undercover Agent Reiji
Full disclosure: Takashi Miike is kind of a god. Supreme stylist among even the most showy directors, this is a man who is equally at home creating feudal ronin tragedies (Hara Kiri), out-Lynching Lynch (Gozu), and crafting manga live-action adaptions so complete they include nose bubbles and head-bump prosthetics (Nina Kids). In The Mole Song (likely his 100th feature), Miike showcases a couple of additional things he does especially well: the yakuza and funny.
Bringing both together into a world of razor-grilled midgets, sing-song DEA agents, butterfly obsessed number-2's and the usual hoard of Miike perverts, The Mole Song does not disappoint, and is always willing to stoop a bit, if only to button a dumb joke with an even dumber, even funnier button. Though the third act leaves the tremendous energy built up kind of flattened, the sweet jokes keep coming, and it's well worth a looksee overall.
Ah, the suburbs! Once I got over the momentous shock of seeing Leland Palmer in person (he's just a cool old white guy, but his head is so BIG, especially from mere FEET AWAY!), Suburban Gothic proved to be the most familiarly hilarious of picket-fence fancy feasts. Complete with mucho macho and anti-Mexican dad, skinny jeans garnering much unwanted attention, and a generalized sense of the cultural wasteland too many of us are overly well-acquainted with, Richard Bates Jr.'s latest was like going home again, only wayyy funnier. Also: JOHN WATERS AND JEFFREY COMBS CAMEOOOS.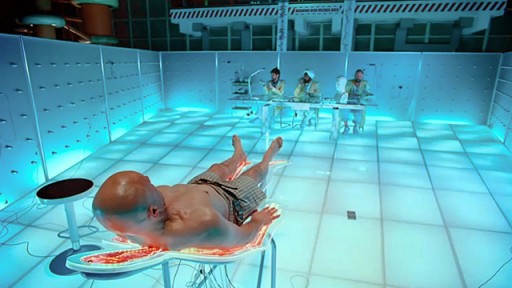 Verging on complete calculated nihilism, both retroactive and deeply insightful about the grandness and cheapness of the future that may be waiting around the corner (or which is already the past, as the director suggested in his hilarious welcome message), The Zero Theorem is as Terry Gilliam as it can get: beautiful, expansive, meandering, dysfunctional, unapologetic, and undeniably singular. An independent release, this one ain't going wide, so see it, iTunes it, seek it out and share it if you can. As Gilliam mentioned, there's always a chance this will be his last, especially when presenting the off-kilter, wholly unknown, and big-studio free. Must see, do see, gotta see, even if it holds a few headaches.
The Zero Theorem is screening for a second time Saturday, July 26 at 12:30 p.m. in the Concordia Hall Theatre.